Vegan Coconut Rum Raisin Ice Cream

Mattie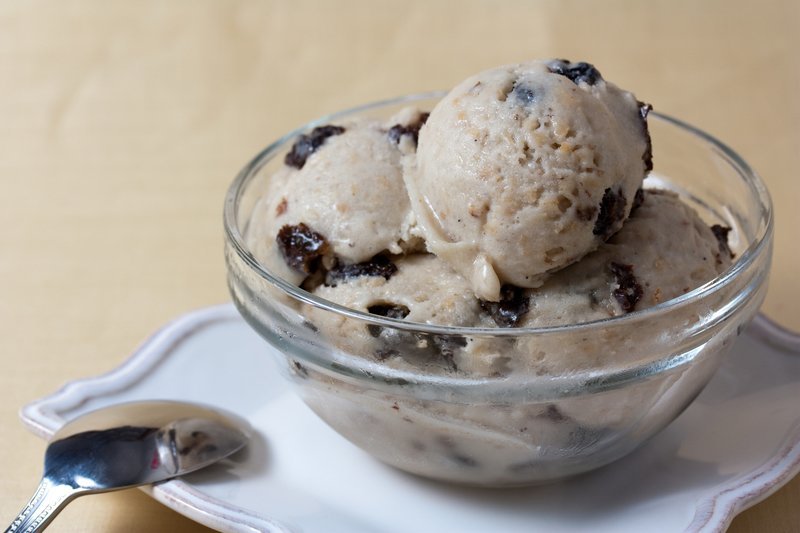 This Vegan Coconut Rum Raisin Ice Cream recipe is a great example of how suitable coconut milk can be as a rich, creamy base in vegan ice creams. The coconut flavor is further enhanced by the addition of toasted shredded coconut then complimented by just the right amount of rum soaked raisins. It's important to note that adding more than 2 Tablespoons of rum is discouraged because it will drastically increase the freezing temperature resulting in ice cream that's too soft.
Find more
Coconut recipes
on Veganbaking.net
Vegan Coconut Rum Raisin Ice Cream Recipe
1/3 cup raisins
2 Tablespoons rum
1/3 cup shredded coconut
3 cups coconut milk (full fat)
1 cup + 2 Tablespoons sugar
2 Tablespoons arrowroot flour or tapioca flour
1 pinch salt
1 teaspoon vanilla extract
1 teaspoon apple cider vinegar
1) Soak the raisins in rum
Preheat your oven to 300F (149C). Place the rum in a small bowl with the raisins and microwave for 30 seconds. Let it sit for at least 15 minutes so the raisins get a chance to absorb the rum.
2) Toast the coconut
Sprinkle the shredded coconut evenly on a large baking sheet and bake for about 20 minutes or until golden.
Learn more about toasting coconut
.
3) Whisk together the flavor building ingredients over heat
In a medium saucepan over medium heat, add the coconut milk, sugar, arrowroot flour or tapioca flour, salt and the toasted shredded coconut. Bring the mixture to a simmer then remove from heat while whisking constantly. Transfer to a covered container and place in the refrigerator to cool for about three hours.
4) Add the vanilla and apple cider then whip
Stir in the vanilla extract and apple cider vinegar. Now we want to whip some air into the ice cream so it's creamy. Beat the mixture with a mixer for a few minutes. Stir in the rum soaked raisins along with any left over rum.
5) Process in an ice cream maker
Mix in an ice cream maker for about 30 minutes.
6) Transfer the vegan ice cream to your freezer to harden
Transfer to a covered container and put it in the freezer for 3 hours. Enjoy. This recipe makes about 1 quart Vegan Coconut Rum Raisin Ice Cream.