Vegan Double Chocolate Brownie Chunk Ice Cream

Mattie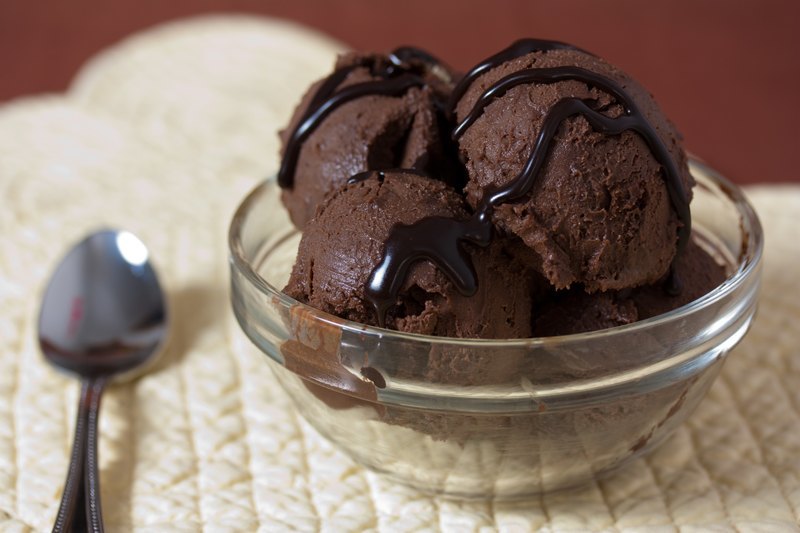 This Vegan Double Chocolate Brownie Chunk Ice Cream recipe was going to be called Triple Chocolate Brownie Chunk Ice Cream due to it's use of two different types of chocolate and brownie chunks mixed in. Then I realized that things were starting to get out of hand and I had to look out the window and count to ten. Its still full of chocolate though; this Category 1 chocoholic wouldn't lie. It's a great way to use up those extra
Ultimate Vegan Brownies
you have lying around that you've desperately been trying to eat. Wishful thinking, no? Drizzling some
Double Chocolate Sauce
over the top is highly recommended.
Find more
Chocolate recipes
on Veganbaking.net
Vegan Double Chocolate Brownie Chunk Ice Cream Recipe
¾ cup raw, unsalted cashews, rinsed
2 ¼ cups water
1 cup + 2 Tablespoons sugar
1 teaspoon instant espresso powder
1 pinch salt
2 Tablespoons arrowroot flour or tapioca flour
½ cup cocoa powder
2 Tablespoons
vegetable oil
1 Tablespoon + 1 teaspoon agave syrup
1 Tablespoon apple cider vinegar
1 teaspoon vanilla extract
1.5 ounces semi-sweet chocolate
4 ounces of brownie chunks, chopped into ½ inch cubes
1) Simmer the cashew mixture
In a medium saucepan add the cashews, water, sugar, espresso powder and salt. Cover the saucepan, bring it to a boil and simmer for 10 minutes.
2) Simmer with the starch then add the cocoa powder
Add the arrowroot flour or tapioca starch and simmer for 4 more minutes. Now add the cocoa powder and simmer for 1 minute.
3) Blend the creamy base ingredients with the rest of the flavor building ingredients
Transfer the mixture to a blender and add the vegetable oil, agave syrup, apple cider vinegar, vanilla extract and semi-sweet chocolate. Blend on the Whip setting for one minute then transfer to a covered container and place in the refrigerator to cool for at least two hours.
4) Whip the ice cream mixture
Now we want to whip some air into the ice cream to improve creaminess. Beat the mixture for 2 minutes.
5) Process the mixture in an ice cream maker
Transfer to an ice cream maker and mix for about 30 minutes. Transfer the ice cream to a medium mixing bowl and stir in the brownie chunks.
6) Transfer the vegan ice cream to the freezer for it to harden
Transfer to a covered container and put it in the freezer for at least 3 hours. This recipe makes about 1 quart Vegan Double Chocolate Brownie Chunk Ice Cream.
User reviews

Steve Johnson
Don't Use Canola Oil
Having made this twice, once as recently as last week, I'd recommend caution on the "vegetable oil". We used canola oil, and found that its distinctive rapeseed taste overpowered the ice cream. Nobody could finish it, and we discarded the unserved portion. We've modified the recipe as a result, completely removing the "vegetable oil", and upping the chocolate to a 4-oz bar of dark chocolate. We melt this (via low microwave or double boiler) and add it in place of the vegetable oil, although I suppose one could simply break the bar into chunks and boil with the cashews. Also, instead of instant espresso powder, we simply make a shot of real espresso, and make it up to the 2-1/4 cups of water.


Was this review helpful to you?

danielMD
View all my reviews (1)
Question on step 2
Don't you need to mix the starch with cold water before adding to the simmering mixture, or else you get gooey clumps?
Was this review helpful to you?

cynthjewel
View all my reviews (1)
Decadent but healthy!
Mattie, thank you for this recipe! I opted not to add the brownie chunks because I didn't have time to bake. The ice cream was very creamy, firm, flavorful, chocolatey, decadent and healthy! I will definitely try adding the brownies next time!
Was this review helpful to you?

Steve Johnson
What, Non Xanthan Gum?
You're able to get the creaminess and absence of ice crystals you want without the need for an emulsifier like xanthan gum or guar gum? You used it in your vanilla...
Was this review helpful to you?
(Updated: November 30, 2011)
The bees knees!
Now this is what I call ice cream!!!!!! This is like a more intensely flavoured Ben and Jerry's chocolate fudge brownie. I have to confess Mattie, that I foolishly doubted the recipe and added a few more cashews as I love the thick creamy taste of cashew but other wise left the recipe as it was (may be vegans are just unable to leave recipes alone and have to fiddle due to all the recipe alterations they make to remove the dairy etc from their old favourite recipes?) When I saw the boiled mess of cashews, sugar and water I was a little unsure but then I dabbed my finger in and the taste was divine. Once blended this became a tremendously thick and creamy ice cream and unlike other non dairy ice cream I've made this was great properly frozen and easy to scoop straight out of the freezer. Superb flavour and texture. Definitely a winner!!!..and who'd have thunk vinegar in ice cream!! You are a genius man!
Oh I should add, I forgot to whip it before putting it in the ice cream maker, I'll try that next time, though it really seemed as if it couldn't be improved upon!
Was this review helpful to you?

myrecessionkitchen
myrecessionkitchen
I've found that cashews make the best/creamiest vegan ice cream as well. Whipping the base before freezing is inspired. I'm going to have to try that next time. Thanks for the suggestion. What is the purpose of the vinegar?


Was this review helpful to you?