Vegan Gingerbread Cookie Buddies

Mattie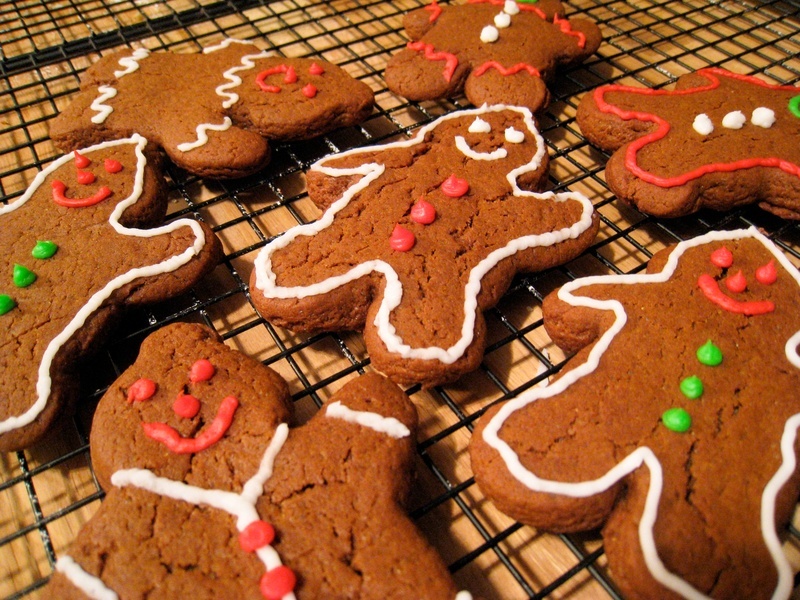 Feeling lonely this season? In under an hour you can have an arsenal of several tasty Vegan Gingerbread Cookie Buddies that won't even complain if you bite off their heads. These vegan cookies feature a touch of molasses, barley malt, ginger and just the right amount of nutmeg and cinnamon for deep gingerbread flavor. This recipe also works for fabricating gingerbread houses.
Find more
Gingerbread recipes
on Veganbaking.net
Vegan Gingerbread Cookie Buddy Recipe
3 cups all-purpose flour
1 teaspoon baking soda
¾ cup (161 grams)
Regular Vegan Butter
or stick margarine, softened
2/3 cup sugar
½ cup molasses
¼ cup barley malt syrup
1 Tablespoon non-dairy milk
1 ½ teaspoons ginger powder
1 teaspoon vanilla extract
¾ teaspoon cinnamon
¾ teaspoon nutmeg
¼ teaspoon salt
1) Prepare your oven, baking sheets and whisk the flour
Preheat oven to 350F (177C). Line two baking sheets with parchment paper. In a medium size bowl whisk together the all-purpose flour, baking soda and set aside.
2) Whisk together the flavor building ingredients
In another medium size bowl mix together the Vegan Butter, sugar, molasses, barley malt, non-dairy milk, ginger powder, vanilla extract, cinnamon, nutmeg and salt.
3) Build the cookie dough
Pour half of the flour into the bowl containing the wet ingredients and mix with a spoon until well incorporated. Pour the other half of the flour and mix with with a spoon until well incorporated. It's normal for the dough to feel really thick at this point and you may have to mix with your hands.
4) Chill the dough then roll out and cut
Form the dough into a ball, flatten it into a 1 inch disc and wrap it in plastic wrap. Chill the dough in the refrigerator from 1 hour to 3 days. Lightly dust a clean surface with flour and roll the chilled dough into a ¼ inch thick flat disc. Use a gingerbread man or other style of cookie cutter to cut the dough into shape and place the cookies on the cookie sheets. Be sure to dust your working surface with flour every time you regather the dough into a ball and roll it out again. Lightly dusting a spatula and sliding it under the dough after you cut it with the cutter will help you lift the cookie and transfer it to the cookie sheet with minimal sticking.
5) Bake the vegan gingerbread cookies to perfection
Bake for 15 minutes. If you're baking with two cookie sheets, switch the sheets on the oven racks halfway through the baking duration to ensure that the cookies are evenly cooked. Store in an airtight container at room temperature for up to 1 week. Depending on the size of your cookie cutter, this recipe makes about 15 Vegan Gingerbread Cookie Buddies.