Raw Lemon Cupcakes with Pistachio Nuts

Love Raw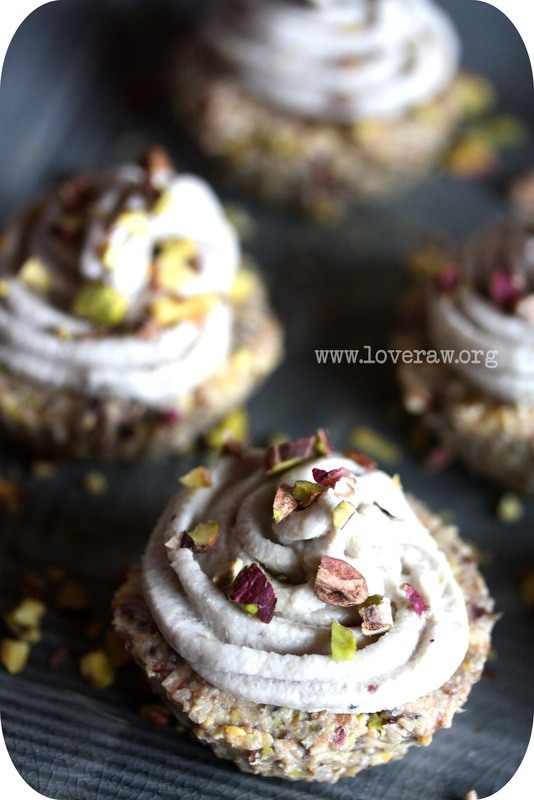 These nutrient dense Raw Lemon Cupcakes with Pistachio Nuts are quick and easy to make! You don't need an oven to do these, only a food processor and a fridge. They contain exciting super foods that work wonders for you body! Eat them without guilt.
Find more
Raw dessert recipes
on Veganbaking.net
Raw Lemon Cupcakes with Pistachio Nuts Recipe
For the Bun
1/4 cup soaked sesame seeds
3/4 cup soaked walnuts
1/2 cup soaked pistachio nuts
1/2 cup pitted dates
Soak 2 tablespoons chia seeds in 1/4 cup water for 10 min.
1-2 pinches of pink himalayan salt
1 tablespoon agave nectar or honey
A little water to help the processing
For the Lemon frosting
1/2 cup cashews
8 dried organic apricots
Zest from one organic lemon
1/3 cup water
3 tablespoons virgin coconut butter
1) Instructions for the bun
Process all ingredients in a food processor. Add just enough water for the food processor to be able to blend, not too much because you want a doug-like consistency. Press the dough in silicone cupcake forms and put in the fridge to harden. Then gently tap the cupcake buns out of the form and continue with the lemon frosting!
2) Instructions for the lemon frosting
Wash the lemon and use a zester (only use the yellow part of the lemon, otherwise you will get a bitter taste). In a food processor, mix all ingredients until completely smooth. Put in fridge to harden. You can spread the frosting with a knife, or you put it in a pastry bag and make a swirl. Decorate with some pistachio nuts on top! Enjoy!
This recipe makes about 6 Raw Lemon Cupcakes with Pistachio Nuts.