Vegan Vanilla Cupcakes - Quick Bread Method

Mattie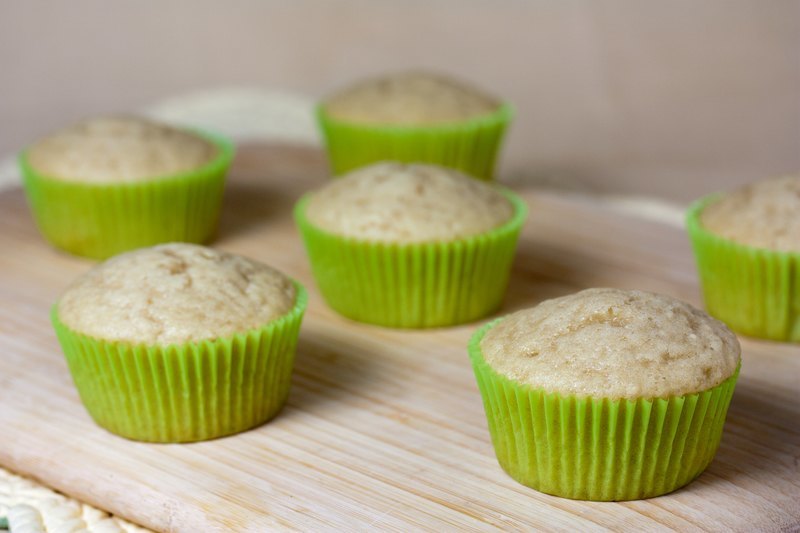 This Vegan Vanilla Cupcake recipe makes light and airy vegan cupcakes that have a soft, tender crumb due to the addition of arrowroot flour as well as apple cider vinegar. Vanilla extract and a touch of almond extract tie it all together. These cupcakes utilize the quick bread method which involves mixing your dry ingredients and wet ingredients in separate bowls, then mixing them both together at the end. This is a really easy way to make great cakes that have tender and spongy qualities. The drawback of this style is you have to be careful if you adjust the amount of sugar; more sugar will tenderize the batter, negatively affecting rise. These cupcakes are a little under sweet for my taste but if you're going for an elaborate frosting job no one will notice. If you increase the sugar in this quick bread method by even 1 Tablespoon, the cupcakes won't rise enough so it's not recommended. Use these cupcakes as a base for other flavor variations by switching out some of the flour and/or flavoring extracts. If you're looking for a cupcake that's a little bit more sweet and full flavored check out the
Vegan Vanilla Cupcakes - Cream Method
.
Find more
Birthday recipes
on Veganbaking.net
Vegan Vanilla Cupcake Recipe
¾ cup + 2 Tablespoons non-dairy milk
1 teaspoon apple cider vinegar
1 cup + 3 Tablespoons all-purpose flour, sifted
2 Tablespoons arrowroot or tapioca flour
1 teaspoon baking powder
½ teaspoon baking soda
½ cup + 3 Tablespoons sugar
1/3 cup
vegetable oil
2 teaspoons vanilla extract
¼ teaspoon almond extract
¼ teaspoon salt
1) Prepare the egg replacer mixture
Preheat your oven to 375F (191C). In a small mixing bowl whisk together the non-dairy milk and apple cider vinegar until smooth. Allow the mixture to sit for about 10 minutes so the mixture thickens slightly.
2) Whisk together the dry ingredients
In a medium mixing bowl, whisk together the sifted all-purpose flour, arrowroot or tapioca flour, baking powder and baking soda. Set aside. Note: It's important to sift the flour so clumps are eliminated and some air is incorporated into it, enabling maximum rise.
3) Whisk together the flavor building ingredients
In another medium mixing bowl whisk together the sugar, vegetable oil, vanilla extract, almond extract and salt. Whisk in the non-dairy milk apple cider vinegar mixture from step 1 until well incorporated.
4) Whisk the batter together
Now add the wet ingredients to the dry ingredients and briefly whisk together until just incorporated and the lumps are eliminated.
5) Bake the vegan cupcakes to perfection
Pour the batter into a cupcake mold lined with cupcake liners so the mixture is ½ the way up to the top of the cupcake liner. Bake for 17 minutes or until an inserted toothpick comes out clean.
This recipe makes 12 Vegan Vanilla Cupcakes.