Vegan Peanut Butter Cookies | Gluten-free

sugarmamabakeshop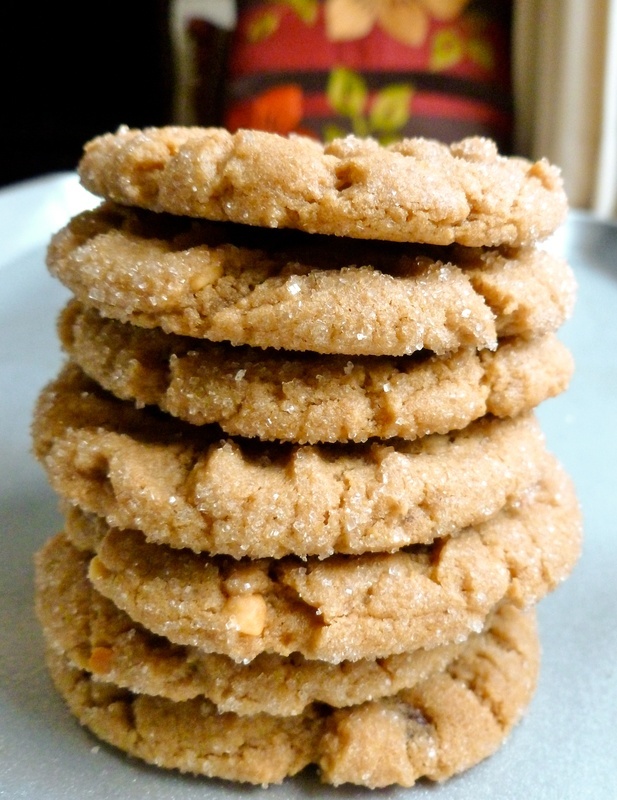 Vegan Peanut Butter Cookies are my very favorite comfort food. These are absolutely as good as I remember them... minus the eggs, dairy and gluten! Perfection.
Find more
Gluten-free recipes
on Veganbaking.net
Vegan Peanut Butter Cookie Recipe
1
½
cups gluten-free flour blend (I love Bob's Red Mill)
1 teaspoon baking soda
1 teaspoon xanthan gum
1 cup packed dark brown sugar
¾ cup peanut butter
½
cup Earth Balance vegan butter (or Spectrum shortening)
1 tsp pure vanilla
¼
cup unsweetened applesauce
organic cane sugar
1)
In a small bowl whisk together the flour, baking soda and xanthan gum. Set aside.

2)
With an electric mixer, combine all other ingredients and mix until smooth. Slowly mix in the dry ingredients.

3)
Roll the dough into balls then roll in cane the sugar. Flatten the cookies with your palm or use a fork to make traditional cross marks. Bake at 375F (191C) for 6 to 8 minutes. This recipe makes about 15 Vegan Peanut Butter Cookies.

User reviews

Caroline
Perfect.
These were absolutely delicious! However I prefer a crispier cookie so I baked them for about 10mintues instead of 5 and they came out wonderfully :)
Was this review helpful to you?

Jayden Lakes
Calories?
Do you know how many calories are in each cookie? I just started medicine that requires me to count, so it would be really helpful to know.
Was this review helpful to you?

Jack Cactus
AMAZING
Guys. Holy crap. This recipe is amazing. This website is so great, it's also home to my favorite gf/vegan yellow cake recipe ( Sugar Mama, will you marry me!?
Was this review helpful to you?

MadInGlasvegas
Top 50 Reviewer
View all my reviews (2)
Cookie awesomeness divine!
Id give more stars if I could for this recipe. It is not metric but i converted it to volume as i had nothing else handy but a metric beaker. Still worked out fantastic. Cookies a quick to make, recipe easy to follow, biggest surprise was how perfect they came out. I love chewy.crunchy cookies and these were precisely that. For a gluten free I expected mediocre result at best as I find gluten-free flours texture a bit off. I do however have a friend who is coeliac and being able to make nice cookie that everyone can enjoy without making it seem like this person has special cookie that tastes a bit eww and the rest of us has proper nice cookies is great. Also my other half was in peanut butter cookie heaven yesterday. Thank you for posting this recipe!
Was this review helpful to you?

sparkyvagabond
Top 1000 Reviewer
View all my reviews (1)
Mint extract?
I didn't have any vanilla extract, so I replaced it with mint extract. Scrumdidlyumptious.

Was this review helpful to you?

FamilyDinner
Top 500 Reviewer
View all my reviews (1)
Love!
Made these cookies two weeks in a row. My family loves them. I couldnt find vegan brown sugar so i mixed one cup of cane sugar with 1/4 cup of blackstrap molasses. They came out great!
Was this review helpful to you?

Suelle71
Top 500 Reviewer
View all my reviews (1)
Best Peanut Butter cookie recipe
This is the best peanut butter cookie recipe ever! That includes non-vegan and non-gluten-free recipes. I don't see the need to make another recipe for peanut butter cookies again. My husband loves these and he usually hates pb cookies. The only thing I did differently is that I mixed up my own gf flour blend with soy flour, tapioca flour, and potato starch. Soft, slightly chewy, and delicious.
Was this review helpful to you?

hannah
How much organic cane sugar? ??
Was this review helpful to you?

laurelvb
#1 Reviewer
View all my reviews (16)
PB Needs Kisses
My husband's favorite. He'd propose but he's already married and I'm jealous! He gets half and I get the other half with a mound of vegan chocolate on top. They look absolutely stunning.
Was this review helpful to you?