Vegan Black and White Cookies

Mattie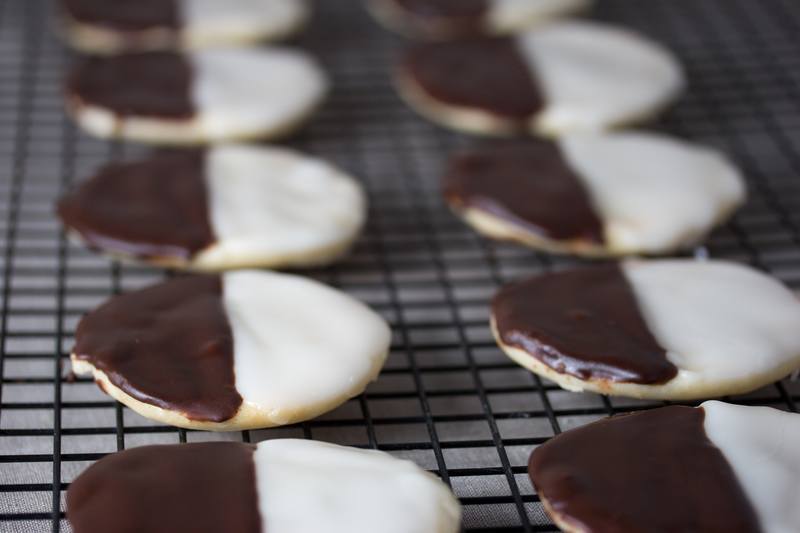 "I've never had a black and white cookie before" I mumbled to my vegan food friends, not thinking that it was that big of a deal. "Living in New York City, you've never had a black and white cookie?!" they desperately exclaimed. Right then, I perked up. What is it about these flat perfectly looking cookies that straddle the line between black and white so mysteriously? After all, this is New York City's cookie. Does this cookie dare to celebrate chocolate and vanilla at the same time? What about the cookie part? Is it just a boring pseudo shortbread crust underneath or something special? I had to know more.
Soon after trying one I learned that it in pure New York City style, it in fact does, boldly dare to celebrate chocolate and vanilla at the same time. All while sporting a light but compact cake inspired cookie with a hint of lemon that is rich enough to where it can stand up to the chocolate and vanilla. It straddles the line between cake and cookie, with the dual icings dealing a deathly blow of chocolate and vanilla intensity if you take a chance and eat right down the middle. I was hooked!
The search for the ultimate Black and White Cookie
It wasn't long before I integrated my quest for the ultimate black and white cookie into my search for the ultimate New York City bagel, due to most bagel stores in the city also happening to sell outstanding black and white cookies.
Over the years I was able to drill down and find the aspects of the black and white cookie that I preferred most: The cookie has to be light in texture, slightly rich in flavor and soft with a hint of lemony acid but not too sweet. The icings need to complement not only each other, but the cookie too. None of the components should be the star of the show; they should all build on each other to make a memorable cookie experience. But don't get too crazy; this cookie's amazingness should lie in its simplicity which just happens to make you happy.

This vegan Black and White cookie recipe is designed to have all those traits. A touch of tapioca flour enables the batter to be extra light and perfectly moist. A specific combination of apple cider vinegar, lemon extract and vanilla extract gives this vegan cookie both richness and brightness that enables it to be on par with its traditional dairy-laden counterparts.
Find more
Soy-free recipes
on Veganbaking.net
Vegan Black and White Cookie Recipe
For the cookies
2 cups non-dairy milk
1 Tablespoon apple cider vinegar
3 ¼ cups all-purpose flour
6 Tablespoons tapioca flour
½ teaspoon baking powder
¼ teaspoon baking soda
1 ¾ cups granulated white sugar
1 teaspoon salt
½ teaspoon vanilla extract
¼ teaspoon lemon extract
For the icings
2 ounces unsweetened chocolate, chopped fine
¼ cup amber agave, corn or glucose syrup
5 Tablespoons + 2 teaspoons water
5 cups (650 grams) confectioners sugar
½ teaspoon vanilla extract
½ teaspoon water
1) Curdle the non-dairy milk
Preheat your oven to 375F (191C). Line two
baking sheets
with parchment paper. In a small mixing bowl, whisk together the non-dairy milk and apple cider vinegar. Set aside for about 10 minutes so the mixture curdles.
2) Whisk together the dry ingredients
In a medium mixing bowl, whisk together the all-purpose flour tapioca flour, baking powder and baking soda. Set aside.
3) Whisk together the flavor building ingredients
In another medium mixing bowl, whisk together the sugar, vegetable oil, salt, vanilla extract, lemon extract and the non-dairy milk mixture from Step 1.
4) Whisk the batter together
Transfer the wet ingredients to bowl containing the dry ingredients and whisk together until well incorporated.
5) Pour the cookies out onto the baking sheet and bake to perfection
Using a dry quarter measuring cup and a dining spoon to catch drippings, scoop up the batter and pour it on the baking sheet, making sure to leave at least 1 inch between each cookie. The batter should be in a disc that's roughly 2 ½ inches round after it's poured onto the sheet. The batter will spread out more as you pour the rest of the cookies. Bake until the center of the cookies are firm, about 23 minutes. Rotate the baking sheets halfway throughout the baking duration.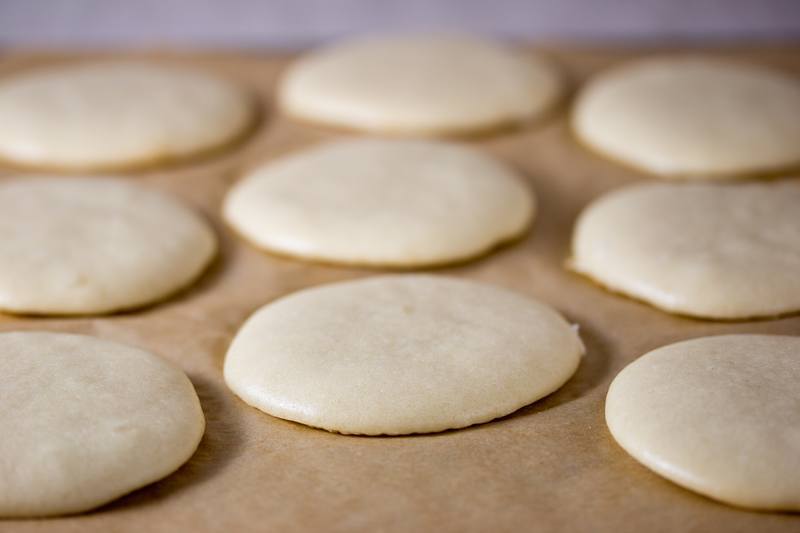 6) Melt the chocolate
Make a water bath, also known as a bain marie, by placing a medium bowl over a saucepan of almost simmering water. Melt the chocolate in a the bowl while whisking frequently. Remove from the heat and set aside.
Learn how to make a double boiler or bain marie
.
7) Prepare the vanilla icing
In a medium saucepan, prepare the vanilla icing by bringing the agave syrup, corn or glucose syrup and water to a boil over medium heat. Remove from heat and stir in the confectioners sugar and vanilla until well combined.
8) Prepare the chocolate icing
Transfer ¾ cup of the vanilla icing and 1 teaspoon water to the bowl with the melted chocolate and stir until well combined. If the mixture thickens, heat it up in a microwave.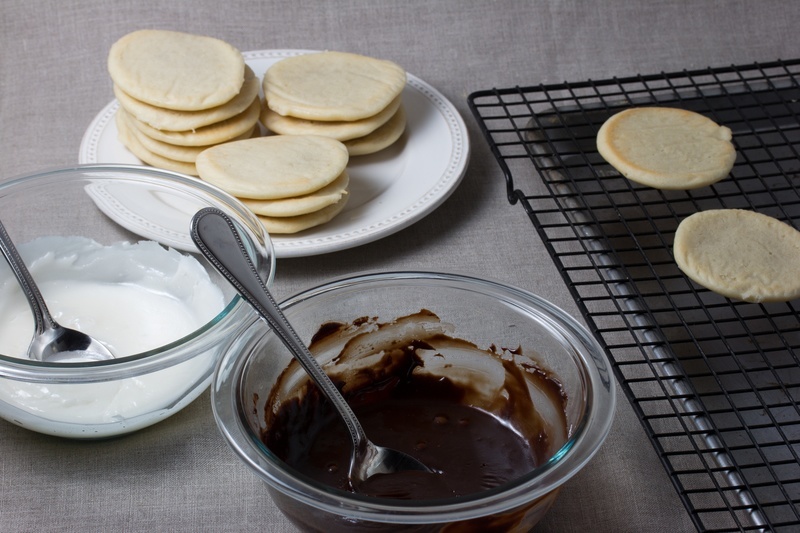 9) Glaze one half of each cookie with vanilla icing
Place 2 or 3 large wire racks on top of parchment or waxed paper. Using a small offset metal spatula, spread about 2 tablespoons of the vanilla icing on half of the underside each cookie. That's right, since the underside of the cookie is perfectly flat, we're frosting it and it now becomes the top of the cookie. Tilt the cookie and run the spatula around the edge of the cookie to scrape off excess icing. Place the cookies on the wire rack and allow the icing to harden, about 15 minutes.
If the vanilla icing begins to thicken, stir in hot water, teaspoon by teaspoon, until the icing is fluid enough to coat the cookies. Alternatively, if the icing is too thin and runny, whisk in additional confectioners' sugar, teaspoon by teaspoon, until the proper consistency is attained.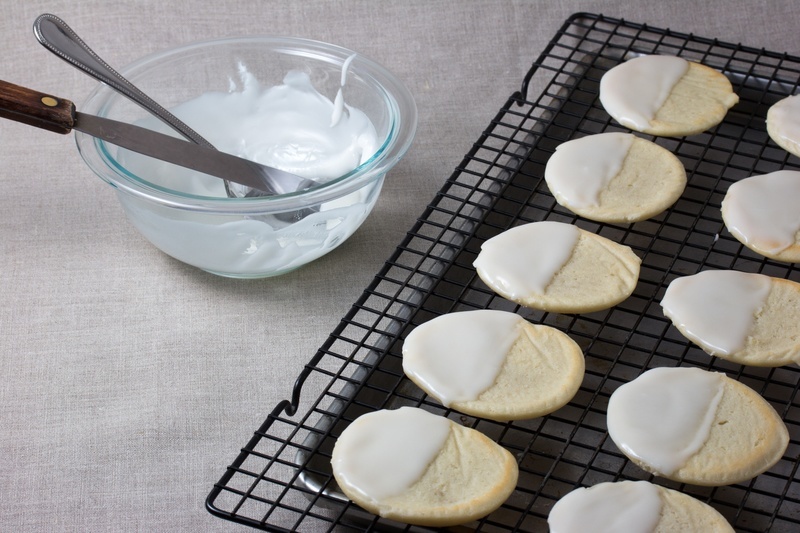 10) Glaze the other half of each cookie with chocolate icing
Using the spatula, spread the chocolate icing on the other half of each cookie, tilting the cookie downward and scraping away excess icing. If the chocolate icing thickens and cools, reheat it over a water bath until it's fluid enough to coat the cookies. If the icing is still too thick, stir in hot water, teaspoon by teaspoon, until the proper fluidity is reached. Place the cookies on the wire rack and allow the icings to harden, at least 1 hour. The cookies may be stored at room temperature in an airtight container, layered between sheets of parchment paper, for up to 3 days. This recipe makes about 24 to 26 Vegan Black and White Cookies.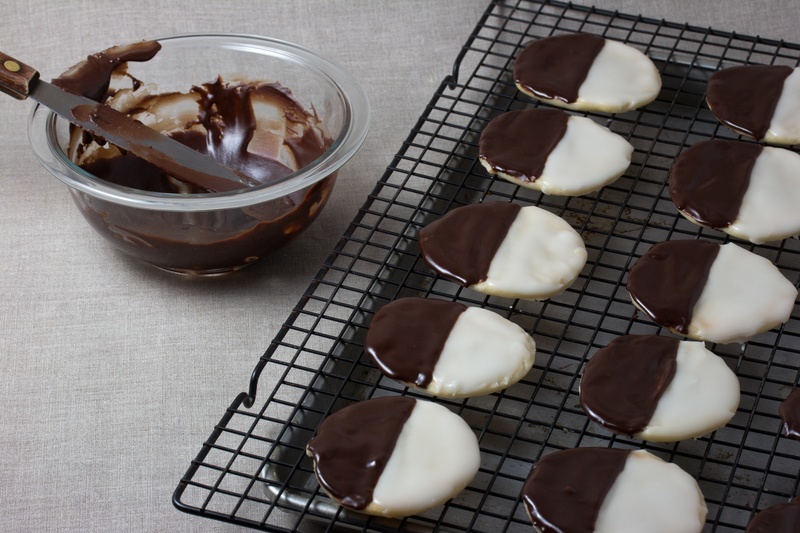 User reviews
Yummy
What a different twist, and it looks good and goowy, I will definitely try this, my kids will surely like this, thanks for sharing, keep posting!
Was this review helpful to you?

vajiya3892
#1 Reviewer
View all my reviews (57)
Was this review helpful to you?

SteveBannon
Top 500 Reviewer
View all my reviews (2)
Perfect for Halloween!
These will be perfect for our upcoming halloween party. I'll just change the white to orange!
Was this review helpful to you?
Was this review helpful to you?

Lorna
I find black and white cookies too sweet but these were excellent!
Was this review helpful to you?

dglick60
View all my reviews (1)
Decent recipe
These cookies are decent. The recipe is rather complicated though, I've seen other b&w cookie recipes that are much less complicated and come out great. I leave the lemon out or cut it way down when making these, btw. Lemon can get a bit overpowering and coming from the heart of the NYC metro area, I can tell you that black and whites there don't have any lemon flavor at all.
Was this review helpful to you?

Mazy
Great recipe
Great recipe! Highly recommend.
http://www.roofinginsiouxfalls.com
Was this review helpful to you?

Susan
These cookies made a mess! The cookie batter was way too soopy. I had to redo the chocolate and it still barely made the amount needed for 25 cookies (and did not look like icing). The actual plain cookie tasted disgusting. I do not recommend attempting to make this recipe.
Was this review helpful to you?

Megan
I've tried making this recipe three separate times and each time the batter comes out too liquidy and have even set it in the fridge the let it thinkin, still too liquidy even then. And they come out burnt. Awful in my opinion.
Was this review helpful to you?

Hawa
This recipe is perfect! i was initially worried about the icing remaining gooey but was pleasantly surprised when it set! The biscuit itself was perfect on its own, perfectly sweetened, however i added the icing for aesthetic purposes. Although i didn't try them myself people have told me they tasted divine!
Was this review helpful to you?

Hawa
EXCELLENT!
This recipe is amazing, the batter is perfect but i did have trouble keeping the biscuits the right size... oops :) but they taste amazing! however, I found them perfectly sweet so I think adding on a sweet icing may make them overpowering, so I'm just going to melt dark chocolate
Was this review helpful to you?

Anisa
These ended up a bit more spongy than I had hoped, and the icing was a pain to work with. I think with a few tweaks, it could be a 5 star recipe.
Was this review helpful to you?

NAT
These are spot on! i may have used fresh organic zest instead of extract, but y'know wheres the fun without substitutions! i used a 1/4 cup measuring cup to dole the cookies onto the parchment lined sheets and only came out with 18 cookies, but my cookie to icing ratio was still perfect! spread thinly and no leftovers or shortages! the timing (23 minutes) was also spot on! All in all a great recipe 5 stars c:
Was this review helpful to you?

Grace
... Actually pretty good!
The idea of it is really good and worked out for the most part, but I made some minor tweeks myself:
When you bake the cookies, the batter is a bit soupy but it firmed up a bit after about 15 minutes.
Definitely, definitely use parchment paper. I tried using canola oil, but it ruined the shape and made them flat. It's really great when they have a nice round shape and that little soft almost cakey bit in the center, almost like a madeline.
I couldn't find actual tapioca flour, so I used Jello tapioca pudding mix and it worked just fine.
I had a bit more batter than frosting, so I had to make a bit more for the last dozen (which is ok)
BTW, it makes about 4-5 dozen, or at least it did for me.
It's really easy to want to load on the white frosting, but too much will outbalance the cookie.
Next time I make it, I'll probably use corn or glucose syrup instead of agave - the agave made the icing really sweet especially considering the recipe calls for 5 cups of sugar.
I kept the icings constantly warm on the stove burners. Just worked well that way.
Used Ghiradelli chocolate, worked nice.
I seriously burnt my first batch - they really only need to be in for 5-10 minutes. Right as the first sign of golden-brown shows on the edges is when to pull them out.
I just used table-spoon amounts for dishing out the dough to the sheet.
All-in-all it makes for a really nice dessert cookie, good with ice cream or tea/coffee. Really amazing!
Was this review helpful to you?

Pearl909
Top 500 Reviewer
View all my reviews (1)
Great recipe
Great recipe, loved making these!!
Haven't tasted them yet, though... they're for a surprise birthday party which takes place in... 2 and a half hours. My little sister - who is madly in love with NYC - had one, though, and absolutely loved it! My mom too, apparently :)).
It's sometimes hard to convince my non-vegan family of the absolute awesomeness of vegan baking and cooking, but with this recipe I managed to blow their minds again!
And no butter nor eggs this time either :).
Thanks!
Was this review helpful to you?