Vegan Cranberry Pecan Oatmeal Cookies

Renoodle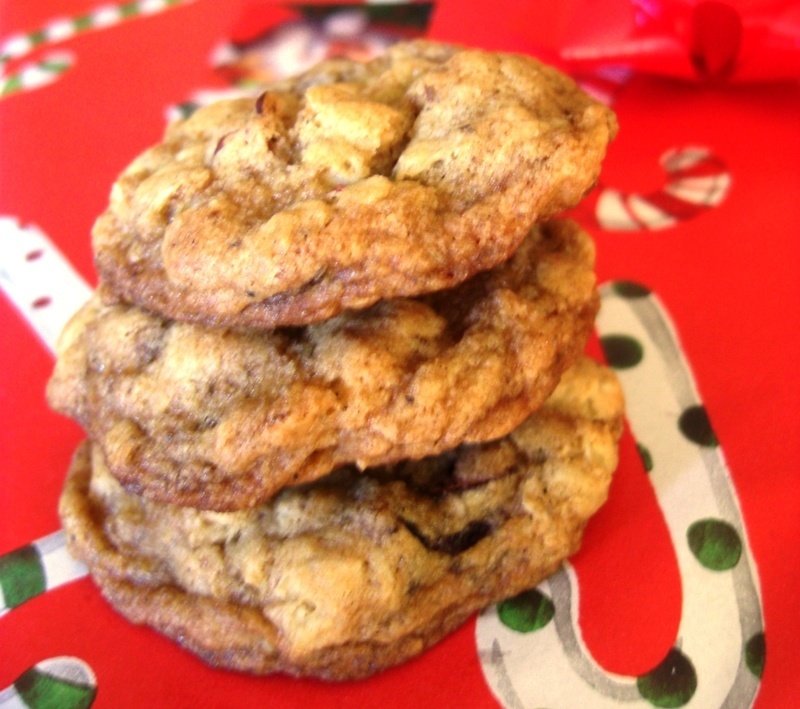 These Vegan Cranberry Pecan Oatmeal Cookies are one of the standards of our Christmas baking celebrations. They are crispy on the outside and soft on the inside. The crunchy pecans and tart-sweetness of the cranberries really make a complex and well rounded flavor and texture. They are really, really delicious!
Find more
Cranberry recipes
on Veganbaking.net
Vegan Cranberry Pecan Oatmeal Cookie Recipe
2 ½ Tablespoons
golden flax meal
6 Tablespoons water
2 cups all-purpose flour
1 teaspoon baking soda
½ teaspoon baking powder
½ teaspoon salt
1-2 pinches cinnamon
1 pinch nutmeg
1 cup (2 sticks) Earth Balance margarine, room temp
1-3 teaspoons vanilla
1 cup granulated white sugar
1 cup packed brown sugar
2 cups oats
1 cup dried cranberries
1 cup chopped pecans
1)
Preheat your oven to 400F (204C). Mix the flax and water in a small bowl and let it gel up.
2)
Combine the flour, baking soda, baking powder, salt and spices in a medium mixing bowl.
3)
Beat the Earth Balance in a separate medium mixing bowl until softened (but not liquidy). Beat in the flax meal mixture until well combined followed by the vanilla then the sugar. Mix in the flour with a rubber spatula then mix on low for 5 seconds. The batter will be thick.
4)
Stir in the oats, cranberries and pecans. Drop by the rounded Tablespoon onto a parchment paper-lined cookie sheet, roll into balls and place 2 inches apart. (Try to keep the dough cool in between baking sessions. I keep mine in the fridge) Bake for 11 minutes or until golden brown. Cool the cookies on their sheets for 1 to 2 minutes then transfer to cookie racks and cool completely (or eat while hot!). This recipe makes 15 to 20 Vegan Cranberry Pecan Oatmeal Cookies.
User reviews

Jessica
Amazingly delicious!
I used 1 1/3 cups chopped fresh cranberries, and tossed them in a bit of the flour mixture before incorporating. Normally I'd add a bit of sugar when substituting fresh cranberries for dried, but after reading a few other commenters here saying the recipe was a bit too sweet already, I held off and just used the proportions as given. I was worried about the extra moisture from the cranberries messing things up, but they turned out absolutely perfect. Had to bake them for 12 mins instead of 11, which might be due to the moisture, but might also just be my oven. Either way, DEFINITELY saving this recipe to make again!!
Was this review helpful to you?

angie
AWESOME
Everyone loved these cookies!
Was this review helpful to you?

Veg4Life
Top 500 Reviewer
View all my reviews (1)
The best cookies ever
You will not find a better cookie. Drop what you are doing and make these now. Crunchy on the outside, chewy on the inside. Cookie perfection. I made these with the vegan butter recipe from this site. I love that recipe too and it worked perfectly here.
Was this review helpful to you?

George
Great!
Thank you Renoodle, a really nice recipe.

As a cookie first-timer, I really should have timed them, as I slightly over-cooked them (they harden a lot outside the oven!). Very good anyway.
Was this review helpful to you?

Amita
Amazing
Wonderful. I used only I cup sugar. Half cup sesame oil and half cup earth balance. Used walnuts instead of pecans. So yumm! Crispy and soft. Kept in oven almost 20 min cuz we like them a bit brown. Careful...they'll be gone before they cool down! Thanks so much for posting the recipe. Amita
Was this review helpful to you?

blujpster
View all my reviews (1)
Would love to make these, they sound perfect for what I'm looking for. Was wondering about substituting truvia for the sugars - does anyone know what the ratio would be? I need a recipe with low to no simple sugars. Thanks!
Was this review helpful to you?

Dolly
I baked this recipe for the vegetarian festival. The cookies turned out to be very delicious. On the first batch, I didn't have any pecan so I used almond slide instead. My family members couldn't believe these contained no egg and no butter.

I live in Thailand and couldn't find Earth Balance Margarine so I used Meadow Lea (Original).
Was this review helpful to you?

zach
mayford
these cookies look and sound absolutely great but any idea of the time it will take or roughly how many the recipe will make???
Was this review helpful to you?

Lola2012
Delish!!!
OMG, this cookies r realy good and so taste. This cookies the proof that vegan food can taste realy good.
I used walnuts instead of pecans, I dont think it take anything away form them. Highly reccomended, to kill sweet tooth craving.
Was this review helpful to you?

elena
These are AMAZING!!! I've already made them 3 times. I had to adjust the temp b/c the first batch got burned, so I bake them on 360 for about 15 minutes. Thank you so much for sharing!
Was this review helpful to you?

imrealjolly
View all my reviews (1)
These look and sounds amazing. I'm going to make them ASAP :D
Was this review helpful to you?

Sarah Lemoine
Has anyone used fresh cranberries?
Was this review helpful to you?
These are Awesome!!
I just got the last batch out of the oven and everyone who ate some really liked them. Next time I will use less sugar, maybe a 1/2 Cup of each instead of a whole.

Also, once the oats, nuts and cranberries were added I had to moosh together with my hands.

Definitely will make again. I will also freeze the rest of these for Thanksgiving!!
Was this review helpful to you?

Vegan Bliss
Unbelievablely Good
Yes, baked up these cookies and they are Delish! Must try. Used Cranberries Infused with Blueberry Juice by Ocean Spray and they were yummy!
Was this review helpful to you?

Jess
Can't believe how tasy these are!
I was looking for a cookie recipe to take to work to share with vegan coworkers. These cookies were very tasty and became a hit of the whole office. Everyone loved them! Very easy to make for someone who hasn't worked with these ingredients or baking method before.
Was this review helpful to you?