Vegan Chocolate Cherry Bomb Cookies

Mattie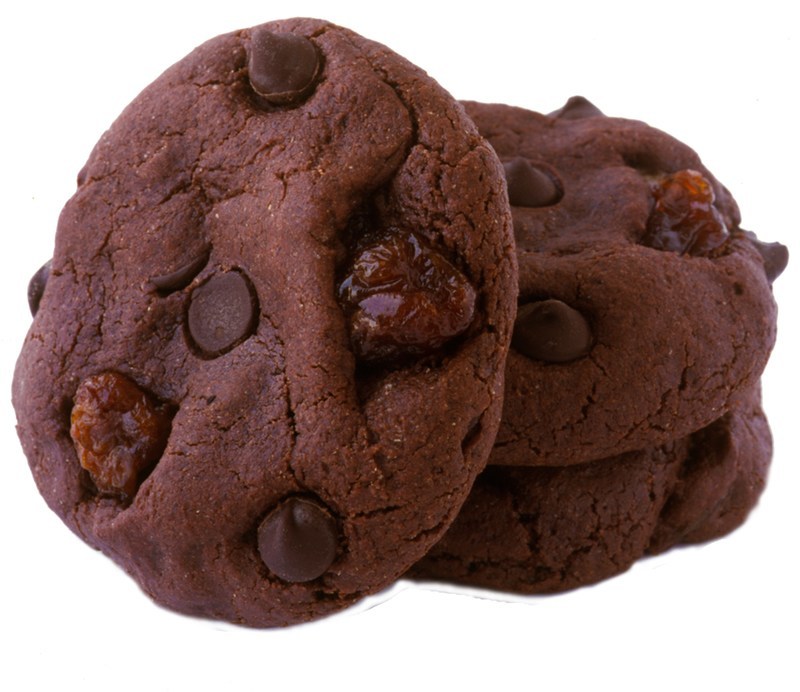 I used to own a vegan baking company called
Enchanted Oven Baking Co
. This Chocolate Cherry Bomb Cookie was one of the cookies I sold, individually packaged, to health food stores around the San Francisco Bay Area around 2003-2005. Here it is in all its glory. This recipe has been modified from a 200 cookie batch so please excuse the wonky measurements.
Brown rice syrup, cocoa powder, a touch of almond extract, just the right amount of chocolate chips and dried Ranier cherries really bring out the best in these dense, chewy chocolate brownie cookies. Please Note: For best results it's crucial that this recipe is followed exactly.
Find more
Chocolate recipes
on Veganbaking.net
Vegan Chocolate Cherry Bomb Cookie Recipe
½ cup water
1 ½ Tablespoons Egg Replacer Powder

2 ¼ cups sugar
1 cup Regular Vegan Butter or margarine, melted
1/3 cup brown rice syrup
1 ¼ teaspoons vanilla extract
½ teaspoon salt
¼ teaspoon almond extract

¾ cup dried Ranier cherries
¼ cup chocolate chips

1 cup + 2 Tablespoons cocoa powder, sifted
2 ¾ cups whole wheat flour
1 cup soy flour
1 teaspoon baking powder
1) Combine the water and egg replacer
Preheat your oven to 325F (163C). In a medium bowl whisk together the water and the Eggless Binder Powder.
2) Mix the flavor building ingredients
In a large mixing bowl, mix together the sugar, Vegan Butter, brown rice syrup, vanilla extract, salt and almond extract. Mix in the Eggless Binder Powder mixture until well incorporated. Stir in the Ranier cherries and chocolate chips.
3) Whisk together the dry ingredients
In another medium mixing bowl whisk together the whole wheat flour, cocoa powder, soy flour and baking powder.
4) Build the dough
Pour half of the dry ingredients into the bowl containing the wet ingredients and mix with a spoon until well incorporated. Add the remaining dry ingredients to the bowl containing the wet ingredients and mix as much as you can with the spoon. At this point the dough will be so thick you'll probably need to mix it with your hands. Do this until the dough is well mixed. Please note that the dough may have a bitter aftertaste due to the soy flour. This will burn off during baking.
5) Bake the vegan cookies to perfection
Form the mixture into 2 inch diameter balls (an ice cream scoop works well) and place on a cookie sheet that's lightly oiled or lined with parchment paper. Flatten the cookies down to ¾ inch height. Bake for 28 minutes, switching the sheets on the oven racks after 15 minutes for even baking. The cookies are done when little cracks are visible.
These cookies are very sensitive to over baking.
This recipe makes about 16 Vegan Chocolate Cherry Bomb Cookies.