Chewy Vegan Oatmeal Raisin Cookies

Mattie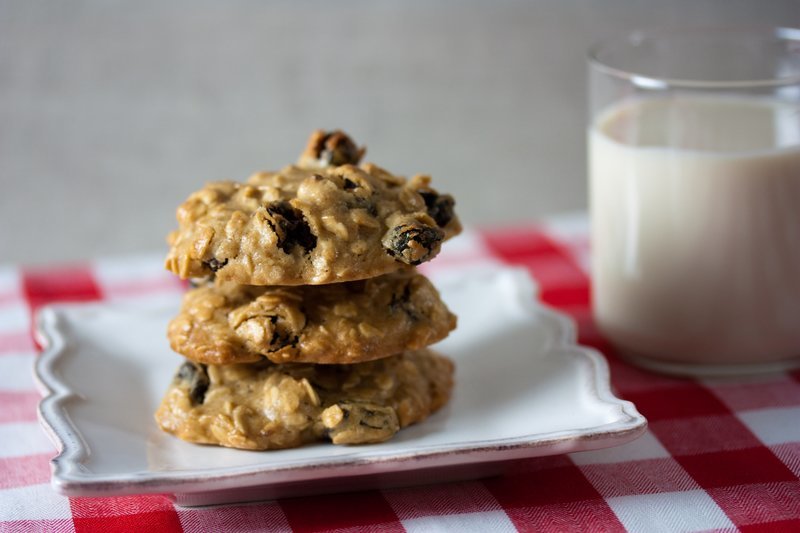 My grandmother used to make the best cookies I've ever tasted. They were oatmeal raisin cookies that had a barely crisp exterior that gave way to a chewy, rich center that would release the most amazing oatmeal flavor. I asked her for the recipe once and she said she just made them by heart. How did people ever do that? It's amazing to me when something as exact as baking can be done without a recipe and be consistently amazing every time.
Building flavor and texture in a vegan oatmeal cookies
Not having a concrete recipe made it more difficult to replicate but I'll never forget the way they tasted. These Chewy Vegan Oatmeal Cookies are inspired by Nana's cookies along with the methods I know to build flavor and texture. This cookie is all about getting a nice chew factor while producing complex, rich oaty notes. Condensed non-dairy milk builds richness. Chewiness is enhanced by using a fat blend that is 1 part saturated to 3 parts unsaturated, mixing the dough to develop some gluten and using just the right amount of molasses. Oats absorb lots of liquid while they bake so the dough needs to have a higher water content to compensate. Soaking the raisins keeps them from getting too burned as they bake. I call for rum which is a great pairing with oaty flavors. If you're not keen on alcohol, water will also work well too. The result is a cookie that I'm sure Nana would approve of.
Find more
Oat recipes
on Veganbaking.net
Chewy Vegan Oatmeal Raisin Cookie Recipe
¾ cup raisins
½ cup dried cranberries
½ cup rum or water
¾ cup sugar
¼ cup unrefined coconut oil, melted
½ cup
canola, light olive oil or rice bran oil
1 cup
Vegan Condensed Non-dairy Milk
(if you don't have time to make condensed milk then substitute it with 1 cup non-dairy milk and increase the sugar in this recipe by ½ cup)
2 Tablespoons water
2 Tablespoons
golden flax meal
2 teaspoons molasses
¼ teaspoon cinnamon
¼ teaspoon nutmeg
½ teaspoon salt
3 cups old fashioned rolled oats
1 ½ cups all-purpose flour
¼ teaspoon baking powder
1) Prepare your raisins
Preheat your oven to 350F (177C). Line two baking sheets with parchment paper and set aside. Place the raisins and cranberries in a bowl and cover them with the rum or water. Microwave for 1 minute and let them soak for about 10 minutes so they plump. Drain the excess liquid and discard.
2) Whisk together the flavor building ingredients
in a medium mixing bowl add the sugar, coconut oil, canola oil, condensed non-dairy milk, water, flax meal, molasses, cinnamon, nutmeg and salt. Whisk until smooth.
3) Whisk together the dry ingredient and mix the dough
In a medium mixing bowl whisk together the oats, all-purpose flour and baking powder. Add the wet mixture from Step 2 and mix on low for 1 minute. This will develop some of the gluten in the flour which will increase chewiness. Mix in the raisins and cranberries with a spoon until just incorporated. Allow the dough to sit for 20 minutes so the oats become hydrated.
4) Transfer the vegan oatmeal raisin cookie dough to baking sheets and bake to perfection
Using two spoons, scoop up dough that's roughly 1 ½ inches in size and arrange them on the cookie sheet so they're spaced about 2 inches apart. Bake for 24 to 26 minutes, rotating the baking sheets halfway through the baking duration. The cookies are done when they barely start to turn golden.
These cookies will store in an air tight container at room temperature for about one week or in the freezer for up to two months. This recipe makes about 30 Chewy Vegan Oatmeal Cookies.
User reviews
yummy!
thanks for sharing this! will make one later!
Was this review helpful to you?

Jake
Was this review helpful to you?

Stan Smith
Going to have to tell my wife about this. Thanks.
Was this review helpful to you?

MrMike
Misprint !!
IMPORTANT; it should read Baking SODA, NOT Baking POWDER. It would take about 2 tsps of baking powder to have much effect. Baking Soda is something like 4x as reactive. Just sayin...
Was this review helpful to you?

Jennifer
Extra Oats?
I had never used Vegan Condensed Non-dairy Milk before, and I love that there is flaxseed incorporated into this recipe!
If you have some leftover oats, I recommend you continue to use this healthy grain in another delicious recipe:

Overnight Oats!
They are the easiest things and can be dressed up with whatever fruits and nuts you'd like to add.
Recipe here:
http://nynomads.com/2017/03/plantains-and-overnight-oats/
Was this review helpful to you?

allegratech
Top 500 Reviewer
View all my reviews (1)
Good Breakfast Cookie, but not my fave for dessert
I found these cookies easy to make, and they're filling - so they're a good addition to a brunch menu or taken to work/school as a mid-morning snack, but I didn't find them to have a "wow" factor as a regular cookie. I agree with Ms. F below, I think brown sugar instead of white would go a long way to level up this cookie as a dessert item. Reviews from my taste testers were all positive, but not the "mmmmmms" and "are there more?" that I get from some recipes.
Was this review helpful to you?

GrandmaFox
Top 1000 Reviewer
View all my reviews (1)
Chewy Vegan Oatmeal raisin Cookies
Mattie, I love the thoughtfulness of this recipe. I use it as is and as a base, changing it up with vegan chips or nuts, soy milk powder, dates, ginger (crystal and powder and fresh). Thank you!
Was this review helpful to you?

Ms. F
Vegan Oatmeal Cookies
I baked the cookies according to the recipe without the rum. However, I couldn't use the Rum in the recipe because my children were eating the cookies. After baking the cookies, I waited until they cooled a bit. The cookies lacked a familiar taste. I wasn't able to identify the missing element for a few minutes. As I waited, the missing piece was revealed. It was brown sugar! Although, the recipe didn't include this one missing element. I was pleased with the taste after including 1/2 cup of brown sugar to the remaining ingredients. My children were very pleased with the taste.
Was this review helpful to you?

Katie D
question...
Hi! I'm new to Vegan baking and I was wondering if, when the recipe calls for the flax meal, is that the already mixed with water flax meal? Or is it the ground flax and then the water is the next ingredient of 2 tablespoons of water? I just don't want to over water what is apparently an already runny recipe. Thanks!! I really want to try them!
Was this review helpful to you?

Germany
SO GOOD.
These are the best vegan cookies I have ever had. Usually when I try out vegan recipes something goes horribly wrong and they turn out bad, but these were so simple to follow and delicious. I was a bit worried at first because I thought the dough was a bit runny, but they turned out great! My new favorite for sure.
Was this review helpful to you?

Julie
Vegan Oatmeal Raisin Cookies
Seriously these are killer cookies (if you like soft cookies). I have to space how often I make them cuz I can't stop eating them.
Was this review helpful to you?

Erica
Coconut Oil vs. Canola Oil?
I'm so excited to try these cookies, but the cost of the coconut oil is devastating (I'm a poor college student, newly vegan). Can I substitute the coconut oil with more canola oil? Or maybe Crisco? (Is Crisco vegan?)
Was this review helpful to you?

Leah
Newly Vegan
I WILL NEVER MAKE THESE AGAIN...



BECAUSE I CAN'T STOP EATING THEM.
Seriously these are too good I can't handle them. I made them last night and I think I've had six so far. Make me stop!
Was this review helpful to you?

Linda Varnis
Tastes Good
I was making these for a fund-raiser and didn't have the time to make the condensed milk. Maybe that was the issue, but I followed the recipe exactly. This batter was very wet and thin. I would have tossed it, except for an earlier post mentioning the same thing. It took more than one trip to the oven, and as the batter, not dough, sat, it thickened. Perhaps it should be part of the directions to allow the batter to rest while the oatmeal absorbs the excess liquid. Otherwise, the cookies are flat and do not look at all like the photo. They taste great.....
Was this review helpful to you?

Natalie
Simply amazing!
Could not ask for better cookies! im not vegan and im in love this oatmeal cookies. Since im losing weight, i tried looking cookie recipes that dont have animal fat and this is just great! they taste great, look, smell amazing. Couldnt ask for a better cookie!
Was this review helpful to you?
Gluten Free flour not recommended without adjustme
I tried making these with a gluten-free flour blend in place of the AP flour, and they turned out more like cake or bread. I imagine that the baking powder would need to be adjusted when using rice flour blends, or that I shouldn't have mixed it so much. They weren't super-sweet either, and since I baked half the batch in a square pan and half the batch as cookies, I put some vegan vanilla frosting in between a layer of square cookies (inspired by the Cowvin Cookie (http://stickyfingersbakery.com/products-page/sweetsandeats/cowvin-cookies/) and they are much better that way!!
Was this review helpful to you?

Janice
Don't skip the molasses
Hi there,

I tried this recipe last weekend. I didn't have molasses and I substituted with maltose... bad idea since the cookies turned out super dense and heavy... not very yummy. Molasses and maltose have such a similar consistency and colour that I really thought it was going to work. Guess there is science to this baking stuff afterall.....

I'll rate the recipe when I try it again without making any substitutions :)

Thanks,
Janice
Was this review helpful to you?
Turned me into an oatmeal cookie lover
I don't like oatmeal raisin cookies. They are too dry and blah. But I needed a recipe with a purple ingredient for a themed potluck, so I picked this one. I figured there would be no danger of over-indulging in these cookies.
I was so, so wrong! These are delicious!
The very wet consistency of the dough scared me, but I am very glad I persevered. I can't wait to share these with my friends. ...if I can keep my hands off them.
Was this review helpful to you?

Joanna
Amazing!
Great recipe, simple ingredients and turns out better than a non vegan cookie! Also, instead of raisins, I used dried cranberries, and added some pepitas and pecans. Tastes like a sweet granola cookie, definitely making these again! another thing, the dough was a little runny, maybe because I didnt use molasses, but i just added a little more oats and flour and it turned out fine. Thank you for this recipe!
Was this review helpful to you?