Chewy Vegan Oatmeal Raisin Cookies

Mattie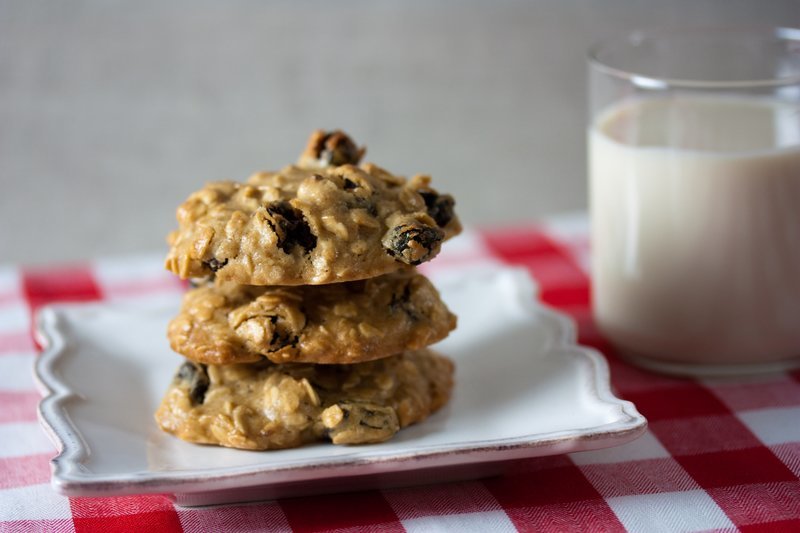 My grandmother used to make the best cookies I've ever tasted. They were oatmeal raisin cookies that had a barely crisp exterior that gave way to a chewy, rich center that would release the most amazing oatmeal flavor. I asked her for the recipe once and she said she just made them by heart. How did people ever do that? It's amazing to me when something as exact as baking can be done without a recipe and be consistently amazing every time.
Building flavor and texture in a vegan oatmeal cookies
Not having a concrete recipe made it more difficult to replicate but I'll never forget the way they tasted. These Chewy Vegan Oatmeal Cookies are inspired by Nana's cookies along with the methods I know to build flavor and texture. This cookie is all about getting a nice chew factor while producing complex, rich oaty notes. Condensed non-dairy milk builds richness. Chewiness is enhanced by using a fat blend that is 1 part saturated to 3 parts unsaturated, mixing the dough to develop some gluten and using just the right amount of molasses. Oats absorb lots of liquid while they bake so the dough needs to have a higher water content to compensate. Soaking the raisins keeps them from getting too burned as they bake. I call for rum which is a great pairing with oaty flavors. If you're not keen on alcohol, water will also work well too. The result is a cookie that I'm sure Nana would approve of.
Find more
Oat recipes
on Veganbaking.net
Chewy Vegan Oatmeal Raisin Cookie Recipe
¾ cup raisins
½ cup dried cranberries
½ cup rum or water
¾ cup sugar
¼ cup unrefined coconut oil, melted
½ cup
canola, light olive oil or rice bran oil
1 cup
Vegan Condensed Non-dairy Milk
(if you don't have time to make condensed milk then substitute it with 1 cup non-dairy milk and increase the sugar in this recipe by ½ cup)
2 Tablespoons water
2 Tablespoons
golden flax meal
2 teaspoons molasses
¼ teaspoon cinnamon
¼ teaspoon nutmeg
½ teaspoon salt
3 cups old fashioned rolled oats
1 ½ cups all-purpose flour
¼ teaspoon baking powder
1) Prepare your raisins
Preheat your oven to 350F (177C). Line two baking sheets with parchment paper and set aside. Place the raisins and cranberries in a bowl and cover them with the rum or water. Microwave for 1 minute and let them soak for about 10 minutes so they plump. Drain the excess liquid and discard.
2) Whisk together the flavor building ingredients
in a medium mixing bowl add the sugar, coconut oil, canola oil, condensed non-dairy milk, water, flax meal, molasses, cinnamon, nutmeg and salt. Whisk until smooth.
3) Whisk together the dry ingredient and mix the dough
In a medium mixing bowl whisk together the oats, all-purpose flour and baking powder. Add the wet mixture from Step 2 and mix on low for 1 minute. This will develop some of the gluten in the flour which will increase chewiness. Mix in the raisins and cranberries with a spoon until just incorporated. Allow the dough to sit for 20 minutes so the oats become hydrated.
4) Transfer the vegan oatmeal raisin cookie dough to baking sheets and bake to perfection
Using two spoons, scoop up dough that's roughly 1 ½ inches in size and arrange them on the cookie sheet so they're spaced about 2 inches apart. Bake for 24 to 26 minutes, rotating the baking sheets halfway through the baking duration. The cookies are done when they barely start to turn golden.
These cookies will store in an air tight container at room temperature for about one week or in the freezer for up to two months. This recipe makes about 30 Chewy Vegan Oatmeal Cookies.