Vegan Olive Oil Rosemary Semolina Cake

Mattie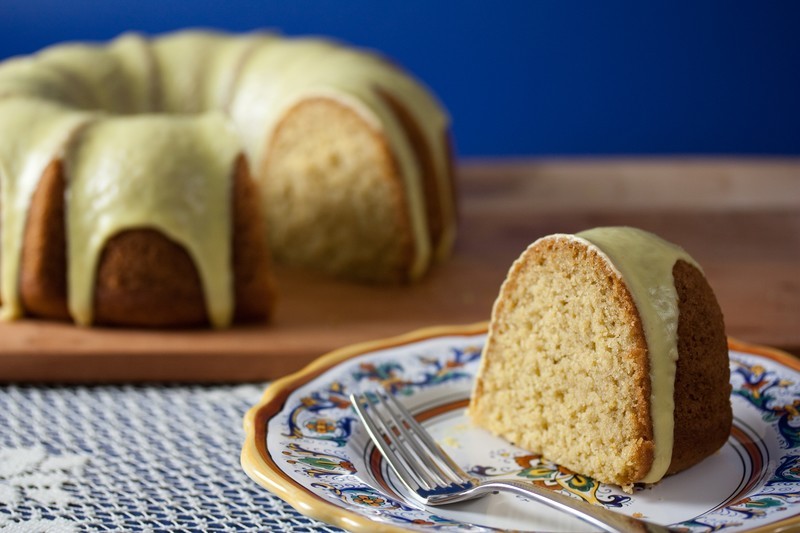 This moist, rich Vegan Olive Oil Rosemary Semolina Cake showcases how olive oil can make a great combination of sweet and savory when it's paired with fresh rosemary. Early on in the design of this cake recipe I was really liking where this cake was going but I knew I cold take it further. I remembered how olive oil tends to go seamlessly with pasta dishes so why not use the same type of flour for an olive oil cake?
Luckily, I was able to find semolina flour in the local health food store. Semolina flour is ground from the endosperm of durum wheat and is yellow in color due to its high protein content. This high protein content makes semolina flour extremely coarse and brittle in a cake recipe if you use traditional cake baking methods. I soon learned that if you soak the dry ingredients with the wet ingredients for about 8 hours, the semolina hydrates and turns into a pudding-like consistency. This could be perfect as cake batter but how am I going to evenly disperse baking powder and baking soda into cake batter and expect even leavening?
I had good results mixing the baking powder and baking soda into a ½ cup of all-purpose flour then mixing that into the cake batter just before baking but I wanted a cake that was 100% semolina flour. If the batter has to sit for 8 hours to hydrate then why not use yeast for leavening instead of chemical leaveners like baking powder? I'd be able to make a 100% semolina flour cake, the yeast would produce flavor compounds that would further compliment the cake and it would be one less step. A triple win!
This cake doesn't really need frosting due to it's savory and sweet flavor profile but drizzled with Orange Icing it's literally
icing on the cake
. This cake is a little time consuming but you're probably not going to find this at a bakery due to the cost of the ingredients and time involved in it's preparation.
Find more
Orange recipes
on Veganbaking.net
Vegan Olive Oil Rosemary Semolina Cake Recipe
1 cup extra virgin olive oil
1 ounce (about ¾ cup) fresh rosemary pulled from its stem
¼ teaspoon salt
½ cup water, warm
1 teaspoon active dry yeast
2 ¼ cups + 2 Tablespoons water
3 ½ cups semolina flour
3 Tablespoons
golden flax meal
5 Tablespoons orange juice, freshly squeezed and unfiltered from about 1 medium size orange
1 ½ cups sugar
2 teaspoons lemon zest
¾ teaspoon salt
¼ teaspoon black pepper
Orange Icing
1) Prepare the herbed olive oil
In a small saucepan whisk together the olive oil and rosemary. Bring the oil up to about 100 - 150F (38 - 66C) then remove from heat. Set aside for about 10 minutes then strain out the rosemary. Transfer the olive oil to a separate container and allow it to cool to room temperature. Feel free to place the olive oil in the refrigerator briefly to speed up the cooling process.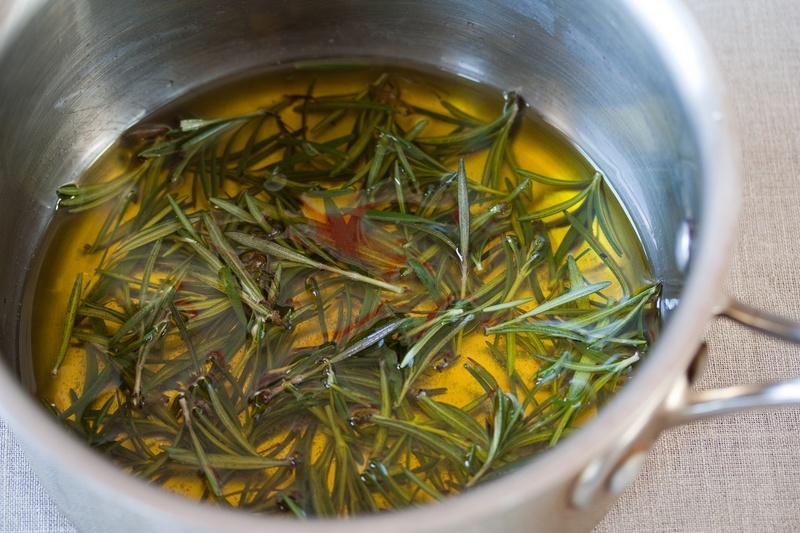 2) Activate the yeast
In a medium bowl whisk together the warm water and yeast. Let sit for 10 minutes so the yeast activates.
3) Soak the wet ingredients
Add the 2 ½ cups water, semolina flour, flax meal, orange juice, sugar, lemon zest, salt, black pepper and rosemary infused olive oil to the bowl containing the yeast mixture. Mix on low speed for 1 minute, cover the bowl with plastic wrap poked with a few holes then let it sit for about 8 hours.
4) Mix the batter, transfer it to a bundt pan and preheat your oven
Mix on low speed for 30 seconds. Lightly coat a bundt pan with vegetable oil. Transfer the mixture to the bundt pan and spread the batter until it's well distributed. Lift the bundt pan a couple inches off the counter and drop it a couple times to eliminate large air bubbles. Cover the bundt pan with plastic wrap poked with a few holes and allow it to sit for 2 hours. About 45 minutes before the 2 hours is up, preheat your oven to 325F (163C).
5) Bake the semolina cake to perfection
Bake for about 50 to 55 minutes or until an inserted toothpick comes out clean. Allow to cool to room temperature before inverting the bundt pan and carefully tapping the edge of it on the counter to release the cake.
6) Drizzle your icing
Drizzle Orange Icing over the cake and let it sit for about an hour for the icing to solidify before serving. Cake will keep for 7 days covered at room temperature.
This recipe makes one Vegan Olive Oil Rosemary Semolina cake.