Vegan Double Chocolate Fudge

Mattie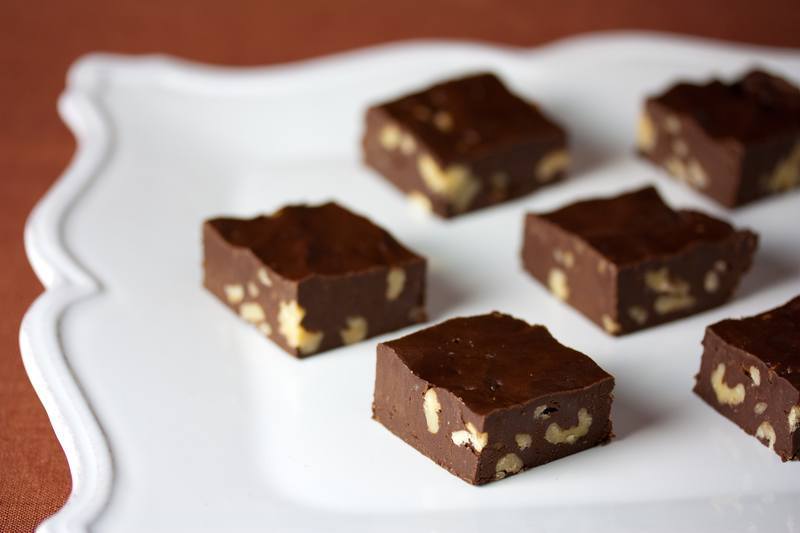 When working on this Vegan Double Chocolate Fudge recipe I learned that in order to master fudge, you need to thoroughly understand caramelization. Luckily, after dozens of fudgy failures, I now understand caramelization well enough to the point of where I can proudly share my recipe for all to enjoy, because you, dear reader, are worth more than marshmallow fluff. This recipe is easy as long as you follow it closely.
The two main methods to make fudge
Traditionally, fudge is made with a caramel base that lends a delightful chew and contributes extremely rich flavors. This is because when sugar is caramelized, hundreds of flavor compounds are created. One day someone got lazy and decided that making caramel was too much drama and they turned to marshmallow fluff to take its place. This is the new school way of fudge making. Marshmallow fluff is sticky so it contributes to the chew of fudge but it severely lacks caramel's rich flavors. The result is a fudge that is slightly easier to make but flat on flavor. I'll take the old school approach thank you very much.
Learn about the
sugar caramelization stages
.
You'll need a heavy-duty saucepan and a candy thermometer to make this vegan fudge recipe but it's worth it. It features two different types of chocolate and a touch of espresso powder for maximum chocolate flavor. You can also add things like Kahlua, Grand Marnier, bourbon, espresso, mint extract, etc to satisfy your chocolate craving in your own special way.
Find more
Chocolate recipes
on Veganbaking.net
Vegan Double Chocolate Fudge Recipe
8 oz. semisweet chocolate
½ cup cocoa powder
½ teaspoon instant espresso powder
1 ¼ cups coconut cream
1 ¾ cups sugar
2 Tablespoons agave syrup or corn syrup
½ teaspoon salt
¼ cup coconut cream
1 ½ teaspoons vanilla extract
2 to 3 Tablespoons liqueurs such as Kahlua, Grand Marnier, bourbon, etc or, up to 2 teaspoons flavoring liquids such as mint extract, orange extract, etc.
¾ cup chopped pecans or walnuts (optional)
1) Refrigerate the coconut milk and toast the nuts
Place two 13.5 fluid ounce (400ml) cans of full fat coconut milk in the refrigerator for a minimum of 4 hours. It's important to use full fat coconut milk instead of lite coconut milk in order to yield enough coconut cream for this recipe to work properly. Line an 8 x 8 inch square baking dish with parchment paper and set aside.
Toast ¾ cup chopped pecans or walnuts
if using, by placing them on a baking sheet and baking at 300F (149C) for 20 minutes. Chop the chocolate pieces into ¼ inch pieces. This is very important because if the pieces are larger than ¼ inch they won't melt enough. Place the chocolate pieces in a large mixing bowl, sift in the cocoa powder, espresso powder and set aside.
2) Prepare the coconut cream
Prepare the coconut cream by carefully taking the cans of coconut milk out of the refrigerator. Open them and scrape out the top ½ cup + 2 Tablespoons thick layer of coconut cream from each one. This will yield a total of 1 ¼ cups coconut cream. Reserve 1 cup of the coconut cream for Step 3 and ¼ cup for Step 5. Save the rest of the coconut cream and/or milk for future baking projects or for things like oatmeal.
3) Prepare the caramelize the sugar mixture
This is where we caramelize sugar into a syrupy caramel. In a heavy-duty 2 ½ quart saucepan, add the 1 cup coconut cream from Step 2, sugar, agave syrup and salt. Mix them together with your fingers being careful to have as little sugar as possible on the sides of the saucepan. Any stray particles in our mixture during the caramelization process will attract sugar crystals which are undesirable. The agave syrup or corn syrup is critical in this recipe because they both inhibit sugar crystallization which ensures our fudge remains soft and chewy.
4) Caramelize the sugar mixture to perfection
Place the saucepan over high heat with its cover until the mixture boils. Remove the cover and reduce to medium heat. Initially, the mixture may want to boil over and the heat will have to be adjusted as the mixture reduces. Keep the heat high enough so that the temperature rises but low enough so you don't burn it. Resist the temptation to crank the heat up unless the temperature stops rising. If you see smoke puffs then you're burning the bottom and the heat should be reduced. It should take around 20 minutes for the mixture to register 250F (121C) with a candy thermometer. Remove from heat and slowly pour the mixture into another large metal mixing bowl placed over a wooden cutting board to insulate it from your work surface. Be extra careful to not scrape the bottom of the saucepan with a spoon or saucepan while pouring. Doing so will scrape bitter burned sugar pieces into your precious caramel.
5) Add the flavor building ingredients into the hot caramel and mix
Whisk the ¼ cup coconut cream you saved from Step 2, vanilla extract and up to 2 Tablespoons other flavoring liquids into the caramel mixture. When the mixture cools to around 210F (99C), transfer it to the bowl containing the chocolate and mix with an electric mixer on high until smooth. Stir in the walnuts or pecans if desired.
6) Press the fudge into the baking dish and cool
Transfer the mixture into the baking dish. With dampened hands, push the fudge into place then transfer the to the refrigerator to cool for a minimum of two hours.
7) Remove the vegan fudge and cut into squares
Lift the fudge out of the baking dish by its parchment paper liner and place it on a cutting board. Slice into squares with a large knife. Store in an airtight container in a cool dark place for up to one week or in the freezer for up to six months. This recipe makes one 8 x 8 inch tray of Vegan Double Chocolate Fudge.
User reviews

Amanda
@corinne
Can confirm that store bought coconut cream (I use Dan-d-pak) works perfectly. This is easily the best fudge recipe – vegan or otherwise. My only tip would be to wipe down the insides of your pot eith a paper towel before you turn it on to remove every trace of sugar. I've also never had any burned bits when boiling, so I don't transfer it to a different pot to do the add ins step. I've made it at least a dozen times, with and without nuts, to rave reviews. It's really easy to make if you have a candy thermometer with an alarm. Make it, you won't regret it.
Was this review helpful to you?

Corinne Henry
Help! Coconut Cream
Wondering if anyone can confirm using store bought coconut cream vs chilling canned coconut milk and using the separated "cream" as being successful?? Want to make this recipe this weekend so I hope someone sees this soon :/ Thanks in advance!
Was this review helpful to you?

CookieCapers
Top 500 Reviewer
View all my reviews (1)
200 tasters can't be wrong!
This recipie is the bomb! I used it as my final treat for the cast and crew on the 2nd season of From Dusk Till Dawn where I worked as an electrician. People keep asking me for the recipe! I chose to use kaluah as the flavoring because we already used espresso powder, so, coffee.
When I was making the caramel I stirred constantly, which is why I think it turned out so perfectly. I read all of the reviews ahead of time and did not want burned sugar in my pot. It was actually all very easy to clean thanks to the stirring.
Thanks again!!
Was this review helpful to you?

Kelly
Bad instructions leads to waste of time and $
I was so excited to find and make this recipie. Spent all day yesterday making Christmas vegan goodies for gift boxes.

The instructions are too vague or incorrect. They don't work for someone who has never caramelized sugar!

Step 3 suggests putting sugar, oil, agave and salt into a saucepan and thoroughly mixing all ingredients.

Step 4 suggests placing that saucepan with a cover on over high heat and wait til it boils.

While I questioned the instructions no mention of stirring and wondered how I'm gonna see it boil with a cover on, and how long does it typically take to boil ran through my head.

I did as the instructions said, given they seemed thorough. It happened so fast. The pot started filing up with white smoke. I let the smoke out, turned the fan on opened the windows ... Probably in a matter of less than a minute on the high heat stove top, the whole bottom of my saucepan was burnt with sugar.

It took me so two 15minute boiling baking soda and vinegar with 30min rests to get the stuff off the bottom of the pan.
There was no fudge as result to the burnt sugar.

After this recipie and continuing with my other recipes, I made caramel with the suggestion in the instructions to constantly be stirring the sugar... My caramel turned out perfect... I'm gonna visit some other vegan fudge recipes and read all their instructions, and find confidence before I attempt fudge again.

Was this review helpful to you?
Christmas in a tin!
I am so impressed! My vegan gluten-free sister is hosting Christmas this year and asked me to bring something for after dinner. After discovering the price of vegan chocolate I needed a new strategy! Tonight I tried this recipe adding a couple of cups of dried fruit and some extra spices and it is exceptional - thank you!
I didn't get near to 250 - it stayed at 210 and if I increased heat it started to burn so I kept checking and pulled it off the heat when it was hitting the hard ball stage and it worked fine. Textures perfect.
Was this review helpful to you?

Goldylox99
Top 1000 Reviewer
View all my reviews (1)
Two Questions
I am going to make this for a friend who is gluten-, dairy-, soy-, and nut-free. I have two questions: (1) Can I omit the nuts without a problem, or do they help with the hardening of the fudge? If so, should I use a little baking soda in their place? (2) Several of our stores sell coconut cream. Can this be used for the coconut cream instead of chilling the coconut milk?

Thank you!
Was this review helpful to you?
amazing fudge recipe
I tried this recipe, along with another i found online with good reviews, and this one beat the other hands down. the other was made with confectioners sugar and was too sweet and not a nice smooth texture. This one is amazing.

Question though: any idea what the shelf life is or if theres a way to extend the shelf life? I imagine it wont last out of fridge because of the additional coconut cream that gets stirred in after boiling and that thus adds more moisture....can All the coconut cream be added in in the beginning and then cooked, or would the final product be missing extra creaminess or something from the cream being added in and boiled rather than added when the chocolate is added?

I know a few years back i veganized a chocolate candy recipe that used condensed milk and I subbed coconut milk..i didnt think to refrigerate the candies and they ended up going moldy in their plastic bags within a week or 2; so thinking this might be a risk with the fudge too because of the coconut cream added in at the end? fuy
Was this review helpful to you?
amazing fudge
I LOVE this recipe, its utterly amazing. I also tried, at the same time, a fudge recipe with good reviews that used powdered sugar. that one was horrible. overly sweet, no carmelly flavor. this one was amazing

Question though... do you know what the shelf life is on this? or even shelf life in fridge etc? And, do you think its possible to put ALL the coconut cream in the pot in the beginning, so that it all gets cooked and reduces moisture and therefore would probably extend the shelf-life? I feel like the moisture from the coconut cream thats added after the carmelization process probably makes the recipe more prone to shorter shelf life/mold? I know i once did a chocolate candy recipe subbing coconut milk for condensed dairy milk and put the chocolates in plastc and they went moldy out of the fridge within a week or 2...not sure if the same would happen with this fudge and/or if so if the coconut cream added at the end adds an extra creaminess that would be lackign were it all added in the beginning of the recipe?

Thanks!
Was this review helpful to you?

mayapamela
Top 1000 Reviewer
View all my reviews (1)
more than satisfied vegan fudge hankering
My vegan boyfriend had a hankering for vegan fudge, so I surprised him with this. It was a natural fit, because he loves coconut cream so much. I used pistachios, which I quite liked. Fantastic recipe over all! The instructions were precise and informative.
Was this review helpful to you?

Kajsa
Maple Syrup?
Recipe looks great!
Can you sustitute maple syrup for the agave?
Was this review helpful to you?
Hi Mattie. I would like to try this recipe. However, I was wondering whether it's ok to use ready made coconut cream, instead of coconut milk (I have seen it in an oriental grocer).
Do you think it could work? Thank you.
Was this review helpful to you?

Cara
Amazing Recipe
Mattie's understanding of food chemistry ensures that each of his recipes turns out wonderfully. Non-vegans can never tell the difference because the desserts have the same texture and flavor as their non-vegan counterparts. Kudos Mattie.
Was this review helpful to you?
Vegan Heaven
I would strongly recommend this! I've never had success with candy-making, but this recipe made it easy--just follow the instructions exactly. It took me about 30 minutes to get the caramel temperature to 250 (I have an electric stovetop and had to watch it vigilantly.)
My only complaint is that the instructions say to use "coconut cream" and then later, "coconut milk". I assumed they were the same thing? The fudge turned out excellent, so I must have done it right! Thank you for sharing this recipe.

Was this review helpful to you?

Courtney Stankovich
Was this review helpful to you?
Fantastic!
This fudge reminds me so much of my mother's. The only change I made was to mix the sugar/coconut oil/agave/salt in a bowl, then add the cashew cream, then put it in the pan to cook. That way I eliminated the potential for getting sugar on the side. Of course, it took me the two hours that the fudge was chilling to clean the pan's burnt bottom (boiling water with baking soda); well, a slight exaggeration--I only chilled the fudge for 30 minutes. And who on earth would know that you could freeze this for six months? Mattie--on behalf of myself and the five pounds I'm about to gain, thank you so much for all of the work that went in to this creation.
Was this review helpful to you?

Jennifer Cornbleet
5 minute fudge
Hi Mattie,

Your fudge looks just as good as any with butter and cream, and I wish I could try some right now!
I wanted to share an amazing recipe I came up with for vegan chocolate candy cups, that don't require any carmelization, so they're quick when you don't have time. They taste just like regular fudge, and are visually beautiful:

4 pitted large medjool dates
1/3 cup virgin coconut oil, melted
3/4 cup cocoa powder or raw cacao powder
1/2 cup maple syrup or dark agave nectar
1/8 teaspoon plus a pinch salt
2 tablespoons raisins
2 tablespoons chopped pecans or walnuts

Combine the dates and the coconut oil in a small bowl and let soak for 30 minutes. Transfer to a blender and add the cocoa powder, maple syrup, and salt. Process until very smooth, stopping occasionally to scrape down the sides of the blender jar with a rubber spatula.
Place 16 (1-inch) foil baking cups on 2 plates. Fill each cup about three-fourths full with the chocolate mixture. Top each cup with a few of the raisins and chopped pecans, pressing them down lightly. Chill the cups in the refrigerator for at least 2 hours before serving.
Was this review helpful to you?