Vegan Cashew Crunch Bars | Gluten-free

Mattie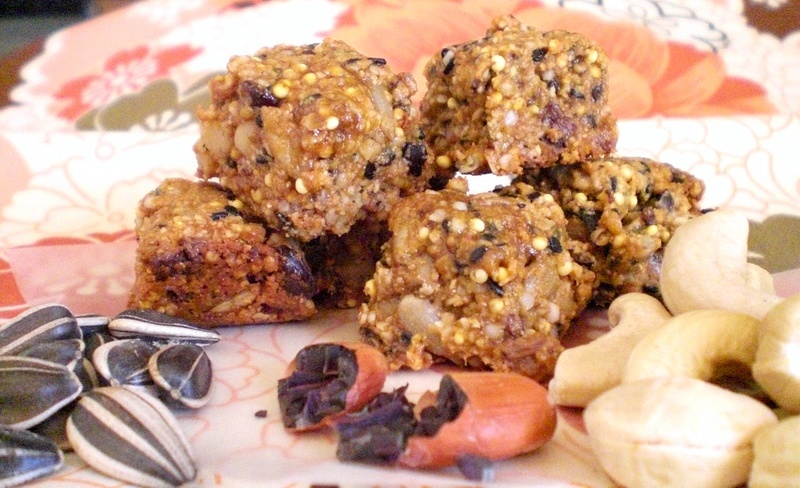 This Vegan Cashew Crunch Bar recipe makes perfect vegan energy bars for sporting events, a nutritious snack for people on the go simply just dessert. These gluten-free bars offer a satisfying crunch as well as a nice chewy texture thanks to a cashew butter base which is sweetened with maple syrup and brown rice syrup, then studded with everything from hemp seeds to millet to crushed cacao nibs.
Find more
Gluten-free recipes
on Veganbaking.net
Vegan Cashew Crunch Bar Recipe
1 ½ cups cashew butter
½ cup maple syrup
½ cup brown rice syrup
¼ cup hemp seeds, toasted
½ cup millet, toasted
½ cup sunflower seeds, toasted
½ cup crushed cacao nibs
¾ cup walnuts or pecans, toasted
1) Toast the nuts and seeds
Preheat your oven to 350F (177C). All nuts and seeds, such as the hemp seeds, millet, sunflower seeds and walnuts or pecans should be toasted in separate batches because they'll toast at slightly different rates. To toast them, place them in a frying pan on medium heat, shaking the pan back and forth about once per minute, for roughly 5 minutes, or until you can smell them toasting.
2) Build the dough and bake the vegan bars to perfection
Hand mix the cashew butter, maple syrup and brown rice syrup in a large bowl for one minute with a spoon. Add the rest of the ingredients and mix well. Spread the mixture on a lightly oiled 9 x 13 inch baking dish and bake for 15 minutes or until golden brown. Allow to cool and cut into bars. Store in a covered container at room temperature for about 1 week or in a freezer bag in the freezer for up to 6 months. This recipe makes one 9 x 13 inch tray of Vegan Cashew Crunch Bars.