Vegan Apple Spice Bread

guest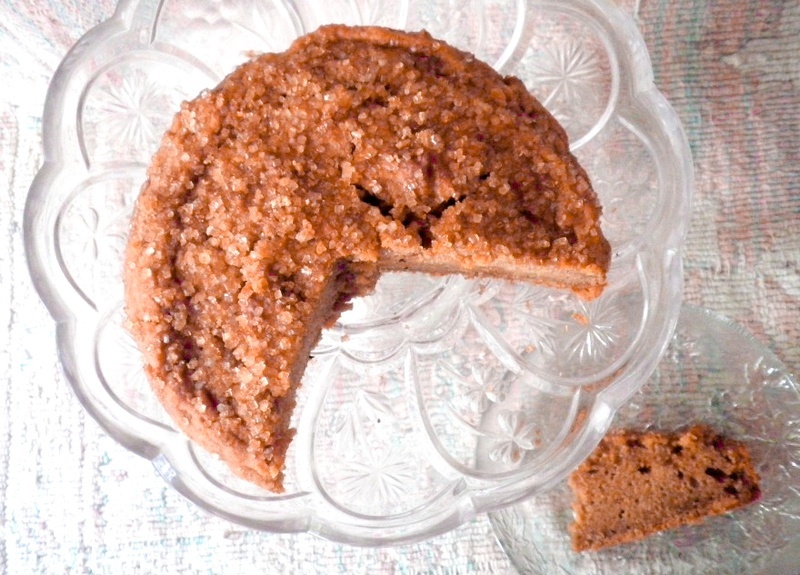 I glanced over at my fruit basket yesterday and found four moldy looking apples at the bottom. They had been languishing there for over a week, with no one paying them any attention. Now, I'm a bit of a purist with my apples. I only like them tart and crunchy with faint green veins running through their flesh. Bruised apples with brown spots go straight on my list of foods I most hate to eat. Still, something had to be done with those apples, and without much of a plan, I peeled, cored, and chopped them up.
Then I spied a jar full of demerara sugar that I'd bought recently, and inspiration took form. I decided I'd bake an apple bread. The principle would be the same as banana bread, only since apple has a higher water content, I could consider lowering the amount of fat in my recipe, and under bake slightly, so my cake would remain moist. A small quantity of vinegar provides just enough acid for leavening, and the baking soda helps it rise. This bread bakes up dense.
I'm going through a phase these days in which I'm trying to limit my sugar intake. I find that more than a couple of teaspoonfuls a day gives me a sugar rush, and eventually leaves me feeling rather drained, so I'm switching to more natural sweeteners and sugar replacers. In this cake, I used stevia (something I'm still experimenting with) and agave. I would've used just stevia, but I find it often leaves an unpleasant aftertaste. So the agave provides some of the sweetness, and an all-pervading warmth. There's a grating of nutmeg in there, which hits your nose first, and is then backed by the agave, the apples and the toasty smell of whole wheat. This bread, toasted lightly, is perfect for breakfast. And for a tea time snack. Or for dessert. Or at any time, really.
Find more
Apple recipes
on Veganbaking.net
Vegan Apple Spice Bread Recipe
1 ½ cups (about four medium-size) apples, peeled, cored, finely chopped and then cooked down for about 20 minutes

1 cup all-purpose flour
¾ cup whole wheat four
½ teaspoon baking soda
½ teaspoon freshly grated nutmeg
A pinch of salt

½ cup vegetable oil (I used sunflower seed oil)
4 teaspoons stevia
½ cup amber agave syrup
¼ teaspoon vinegar

1 Tablespoon demerara sugar
1)
Grease and dust a standard-sized loaf pan with flour. (I didn't have a loaf pan so I used a regular 6" cake pan with tall sides.) Preheat the oven to 330F (165C).

2)
In a large bowl, whisk together the flours, baking soda, nutmeg and salt.

3)
In a medium bowl, whisk together the oil, stevia, agave, vinegar and applesauce.

4)
Create a well in the middle of the dry ingredients and pour the wet ingredients into that. Stir gently with a wooden spatula to combine.

5)
Once they are just combined (Just make sure there are no major visible lumps of flour) pour into the prepared pan.

6)
Scatter demerara sugar over the top and bake in the preheated oven for about 45-50 minutes, or until the top is nicely browned and a skewer inserted inside comes out clean.
Allow the loaf to cool on a wire rack before cutting. The crumb will become more dense and easy to slice on the next day. Vegan Apple Spice Bread should keep, sealed airtight, for 3 to 4 days. I like to cut myself a slice every now and then, toast it on either side, and eat it with a cup of tea. This recipe makes 1 loaf of Vegan Apple Spice Bread.