The Essential Cookie is Essentially Great

Mattie
These little beauties were picked up recently at the local health food store. Actually they weren't little by any means, measuring about four inches across. They're from
Cindy Klotz Productions
which is a secret vegan cookie lab located inside a volcano guarded by unicorns. Ok, we just made that last part up. But there is no website info on the cookie and we're a little dumbfounded as to where to find more information about these cookies. A website that made us feel all warm and snuggly while at the same time describing their cookies would be a great place to start.
Update: Cindy Klotz Productions now has a
website
!
One thing that we did find is that The Essential Cookie looks like an attempt to bring to market a simple honest cookie that tastes amazing but doesn't rely on space age ingredients that make cookies actually taste like taffy. We sampled the Oatmeal Chocolate Chip and Cranberry Chocolate Chunk cookies.
Oatmeal Chocolate Chip
This cookie tasted like a cross between a traditional chocolate chip cookie and a traditional oatmeal cookie. It had substantial notes of vanilla and margarine that were accented by the oats and chocolate chips. The chocoalte chips weren't too few and the texture of the oats was very welcoming. It tasted straight up like a cookie with vegan being an afterthought. This was likely due to the ingredients being simple, traditional and not including any scientific conditioners, stabilizers or artificial ingredients (depending on how you classify margarine). I was happy to find that the cookie held together and had a perfect level of sweetness. Many vegan cookie manufactuters pump up their cookies with sugar to disguise off flavors of other ingredients or to make up for other flavors that are lacking. Not with these cookies. Texture-wise, they weren't chewy or crunchy but somewhere in between. They reminded me of a a gourmet cookie that a cafe would offer.
Ingredients: oats, vegan zero trans fat margarine, unbleached unbromated flour, granulated sugar, dark brown sugar, soy milk, vegan chocolate chips, salt, baking soda, nutmeg.
Cranberry Chocolate Chunk
This cookie hit me with very complex and exciting flavors of chocolate, oats, cranberries, chocolate chips and even coffee. Where the Oatmeal Chocolate Chip was for cookie traditionalists, the Cranberry Chocolate Chunk is for bungee jumping paintballing cookie eating warriors. It would be one thing if it had a boring mouthfeel but au contraire, dear reader. It was chock full of texture from the ingredients mentioned above as well as oats which gave it a not chewy but not excessively crumbly consistency like the Oatmeal Chocolate Chip.
Ingredients: granulated sugar, vegan zero trans fat margarine, oats, unbleached unbromated flour, vegan chocolate chips, cranberries, soy milk, cocoa, coffee, pure vanilla extract, salt, baking soda.
Why aren't more cookeis like these? Probably because making cookies that can withstand the rigors of long shelf life and not crumble into dust at the local health food store is extremely difficult and takes years of trial and error. In an attempt to conquer this challenge many commercial vegan cookie bakers turn to things like fruit dextrins, vegetable starches and artificial "natural flavors". This can often be a slippery slope that can make cookies taste anything but. The Essential Cookie has managed to make amazing vegan cookies while avoiding this pitfall. Good vegan premade cookies are frequently hard to come by. Thankfully, The Essential Cookie is changing all that, one cookie at a time.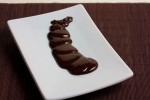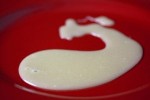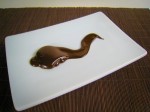 User comments
Bites
I got Banana Chop Oat Bites at King Kullen in Massapequa , They taste great! cant wait to try other flavors!
Was this review helpful to you?
the best cookies in the world!!
I truly think these are the best cookies I've ever had. And I know my cookies!! Thanks, Cindy! Please make it possible for us to buy them online!!
Was this review helpful to you?
Ginger Spice is yummy too!
I have a deep and enduring love of Nana's Cookies, but I tried The Essential Ginger Spice Cookie today and was pleasantly surprised! It had a soft texture but didn't fall apart, and had all the gingery spicy flavor that I associate with fall. Also, I bought it at a corner deli, much more convenient than a chi-chi health food store... I was surprised to look over at the "(sigh) I can't eat ANY of those" packaged baked goods and find such a tasty looking, generously sized vegan treat right next to them! Ingredients: unbleached unbromated flour, granulated sugar, vegan zero trans fat margarine, molasses, soy milk, baking soda, salt, ginger, cloves, black pepper (!), nutmeg.

Way to go, Cindy, whoever you are! I just wish your website had a shopping cart system so I could send some of these to my mom.
Was this review helpful to you?