How to Make a Box of Chocolates

Mattie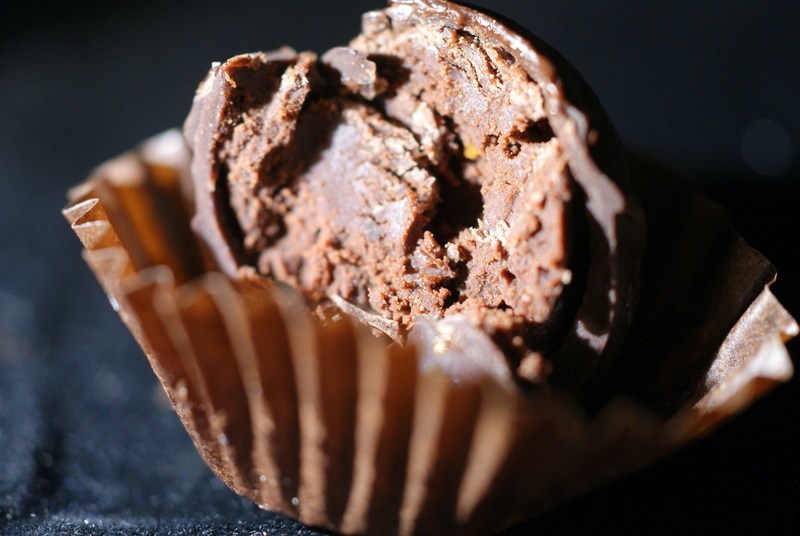 With the holidays rapidly approaching and funds dwindling about as fast, you might be wondering how in samhain you're going to pull out all the stops and deliver a memorable gift this year. Or you may be dreaming up ideas on getting yourself into a chocolate induced coma so you can cope with the stresses of life. Either way, now is the time to take matters into your own hands, put on your DIY hat and make a box of chocolates.
Like most things that are a little time consuming, the rewards of doing this are pretty big. I mean, the probability of having extra chocolates on hand is extremely high. I repeat: You're going to have tons of awesome chocolates after you do this! So what are you waiting for?
Find
Chocolate recipes
on Veganbaking.net
Determine The Number of Chocolate Flavors
The fist thing you need to determine is how many flavors you should make. It's going to take time and a small amount of money to put these chocolates together. You want something that's extravagant but won't make you miss your deadline or call in sick for work because you miscalculated how much work there actually was. Generally, four flavors is a good place to start if you're going for a good combination of wow-factor while still falling comfortably into your busy schedule.
Choose Your Chocolate Flavors Wisely, Grasshopper
Now that you've decided on a number that's realistic for your abilities, what should those flavors be? This is a tough question, as there are close to 1.4 bazillion chocolate flavors out there as of this writing (and probably even more by the time you read this). Luckily, we feature several flavors that are pretty easy to whip up.
Marzipan Truffles
These truffles consist of marzipan encased in a molded dark chocolate exterior.
Chocolate Orange Bombs
Packing an orange one two punch,these truffles have candied orange peel kissed with Grand Marnier liqueur that's then bathed in chocolate then covered in a dark chocolate shell.
Chocolate Hazelnut Bark
Hazelnut brittle that's been enhanced with Frangelico hazelnut liqueur is covered in melted chocolate to make this bark.
Pecan Caramel Chews
These chewy caramels feature pecans and are partially dipped in dark chocolate for a perfect combination of chewy, crunchy and chocolate.
Chocolate Orange Sweeties
These orange candies offer the perfect combination of orange and chocolate thanks to the chocolate chip on top of each one.
Chocolate Covered Date Bonbons
Most people won't be able to tell that these truffles consist of just chocolate covered dates. They'll think you slaved all day over some sort of crazy filling 'compound'. There's something about chocolate and dates that just works really well.
Chocolate Truffles
These are more traditional chocolate truffles made in a not-so-traditional way so they're easier to make. They can be tweaked in a number of different ways to make several variations on their own.
Plan Your Presentation
The second step in making your box of chocolates is to plan out what your little treats are going to look their best in. Is it going to be a heart shaped box? A small square box? A shoe? Your local cookware shop commonly has stuff in stock for your chocolate making endeavors like candy cups and gift boxes.
Candy Cups
Candy cups are just like cupcake cups but are small enough to hold a truffle. They make for a stellar presentation and also act like packing material, keeping the chocolates from rubbing against each other and getting marked up. They usually come in red, gold and glassine:
Wilton Red Foil Candy Cups
Fox Run Gold Foil Candy Cups
Fox Run Glassine Candy Cups
Gift Boxes
For a box I usually like to do something red if possible. There's just something about a red box of chocolates that's just so exciting. Red gift tins are a little hard to find. Papermart has a good variety of square, round and heart-shaped
gift tins
.
When doing multiple layers of chocolates, I usually cut a piece of colored construction paper to the shape of my gift tin so the chocolates are further protected from rubbing against each other during transit.
As you assemble the chocolates into your gift tin, don't be afraid to pack them in pretty tightly. This will make for a better presentation, allow you to pack in more chocolates and further protect them from jostling around when you're carrying them to the lucky chocaholic. A fancy ribbon tied around the gift tin holding a card is also a nice touch.
If you've done everything right you'll probably have some left over. Celebrate by knowing you did it and induluge yourself on some of the leftovers! Come on, you've earned it. Just don't show up to your date with chocolate all over your face. That's just so not hot.
Have a favorite truffle recipe or box of chocolates gift idea you want to share? Comment about it below.
Truffle image by
Chocolate Reviews
via Flickr