The Faces of Vegan Baking: Shannon Michelle of Cinnaholic

Mattie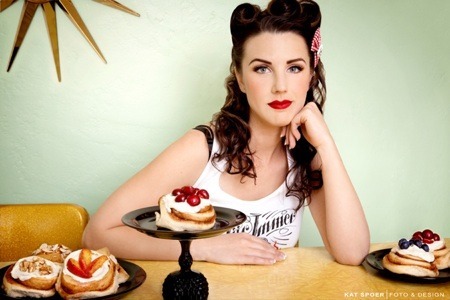 This month I was lucky enough to ask Shannon Michelle, of
Cinnaholic
fame, some questions on the ins and outs of starting and operating her vegan bakery.
Mattie
: Please tell us a little bit about yourself and how you got into vegan baking.
Shannon
: I started dabbling in "traditional" baking in my early 20's at home. When I transitioned from vegetarian to vegan in my late 20's, I spent about a year slowly converting all my recipes into vegan recipes. Most of them were simple substitutes like soy milk in place of regular milk or soy butter in place of real butter. The challenging part was adding new ingredients I wasn't yet familiar with things like egg replacer, xanthan gum and experimenting with different types of flours and sweeteners.
Mattie
: Please tell us about Cinnaholic. What was your primary motivation and influence for starting it?
Shannon
: I used to bake almost every day for the people at my work, my friends, family and for places I would volunteer at. It got to the point where people would almost expect me to arrive with a handful of treats and some even started making specific requests for birthdays, desserts, etc. Everyone told me I should open a bakery. I smiled at the thought and sort of laughed it off knowing that on the salary I was making at the time, it was likely never going to happen. That's about the time I baked a tray of pumpkin cinnamon rolls for my now brother-in-law. He was so impressed and had such a huge amount of faith in my husband and I, that he offered to give us the start up money to open Cinnaholic.
Mattie
: What is your favorite product that Cinnaholic sells? Why?
Shannon
: I really like our caramel apple pie roll. It's our basic cinnamon roll smothered in caramel frosting with fresh chopped apples and a buttery spiced brown sugar & oatmeal crumble on top. The caramel is by far my favorite frosting flavor and I love how well the crunchy spiced apple pairs with the warm gooey cinnamon dough.
Mattie
: What is your favorite part of owning and operating a vegan business?
Shannon: I love the diversity of the people who come through our store. We have our students, people in the vegan community, Hollywood celebrities, homeless wanderers & our every day average people. It's fun to see everyone in an excited, almost child-like state of mind building and creating their own personal dream rolls. It's nice to see people happy and finding a common ground for those 10 minutes they are in our store.
Shannon
: I'm also really stoked on all the organizations we get to help out and contribute too. Most of our donations go to animal rights related causes. I've always been a big supporter of compassionate people who fight for justice and try to make a difference in the world.
Mattie
: Did you have prior experience before starting Cinnaholic? If so, what kind of experience? If not, what did you do to acquire the knowledge you needed to succeed?
Shannon
: I can't say that I had any 'real' experience other than experimenting in my kitchen, using my friends as guinea pigs and dabbling as a server at a few restaurants in my younger years. Before Cinnaholic I had been focusing my efforts on things like accounting, veterinary medicine, radio broadcasting, music industry studies and real estate. I learned a lot about running a business through miscellaneous skills acquired at my previous jobs (customer service, managing our finances, quality control, etc.) The fact that my husband had his own company helped a lot as well. The rest was learned by reading books and articles, taking a small business course and talking with other local business owners. I'm still learning and I think I always will be.
Mattie
: What was the most valuable resource that helped you in starting Cinnaholic?
Shannon
: When we first had the idea to start a bakery, we decided to hire someone to oversee our finances and give us insight on things like permits, laws, contracts and whatnot so that we wouldn't end up biting off more than we could chew. We had been referred to an amazing company called Tax Ninja who had previously worked with a family member of ours. After pitching them our idea, he and his wife broke down some numbers and gave us a thumbs up shortly after. We jumped in with both feet and everything has been going according to their calculations thus far. They even do my parents taxes now!
The other person who played a huge role in the beginning was our real estate agent Santino DeRose. We found him through Craigslist after inquiring about a location in SF. For weeks he sent us updated lists of potential locations and for weeks, we tirelessly rejected them. He never gave up, never pushed us into a place that wasn't right for us and even helped mediate the contract for us with our landlord at signing.
Last but definitely not least, our family, friends, media contacts and the vegan community were a HUGE support. Without them Cinnaholic wouldn't exist. They blogged, Facebooked, Tweeted, showed up to events, wrote articles, connected us to others who they thought might be able to help us... they helped push us forward and reassured us that everything was going to turn out awesome on our toughest days.
Mattie
: What was the hardest part of starting Cinnaholic?
Shannon
: It's a tie between perfecting the recipe (there were countless baking failures, long nights, and tear-filled kitchen destroying sessions in the process) and not knowing what the next step was. Since I had never owned a business before and had no knowledge about specific city regulations, permits, contracts, etc. it was really stressful knowing that there were deadlines coming up that required a lot of money and there were no instructions on how to get the task done. I can't even count how many hours I spent listening to automated phone messages, listening to elevator music on hold or being transferred around to different departments.
Mattie
: If you had the choice to start your business all over again, what would you do differently and why?
Shannon
: I would have done more thorough research on the estimated cost of individual expenses like payroll, ingredients, bills, services, packaging, etc. and I probably would have taken more time to shop around for the best deals. We learned that lesson the hard way in the beginning unfortunately.
Mattie
: What advice would you give people who are thinking of starting their own business that caters to vegans and vegetarians?
Shannon
: Support your community and they'll support you. Network! Before we opened we catered a lot of events for free. We wanted to get a feel for what people were looking for in the vegan community, get to know them and try to make a name for ourselves. We met a ton of great people, some who had invaluable resources, simply by attending events and talking with them over a baked good.
Mattie
: How much time did it take for your business to get from the idea stage to being open for business?
Shannon
: I met my husband in November 2008. We started talking about the idea early 2009. By July 2010, we were up and running! I would say for a good solid year and a half we worked our asses off talking to people and putting all the puzzle pieces together.
Mattie
: What is your favorite baking ingredient right now? Why?
Shannon
: I'm really stoked on Coconut sugar right now. I haven't experimented with it a whole lot yet but I love coconut anything!
Mattie
: What kind of changes would you like to see in the current vegan baking world?
Shannon
: More independent styles, new ideas and creative techniques. Your product should be an extension of your creativity. If you're into skulls and daggers rather than the traditional hearts and flowers you might find today at 9 out of 10 pastry shops, then by all means, embrace it!
I'd also like to see more male bakers. We have 3 guys that work at Cinnaholic currently and they are the greatest! There's just something rad about a guy in a flour stained apron who can bake. Ya know?
Mattie
:How can we find out more about Cinnaholic?
Shannon
: Our storefront location in Berkeley, CA is open Tues-Fri from 8am to 7pm and Sat/Sun from 9am to 7pm.
You can order our products online at
www.cinnaholic.com/shop
or read more about us in the press section of our website at
www.cinnaholic-berkeley.com/press
.
You can also stay connected and get updates on our daily specials via Facebook and Twitter or get special deals by signing up for our newsletter.
Mattie
: Thanks so much for taking part in this interview Shannon!