The Faces of Vegan Baking: Dan From Liz Lovely

Mattie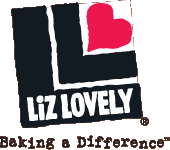 I recently had a cookie at Whole Foods that knocked my socks off. I enjoyed the flavor, the packaging and since I used to own and operate a vegan organic cookie company myself, I was naturally intrigued. Enter
Liz Lovely
. I had the pleasure of asking Dan from Liz Lovely some questions to find out what makes them tick.
Veganbaking.net:
Please describe your business.
Dan:
Liz Lovely was founded by Liz and Dan Holtz (front left & right) to bring you cookies with a higher purpose. We call it Baking a Difference™.
We bake gourmet cookies with organic & fair trade ingredients from our 100% vegan cookie bakery in the Green Mountains of Vermont.
Unlike most natural food companies these days, we bake everything in our own bakery and ship it directly to people and stores all over the country.
Veganbaking.net:
What was your primary motivation for starting a business that caters to vegans and vegetarians?
Dan:
We were both strictly vegan, and couldn't find what we wanted. Also, it seemed like awareness was just beginning to spread about vegan and vegetarian. And we were right, it's pretty mainstream now.
Veganbaking.net:
What is your favorite part of owning and operating a business that caters to a cruelty-free clientele?
Dan:
Honestly, the health department goes really easy on us because we don't have animal products. Eggs and dairy are the leading source of harmful bacteria in a food production environment. Not having them makes it pretty easy to keep things safe and clean. It's also nice to know that our business is not harming any animals.
Veganbaking.net:
What were your primary influences for starting your business?
Dan:
We shopped at health food stores, checked out competing products, and tried to imagine something that was both "in the niche" and that would stand out. We went to interesting stores and checked out packaging for all kinds of products. Soaps, furniture tags, you name it. Liz read a lot of Martha Stewart magazines. Dan read "The Inside Scoop" about Ben and Jerry's. We did all kinds of homework.
Veganbaking.net:
What is your businesses\' most valuable asset?
Dan:
Our incredible staff.
Veganbaking.net:
Did you have prior experience before starting your business? If so, what kind of experience? If not, what did you do to acquire the knowledge that you needed to succeed?
Dan:
We had small business experience, both working for others and running our own. But we had no real food experience. We talked to a lot of people. Folks that worked at Whole Foods, food business owners, consultants, anyone who would give us some free advice.
Veganbaking.net:
What was the most valuable resource that helped you in starting your business?
Dan:
Not having enough startup money. It's easy to cover up problems with money, it's not easy to solve them. Having a tight budget forces you to continue making course corrections and learning hard lessons quickly.
Veganbaking.net:
What was the hardest part of starting your business?
Dan:
You work incredibly long hours. Your life becomes second to the business for quite a while, and it's hard to regain that balance. We've sacrificed a lot of money, fun, and sanity to get Liz Lovely on its feet.
Veganbaking.net:
Were your financial startup costs in line with your original estimates?
Dan:
That's not possible. It always costs more and takes longer than you think. But it's important to try and estimate to the best of your ability anyway.
Veganbaking.net:
If you had the choice to start your business all over again, what would you do differently?
Dan:
We would probably have kept it simpler and smaller. Maybe opening a retail bakery instead, and grown into some wholesale. The wider you distribute, the more complex it becomes. We rarely meet our end-user customers. Having a retail operation ties you directly to your public, and keeps the business within arms' reach. Bigger is not always better.
Veganbaking.net:
What advice would you give people who are thinking of starting their own business that caters to vegans and vegetarians?
Dan:
Focus on flavor. It's easy to remove stuff from a recipe, it's hard to keep it delicious. If non-veg people love it, you've got a winner.
Veganbaking.net:
How much time did it take for your business to get from the idea stage to being open for business?
Dan:
About 6 months. We did a lot of testing, planning, pre-marketing. There's no right answer here, but do your homework.
Veganbaking.net:
Where do you see your business in 5 years?
Dan:
That's a tough question, based on the current economy. I hope we're still doing what we're doing. A little bigger, a little more established. I think that's what we're all hoping for right now. Stability.
Veganbaking.net:
Where can we find out more about your business?
Dan:
There's this fancy new thing called the world wide web. We're at
www.lizlovely.com
, stop over!
I'd like to thank Dan for being so kind to answer our questions!