Vegan Lemon Poppy Seed Pancakes

Mattie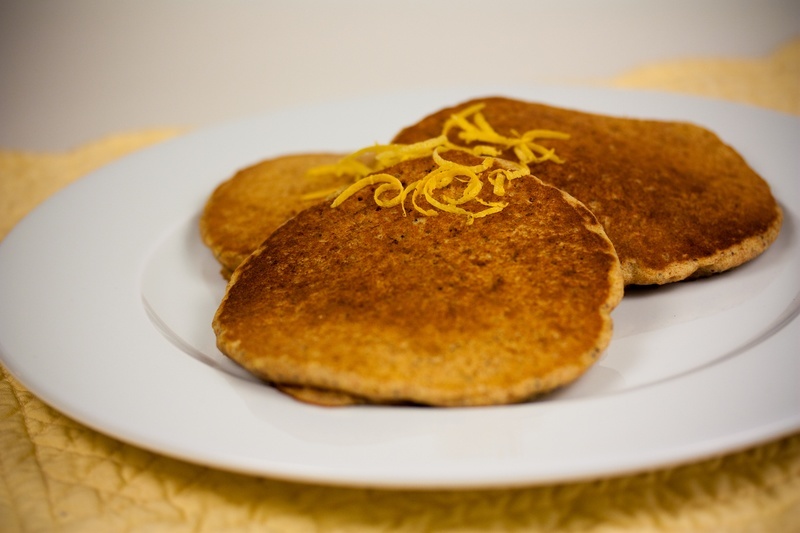 This Vegan Lemon Poppy Seed Pancake recipe features lemon juice, lemon extract and lemon zest combined with poppy seeds to create a bright lemony flavor that's a great way to start the day. These vegan pancakes are delightful topped with a touch of almond butter, fruit and/or real maple syrup.
Proper cooking surface temperature is key
In order for your pancakes to cook to perfection, it's essential that your cooking surfaces reach the proper cooking temperature (about 375F or 191C). This will ensure your pancakes don't stick and are cooked through consistently with slight browning but no burning. If your pancakes are sticking it's almost always because your cooking surface isn't hot enough. I recommend turning on the heat under your cooking surfaces as soon as you walk into the kitchen to make your pancakes so everything gets a chance to heat up, un-oiled. Most cast iron griddles, skillets and electric griddles have lots of metal to disperse the heat so they need extra time to reach their proper cooking temperature.
Find more
Lemon recipes
on Veganbaking.net
Vegan Lemon Poppy Seed Pancake Recipe
2 cups + 2 Tablespoons non-dairy milk
1 Tablespoon lemon juice
zest of 2 lemons or 1 Tablespoon lemon extract
1 Tablespoon poppy seeds
1 teaspoon vanilla extract
1 teaspoon almond extract
1 cup whole wheat flour
2/3 cup all-purpose flour
1/3 cup oat bran, wheat germ or wheat bran
2 Tablespoons sugar
1 ½ teaspoons baking powder
½ teaspoon salt
¼ cup
vegetable oil
½ cup slivered almonds
1) Whisk together the non-dairy milk and the flavor building ingredients
In a medium bowl, whisk together the non-dairy milk, lemon juice, lemon zest or extract, poppy seeds, vanilla extract and almond extract. Let it sit for about 10 minutes so the non-dairy milk curdles.
2) Whisk together the dry ingredients
In a large bowl, combine the whole wheat flour, all-purpose flour, oat bran, sugar, baking powder and salt.
3) Whisk the pancake batter together
Whisk the vegetable oil into the non-dairy milk and lemon juice from Step 1 then whisk the mixture into the large bowl containing the flour mixture and mix until fully incorporated. Stir in the slivered almonds.
4) Bake the vegan pancakes to perfection
Grease a griddle or a large iron skillet with canola oil or a similar heat tolerant oil. If you're using a non-stick surface forego the greasing process. The surface is ready for pancakes when water flicked on it sizzles. Using a ladle, drop about 1/3 cup of batter to form a pancake. When small bubbles appear, flip the pancake with a spatula. A thin steel spatula with a large surface area works well. Let the pancakes cook for at least another 2 minutes on the other side or until golden. Do not press down on pancakes with the spatula.
Pancakes keep for up to 5 days in an airtight container in the fridge and can be easily heated in a toaster.
This recipe makes 8 to 10 Vegan Lemon Poppy Seed Pancakes.