Roasted Pumpkin Seeds

Mattie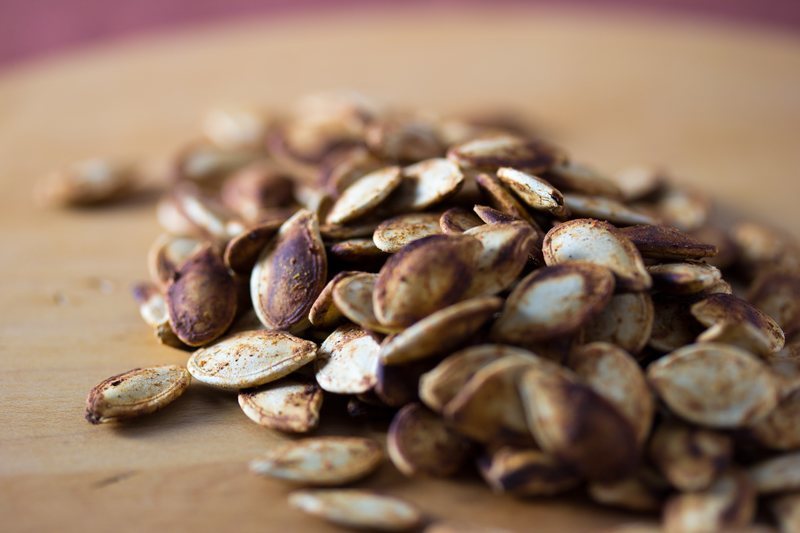 Every year for the last several years I've been experimenting with the seeds that come with my fall pumpkins. I enjoy roasting them
and candying them
but I've always grappled with their often tough mouthfeel. I always seem to be gnawing on them for eternity as the texture slowly starts to remind me of sawdust. Every year I've tackled this problem differently; usually simmering them in water for a certain amount of time to soften them before roasting. This tactic has only yielded me marginally more tender pumpkin seeds. I needed to take this further.
A few months ago I picked up my first slow cooker. After some initial testing I found that slow cooking the pumpkin seeds in water on high (about 210F (99C)) for 10 hours allowed me to roast them to perfection. Using this method, your pumpkin seeds will be crispy on the outside and give way to a subtle chew on the inside as they release their flavors. Oh yeah, the flavor. Now that found the optimum texture, I opted for a savory punch thanks to the shiro miso, paprika and a dash of sugar and cayenne for depth of flavor. Now I can finally really enjoy pumpkin seeds as an easy going snack.
Find more
High-protein recipes
on Veganbaking.net
Roasted Pumpkin Seeds Recipe
2 cups pumpkin seeds (1 pumpkin yields about 1 cup of seeds)
5 teaspoons shiro miso
¼ teaspoon garlic powder
¼ teaspoon paprika
¼ teaspoon cinnamon
¼ tsp sugar
pinch cayenne pepper
1) Remove the seeds from your pumpkin
After cutting your pumpkin open, grab a hold of the seed bunches and pull them out. This is far easier than scraping out the "guts" and removing the seeds later. Rinse the seeds in a colander and drain.
2) Slow cook your pumpkin seeds
Add the pumpkin seeds to a slow cooker, cover with water, place the cover on and slow cook on high 210F (99C)) for 10 hours.
3) Roast your pumpkin seeds to perfection
Preheat your oven to 300F (149C). Place the seeds in a mixing bowl and whisk in the shiro miso, garlic powder, paprika, cinnamon, sugar and cayenne. Spread them uniformly on a two baking sheets and bake at 300F for 1 hour, switching the sheets on the racks haflway through the baking duration. Store the seeds in an air tight container at room temperature for up to 1 month. This recipe makes about 2 cups Roasted Pumpkin Seeds.