Vegan Double Chocolate Brownie Chunk Ice Cream

Mattie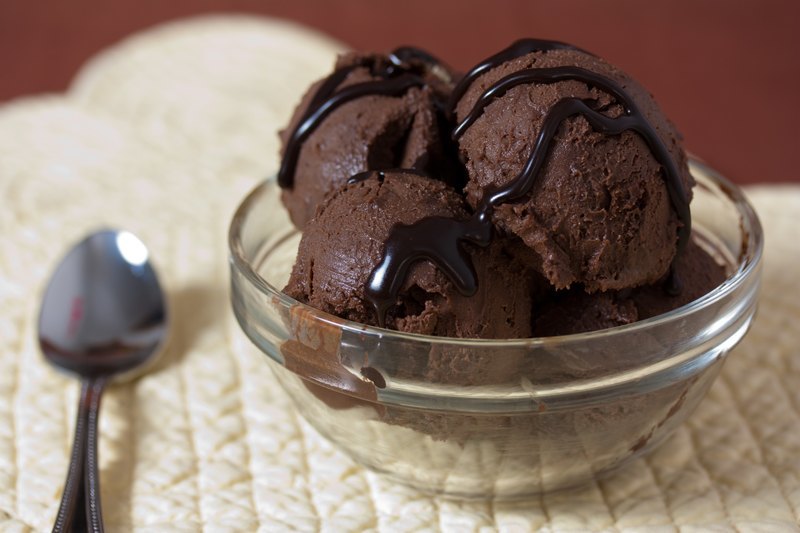 This Vegan Double Chocolate Brownie Chunk Ice Cream recipe was going to be called Triple Chocolate Brownie Chunk Ice Cream due to it's use of two different types of chocolate and brownie chunks mixed in. Then I realized that things were starting to get out of hand and I had to look out the window and count to ten. Its still full of chocolate though; this Category 1 chocoholic wouldn't lie. It's a great way to use up those extra
Ultimate Vegan Brownies
you have lying around that you've desperately been trying to eat. Wishful thinking, no? Drizzling some
Double Chocolate Sauce
over the top is highly recommended.
Find more
Chocolate recipes
on Veganbaking.net
Vegan Double Chocolate Brownie Chunk Ice Cream Recipe
¾ cup raw, unsalted cashews, rinsed
2 ¼ cups water
1 cup + 2 Tablespoons sugar
1 teaspoon instant espresso powder
1 pinch salt
2 Tablespoons arrowroot flour or tapioca flour
½ cup cocoa powder
2 Tablespoons
vegetable oil
1 Tablespoon + 1 teaspoon agave syrup
1 Tablespoon apple cider vinegar
1 teaspoon vanilla extract
1.5 ounces semi-sweet chocolate
4 ounces of brownie chunks, chopped into ½ inch cubes
1) Simmer the cashew mixture
In a medium saucepan add the cashews, water, sugar, espresso powder and salt. Cover the saucepan, bring it to a boil and simmer for 10 minutes.
2) Simmer with the starch then add the cocoa powder
Add the arrowroot flour or tapioca starch and simmer for 4 more minutes. Now add the cocoa powder and simmer for 1 minute.
3) Blend the creamy base ingredients with the rest of the flavor building ingredients
Transfer the mixture to a blender and add the vegetable oil, agave syrup, apple cider vinegar, vanilla extract and semi-sweet chocolate. Blend on the Whip setting for one minute then transfer to a covered container and place in the refrigerator to cool for at least two hours.
4) Whip the ice cream mixture
Now we want to whip some air into the ice cream to improve creaminess. Beat the mixture for 2 minutes.
5) Process the mixture in an ice cream maker
Transfer to an ice cream maker and mix for about 30 minutes. Transfer the ice cream to a medium mixing bowl and stir in the brownie chunks.
6) Transfer the vegan ice cream to the freezer for it to harden
Transfer to a covered container and put it in the freezer for at least 3 hours. This recipe makes about 1 quart Vegan Double Chocolate Brownie Chunk Ice Cream.