Vegan Chai Chocolate Chip Ice Cream

jackie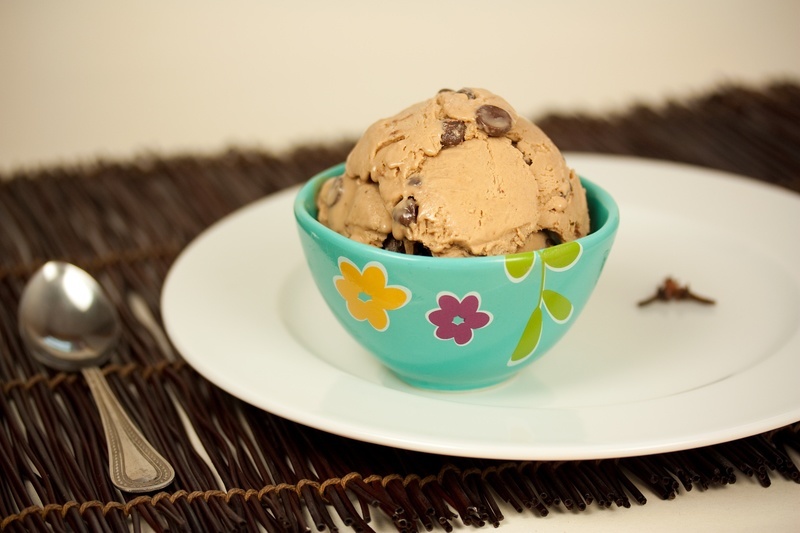 This Vegan Chai Chocolate Chip Ice Cream recipe uses non-dairy milk and cashew butter for creaminess. Raw cashew butter essential for this vegan ice cream due to it's neutral flavor; roasted cashew butter is not recommended because it has undesirable bitter flavors that will throw off the flavor profile. Chai is such an awesome hot beverage that it dominates the hot beverage scene to the point of where other hot beverages are jealous. So why not make it dominate the cold and icy scene as well by making it into ice cream? Then add chocolate? Well okay then!
Find more
Chocolate recipes
on Veganbaking.net
Vegan Chai Chocolate Chip Ice Cream Recipe
2 cups non-dairy milk
¾ cup sugar
4 teabags of Darjeeling tea
1 teaspoon arrowroot flour or tapioca flour
2 teaspoons
vegetable oil
1 teaspoon apple cider vinegar
8 whole cloves
8 green cardamom pods
6 slices of fresh ginger (use a vegetable peeler to peel slices that are1 ½ inches long)
1 cinnamon stick approximately 2 inches long
2 pinches cayenne powder
1 pinch of nutmeg powder
½ cup raw cashew butter
¼ cup silken tofu
1 teaspoon vanilla extract
¼ cup chocolate chips
1) Simmer the flavoring ingredients
In a medium saucepan over medium heat, add the non-dairy milk, sugar, Darjeeling teabags, arrowroot flour or tapioca flour, vegetable oil, apple cider vinegar, cloves, cardamom, ginger, cinnamon, cayenne powder and nutmeg. Simmer for about 5 minutes while whisking frequently.
2) Blend in the structure builders and cool
Strain out the spices and tea. Transfer the mixture to a blender and blend in the raw cashew butter, silken tofu and vanilla extract for about one minute. Transfer to a bowl and place in the refrigerator to cool for about two hours.
3) Process in an ice cream maker
Mix in an ice cream maker for about 30 minutes.
4) Transfer the vegan ice cream to the refrigerator to harden
Mix the chocolate chips into the ice cream with a spoon. Transfer to a covered container and put it in the freezer for about 3 hours. This recipe makes 1 quart Vegan Chai Chocolate Chip Ice Cream.