Flourless Vegan Chocolate Raspberry Mousse

Mattie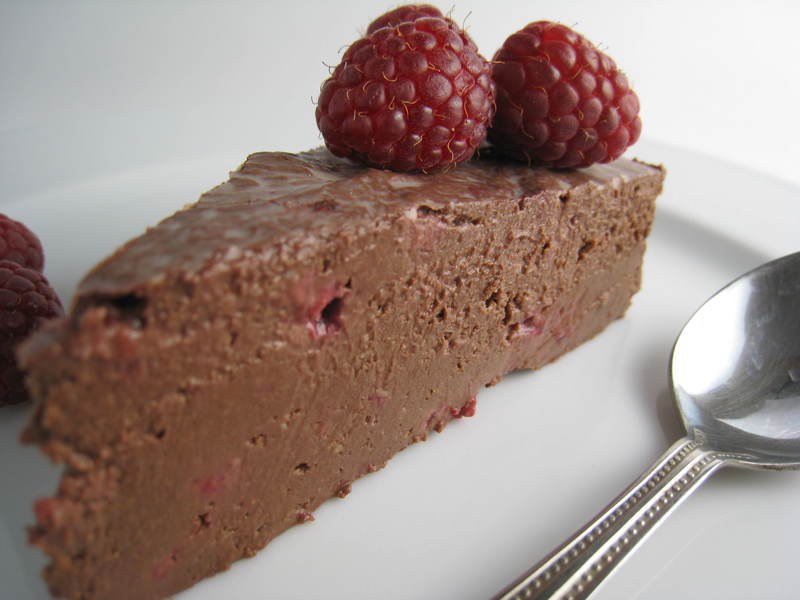 This Flourless Vegan Chocolate Raspberry Mousse recipe features a silky vegan chocolate mousse enhanced with coconut oil, cocoa powder and a touch of vanilla extract. It's then blended with fresh raspberries for a delectable combination. It's also easy to make, wheat free and doesn't even require baking. The hardest part is waiting several hours for it to firm up in the fridge.
Find more
Chocolate recipes
on Veganbaking.net
Flourless Vegan Chocolate Raspberry Mousse Recipe
½ cup coconut oil, refined
12 oz. (or 1 pack, or 2/3 cup) silken tofu
1 cup powdered sugar
1/3 cup cocoa powder
2 Tablespoons (27 grams)
Regular Vegan Butter
or margarine
2 Tablespoons arrowroot or tapioca starch
1 teaspoon vanilla extract
¼ teaspoon salt
4 oz 99% unsweetened baking chocolate
1 cup fresh raspberries
1) Process most of the main ingredients
Place the container of coconut oil in a pot of hot water to get the oil liquified for easier measuring. In a food processor or blender, add the coconut oil, silken tofu, powdered sugar, cocoa powder, margarine, arrowroot or tapioca starch, vanilla extract, salt and process until smooth.
If you'd like your mousse to have a crust,
learn how to make a Spring Form Crust
.
2) Melt the chocolate and mix
In a double boiler or small saucepan apply low heat to the chocolate while stirring constantly. When the chocolate is fully melted add it to the food processor or blender from step 1 and process until well incorporated.
Find out how to make and use a double boiler
.
3) Add the raspberries
Add the raspberries and pulse for a second until they're in small chunks.
4) Pour the mousse and let it solidify
Pour the mixture into a 7 inch spring form pan and place it in the refrigerator for 4 hours for it to firm up. Once firmed up, use a small pairing knife to cut around the outside to help separate remove the outer portion of the mousse from the spring form pan. Open the outer portion of the spring form pan and give it a jiggle while lifting it away. Store in the refrigerator and serve cold. This recipe makes one 7 inch Flourless Vegan Chocolate Raspberry Mousse.
User reviews
not a review, but a question
If I wanted to make this soy free, could I use the same amount of cashew butter? Would it have the same texture? I haven't used tofu or cashew butter enough to know what might happen! Thanks!
Was this review helpful to you?

Nancy
Lusciousness!
I made this the night before my husband's birthday. It turned out perfectly! Despite everyone being stuffed after dinner, no one left even a smear of this on their plates. I used the spring-form-crust as a guide as I don't have a spring form and didn't have cookies (I used granola and dropped the salt from the crust recipe).

I doubled the recipe for the 10" pie dish I had. I had unsweetened baking chocolate (I don't think it was 99). My only difficulty was using unrefined coconut oil because it solidified when it made contact with the tofu. I had to scrape the sides of the food processor several times. Otherwise an easy recipe that tastes like a pro whipped it up.

Was this review helpful to you?

chloe
WOW
I have been experimenting immensely on vegan mouses.
This is by far the BEST recipe.
For a fourth of july treat, I put the mouse a top a graham cracker pie crust for a nice, chocolate pie.

Was this review helpful to you?

shikhamj
Top 500 Reviewer
View all my reviews (1)
can we use this as a filling in the cake
hi,
The recipe looks awesome , i wanted to know can we use this recipe as a filling in the cake without chocolate . i am baking a cake for my friend and she loves strawberry mouse but is allergic to chocolate after a lot of research i found your recipe . Reading all the reviews i am tempted to try it which i will , but for now can i use this recipe without chocolate and as filling for a cake.. please do reply ..

thank you
shikha
Was this review helpful to you?

kmrychl
View all my reviews (1)
Delicious - Gluten free!
I just made this for my birthday and it was delicious!
I didn't use any margarine and it didn't seem to make any difference. I used Ghiradelli 100% unsweetened chocolate for the baking bar and Hershey's for the cocoa powder.
My friend who said she doesn't like chocolate flavored things found it delicious, and I can't stop reaching in the fridge for the leftovers.

Highly recommend for a delicious gluten free and vegan treat, thanks Mattie!
Was this review helpful to you?

JenniferRose
View all my reviews (1)
I used strawberries instead of raspberries, it was yummy. I also put it in the freezer for extra firmness, which I found better for cutting. Served it to my in-laws, great cooks and good test subjects for true success, they enjoyed it.
Was this review helpful to you?

Jessie
Fabulous Recipe
Thank you so much for this great recipe. It's so easy to make and so delicious to eat. This will be a repeat in my household. Thanks.
Was this review helpful to you?

Sophie
Flourless chocolate raspberry cake!
MMMMMMMM,...I made this lovely cake yesterday evening & it was divine! WAW!!!! I am just learning to cook, bake & use tofu.
Your recipe rocks!!

many greets from a foodie fan from Belgium! :)
Was this review helpful to you?
Dear God help me!
Mattie you mad crazy scientist, I just made this....now I am hooked up to it's liquid form intravenously...I thought we were going to be more like Bill, eat salads, fruit, boiled potatoes...I know, I know, fresh raspberries...but coated in lush chocolate, thick gooey, silky, wickedness.... can't write...overdosing on chocolatey...nes......s....
Was this review helpful to you?

vegantester
Top 50 Reviewer
View all my reviews (4)
i'm planning on making this as one of many birthday dessert treats for my husband, but i have two questions:

1. would frozen raspberries be ok to use, in your opinion?

2. would 85% chocolate suffice?

thanks!
justine
Was this review helpful to you?

Rocket and Roses Vegan Ki
A Heavenly Celebration Dessert
I made this cake for my friends 40th celebration cake. It was divine. Everyone enjoyed every moutnful and there was even some licking of plates...lol.
I doubled the recipe and used a 10" tin as I knew my chocolate loving friends would need more than a 7" cake. And it worked really well.
Everyone should try this recipe...it's easy to make, good to look at and even better to eat. Divine.

Thank you Mattie...I have posted and reviewed it on my blog today

Red
Was this review helpful to you?

Sarah
Issues?
Was I supposed to use cocoa powder that is used to make hot chocolate? I'm just a little confused, because my cake came out verrrry bitter. I used all the right ingredients, so I'm not sure if something went wrong, or if its supposed to be so bitter. It tastes like there was almost no sugar added at all! (even though I added the right amount of sugar)
Was this review helpful to you?

Sarah Lemon
Decadent
I made this yesterday for my anniversary and oooo boy is it good!!! Really rich and gourmet. It's a bit expensive to make considering I didn't have coconut oil on hand and I don't usually use tofu (everr...) but it was far less expensive than eating dessert out. Perfect for any special occasion and will impress even the most cynical anti-vegans.
Was this review helpful to you?

Naomi
The best thing I've ever eaten
You are incredible. This is the best thing in the whole entire world. Nobody that I've shared this with can understand how something so amazing can also be vegan. Even the anti-vegan, super cynical chef that I work with was impressed. Every one of your recipes that I've used has been amazing! Thank you so much for being so great
Was this review helpful to you?

Maddie
So fun!
Oh wow! I was stunned! I didn't think a vegan cake could actually be good. But I was very wrong! My friend (who is a vegan) had her grandmother pass away this weekend so I decided to make her a cake because I just love cooking and she loved it so I tried it. Wow!
Was this review helpful to you?

Amit
AmaZING!!!
Made this a week back and it turned out to be stunning. Easy to make and tastes delicious. Highly recommended.
Was this review helpful to you?