Ferocious Vegan French Toast

Mattie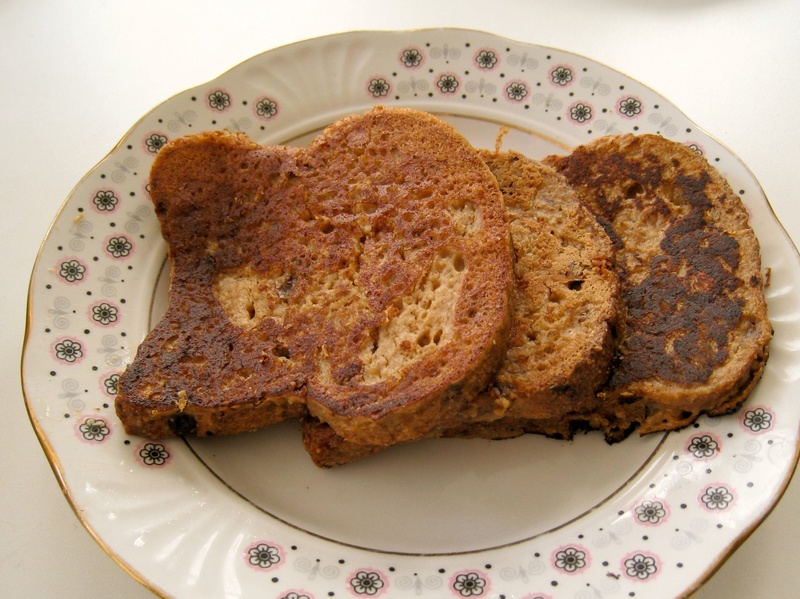 This Ferocious Vegan French Toast recipe utilizes the creaminess of cashew butter and just the right combination of tahini instead of the usual eggs. These nut butters get slightly toasted during cooking which adds a complex savory richness that's further enhanced by cinnamon and nutmeg. It's a delicious vegan take on the old classic.
Find more
French-style recipes
on Veganbaking.net
Ferocious Vegan French Toast Recipe
1 cup + 2 Tablespoons water
2/3 cup raw cashew butter
3 Tablespoons tahini
1 teaspoon sugar
1 ¼ teaspoons salt
1 ½ teaspoons cinnamon
1 teaspoon nutmeg
1 teaspoon vanilla extract
vegetable oil, for coating your cooking surface
1) Prepare your bread
Toast 8 slices of bread. Alternatively, you may also leave the bread out the night before so it gets stale.
2) Process your french toast batter
In a food processor or blender add the water, cashew butter, tahini, sugar, salt, cinnamon, nutmeg and vanilla extract. Process until smooth and creamy. Transfer the mixture to a large bowl.
3) Prepare your cooking surface
Lightly oil a large skillet or griddle and place on medium heat. The skillet or griddle is properly heated when a few drops of water flicked on it makes a sizzling sound.
4) Cook the vegan french toast to perfection
Place a slice of the bread in the mixture and flip it over to liberally coat both sides. Cook the French toast for 1 to 2 minutes or until golden brown, carefully flip the slices over and cook an additional 1 to 2 minutes or until golden brown. Low and slow is the key here so the interior of the bread slices let go of as much moisture as possible and the outside surfaces are lightly toasted. Transfer the French toast to a large plate. Lightly coat your skillet with vegetable oil again and repeat the cooking procedure for the remaining slices of bread. Serve with your choice of jams, syrups or fresh fruit. Store in a covered container in the refrigerator for up to one week. This recipe makes 8 slices of Ferocious Vegan French Toast.