Easy Vegan French Toast

Mattie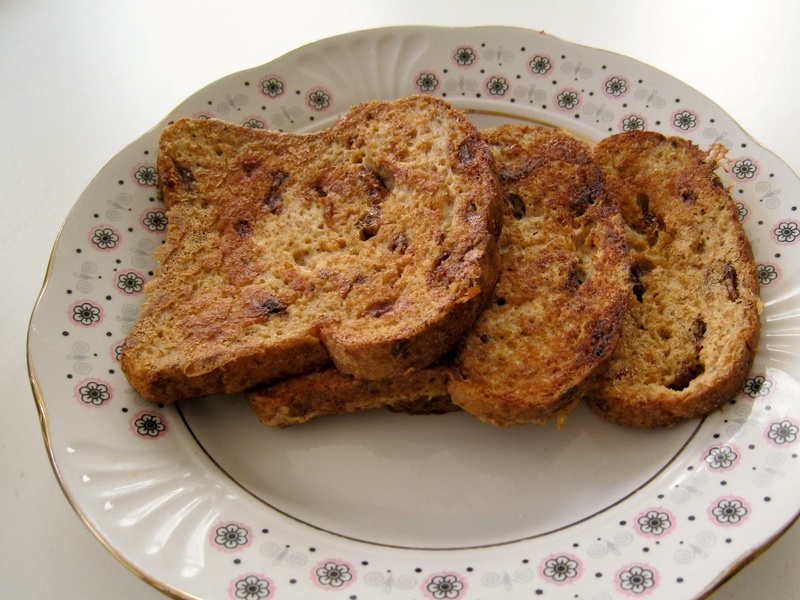 This Easy Vegan French Toast recipe is just one more reason to get up in the morning. It's great for brunch with friends too because you don't have to waste the whole morning being on griddle duty as much as you do with pancakes. It features chickpea flour, nutritional yeast flakes, cinnamon, nutmeg and cardamom to bring out the best combination of savory and sweet flavors.
Find more
French-style recipes
on Veganbaking.net
Easy Vegan French Toast Recipe
8 slices of bread of your choice (gluten-free bread if you desire)
1 cup non-dairy milk
2 Tablespoons
vegetable oil
1 Tablespoon sugar
1 ½ teaspoon apple cider vinegar
½ teaspoon vanilla extract
½ cup + 2 Tablespoons chickpea flour
1 Tablespoon nutritional yeast flakes
½ teaspoon salt
½ teaspoon cinnamon
½ teaspoon nutmeg
1) Prepare your bread
Toast 8 slices of bread. Alternatively, you may also leave the bread out the night before so it gets stale.
2) Whisk together your wet ingredients
In a medium bowl, whisk together the non-dairy milk, vegetable oil, sugar, apple cider vinegar and vanilla extract. Let it sit for about 10 minutes so the non-dairy milk curdles.
3) Whisk together your dry ingredients
In a large mixing bowl, whisk together the chickpea flour, nutritional yeast flakes, salt, cinnamon, nutmeg and the non-dairy milk apple cider vinegar mixture from Step 2. Process until smooth and creamy and pour the mixture to a large bowl.
4) Preheat your cooking surface
Lightly oil a large non-stick or seasoned skillet or griddle and place on medium heat. The skillet or griddle is properly heated when a few drops of water flicked on it makes a sizzling sound. Do not use a stainless steel skillet because the French Toast will stick to it.
5) Cook your vegan french toast to perfection
Place a slice of the bread in the mixture and flip it over to coat the other side. Cook the French Toast for 1 to 2 minutes or until golden brown, carefully flip the slices over and cook an additional 1-2 minutes or until golden brown. Transfer the French Toast to a large plate. Lightly oil the skillet again and repeat the cooking procedure for the remaining slices of bread. Serve the French toast with your choice of jam, syrup or fresh fruit.
This recipe makes 8 slices of Easy Vegan French Toast.