Vegan Cornmeal Spelt Pizza Crust

Mattie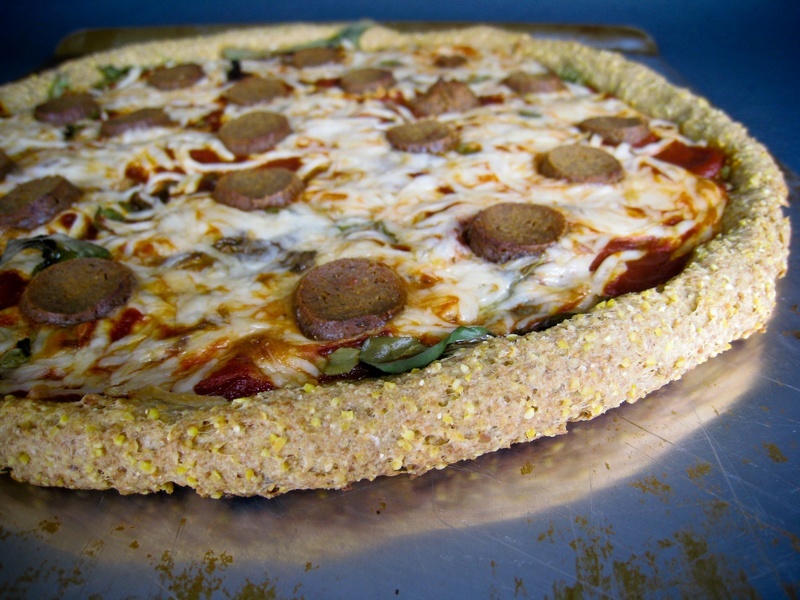 This Vegan Cornmeal Spelt Pizza Crust recipe is one of the fastest, easiest crusts around because it doesn't need lots of kneading and it doesn't require yeast. Although it's not gluten-free, it does have very low amounts of gluten which is good if you're trying to cut back on it due to food allergies. This recipe makes a vegan crust that is 12 to 14 inches. This dough can also be refrigerated for later use.
Find more
Savory recipes
on Veganbaking.net
Vegan Cornmeal Spelt Pizza Crust Recipe
¾ cup + 3 Tablespoons warm water
¼ cup olive oil
2 Tablespoons
golden flax meal
1 Tablespoon sugar
1 ¾ teaspoons salt
1 teaspoon onion powder
½ teaspoon garlic powder
1 ½ cups spelt flour
1 ½ cups corn meal
1) Whisk together the flax meal and flavoring ingredient mixture and allow it to thicken
Preheat your oven to 425F (218C). In a medium size mixing bowl whisk together the water, olive oil, flax meal, sugar, salt, onion powder and garlic powder. Set aside for a minimum of 5 minutes.
2) Whisk together the spelt flour and corn meal
In another medium mixing bowl, whisk together the spelt flour and corn meal.
3) Build the pizza dough
Add the mixture from step 1 to the bowl containing the flour and mix with a spoon. When the dough becomes thick mix with your hands and knead on a lightly floured surface for about one minute. Alternatively, if your mixing bowl is large, you can knead it in the bowl. Feel free to add dustings of spelt flour if the dough gets too sticky to work with.
4) Form the dough
At this point the dough can either be used immediately or covered in plastic wrap and refrigerated for up to several days. If you're using it later, make sure the dough is room temperature before removing it from the plastic wrap and forming it into shape.
Form the dough into a disc with your hands. Place the dough on a your pizza pan. Use your fingers to push it into shape, pushing out from the center, outward. The crust should be about 10 to 12 inches in diameter and about ¼ inch thick. Leave the outer perimeter of the crust about ½ inch thick so the crust can hold the sauce and toppings.
5) Add your vegan pizza toppings and bake to perfection
Cover the crust with tomato paste and your preferred toppings. If you're using spinach as a topping, make sure it's laid down first, with the sauce going on top. This crust does not need to be pre-cooked. Bake the pizza for 20 to 25 minutes or until the outer diameter of the crust starts to golden. This recipe makes one, 10 to 12 inch Vegan Cornmeal Spelt Pizza Crust.
Vegan pizza ideas
Veggie Canadian bacon and pineapple
Tofu feta, kalamata olives, sun dried tomatoes and artichoke hearts
Tofu cheese with cauliflower and curry powder (Indian style)
Garden style with caramelized onions, pine nuts and tons of other veggies
Tofu cheese with seitan sausages