Three Herbed Focaccia

Mattie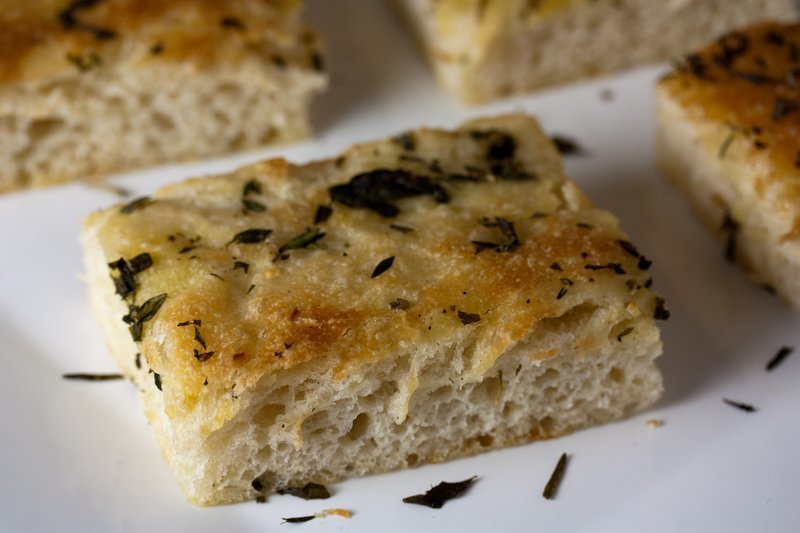 The secret to making great focaccia involves using an herbed olive oil to lend an array of herb flavors, allowing the dough to ferment in a refrigerated state for at least 12 hours which allows complex bread flavors to develop and baking a wet dough at a very high temperature which ensures a soft, spongy texture and a crispy crust. Fresh herbs are paramount to infusing the right intensity of flavors in this focaccia recipe. Feel free to use any combination of fresh basil, thyme, rosemary, oregano, sage, savory or marjoram. A long, refrigerated fermentation allows naturally occurring enzymes within the flour to break out more sugars from the starches for the yeast to ferment. These extra sugars allow the yeast to built more flavor, sweeten the focaccia and caramelize under heat which contributes a multitude of enhanced flavors.
The science behind cold rested doughs
A cold rest, otherwise known as a cold fermentation, is when a yeast leavened dough is placed in a refrigerated condition for an extended time, such as 8 to 48 hours. During this time, natural
amylase enzymes
in the flour get to work breaking down the longer strings of glucose molecules in the flour to more simple, individual glucose molecules. These more simple sugars are great for breads because they do three things:
They provide optimal food for the yeast. More food for the yeast means more tasty yeast flavor byproducts.
Some of these sugars don't get eaten by the yeast and end up contributing more sweetness and overall better flavor to the bread.
Some of this leftover sugar is caramelized during baking, leading to numerous additional flavor compounds that increase the flavor of the loaf.
As you can see, a cold rested dough is one of the primary secret weapons that artisanal bread bakers use to coax as much flavor as possible out of yeast leavened breads that feature only flour, salt, water and yeast. It requires no extra work on your part. You're just enabling the amylase enzymes to work for you. I find that this method of leavening is actually more convenient for me because it allows me to take a break and come back up to a few days later to finish my loaf.
It's important to note that in this chilled state, the yeast is pretty much dormant. It's the amylase enzymes that we're leveraging to break out the sugars. Some people refer to this state as a Cold Fermentation but it's not an acutal fermentation. It could more accurately be referred to as a
Cold Enzymatic Reaction
.
Three-Herbed Focaccia can be topped with the same toppings you would use for a pizza such as pesto, marinara sauce, vegetables or vegan cheese. If you choose to use a topping, add it just before the focaccia goes into the oven. The extra steps used in the preparation of this focaccia ensures a consistent, quality bread that will be worth the wait.
Find more
Savory recipes
on Veganbaking.net
Three Herbed Focaccia Recipe
For the herbed olive oil
1/3 cup extra virgin olive oil
1 Tablespoon fresh basil, chopped
1 Tablespoon fresh thyme, chopped
1 Tablespoon fresh rosemary, chopped
1 clove garlic, minced
¼ teaspoon salt
1 pinch black pepper
For the focaccia
1 ¾ cups + 2 Tablespoons warm water
1 ¾ teaspoons active dry yeast
4 cups bread flour
2 teaspoons salt
¼ cup olive oil
1) Prepare the herbed olive oil
In a small saucepan, stir together the olive oil basil, thyme, rosemary, garlic, salt and pepper. Bring the oil up to about 100 to 150F (38 to 66C) then remove from heat. Set aside.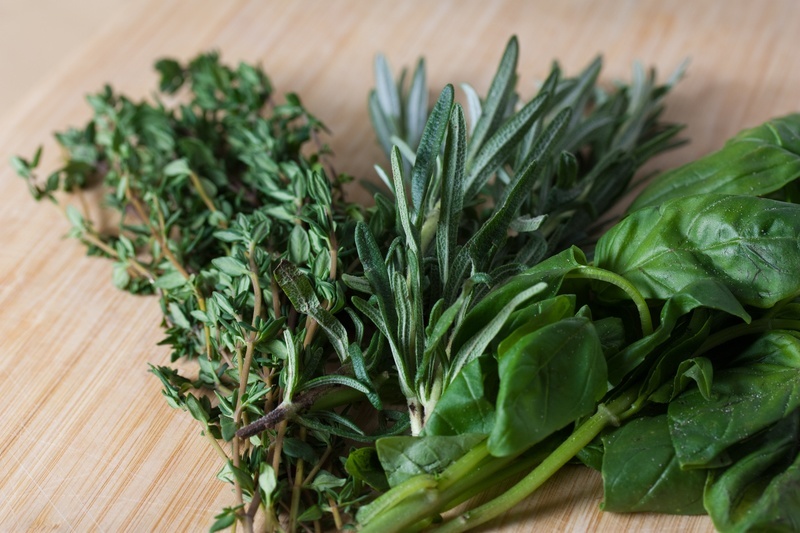 2) Activate the yeast
In a smal mixing bowl, whisk together the warm water and yeast. Let it sit for about 10 minutes so the yeast activates.
3) Whisk the flour and salt
In a medium mixing bowl, whisk together the flour and salt.
4) Form the focaccia dough
Add the water mixture and ¼ cup olive oil (regular, not herbed) to the bowl containing the flour mixture and stir with a large spoon until the dough comes together into a sticky ball.
5) Knead the focaccia dough
If Using an Electric Mixer
Mix on medium speed for 5 to 7 minutes or until the dough forms into a smooth, sticky ball and starts to pull away from the sides of the bowl.
If Mixing by Hand
Use a large spoon and stir the dough vigorously in a circular motion for about 2 minutes, then reverse stirring directions for another 2 minutes or until the dough forms into a smooth, sticky ball and starts to pull away from the sides of the bowl.
6) Continue to activate the gluten in the dough
Transfer the dough to a clean, lightly floured surface, stretch it into a rectangle and fold it over itself like a trifold letter. Cover the dough with plastic wrap and allow it to rest for 30 minutes. Repeat this process two more times.
7) Transfer the dough to the baking sheet and let it rise
Let the dough rise for one hour. Line a metal 14 x 17 inch baking sheet with parchment paper and coat it with about 2 Tablespoons of the herbed olive oil. A rimmed baking sheet is recommended; a flat one will work buy may drip a small amount of olive oil. Transfer the dough to the baking sheet taking care to preserve the original rectangular size of the dough as much as possible. If you use a rimmed baking sheet keep in mind that the dough is not supposed to touch the entire perimeter of the baking sheet rim.
8) Drizzle olive oil over the focaccia
Drizzle about 2 Tablespoons of the herbed olive oil over the dough and use a pastry brush to spread it out. Using your fingertips, make little indentations about ½ inch apart all over the top of the dough. These little indentations will encourage focaccia's characteristic holey texture.
9) Chill the focaccia to give it a cold rest
Cover the focaccia with plastic wrap and place it in the refrigerator from 12 hours to 3 days.
10) Drizzle more olive oil onto the focaccia
Remove the focaccia from the refrigerator and let it sit at room temperature for 3 hours.. Drizzle the remainder of the herbed olive oil like you did on Step 6.
11) Let the focaccia rise one more time
Cover the focaccia with plastic wrap and let it rise at room temperature for 3 hours.
12) Place toppings on the focaccia if using and bake to perfection
Preheat your oven to 475F (246C). If you have any toppings you're planning on adding to the focaccia, add them now. If you're using a flat baking sheet and the focaccia has expanded too close to the edge feel free to gently push the dough in a little from the sides. Bake for 15 to 20 minutes or until golden brown, rotating halfway through the baking rotation. The internal temperature should register 200F (93C) when measured with an
instant-read thermometer
.
13) Allow the focaccia to cool
After removing the focaccia from the oven, transfer it to a cooling rack after carefully lifting it and peeling it's parchment paper away. Allow to cool for at least 20 minutes before serving. Serve warm.
Store the focaccia wrapped in plastic wrap at room temperature for up to 5 days. This recipe makes a roughly 12 x 15 inch loaf of Three Herbed Focaccia.