Miso Tahini Tarragon Vegan Butter | Soy-free

Mattie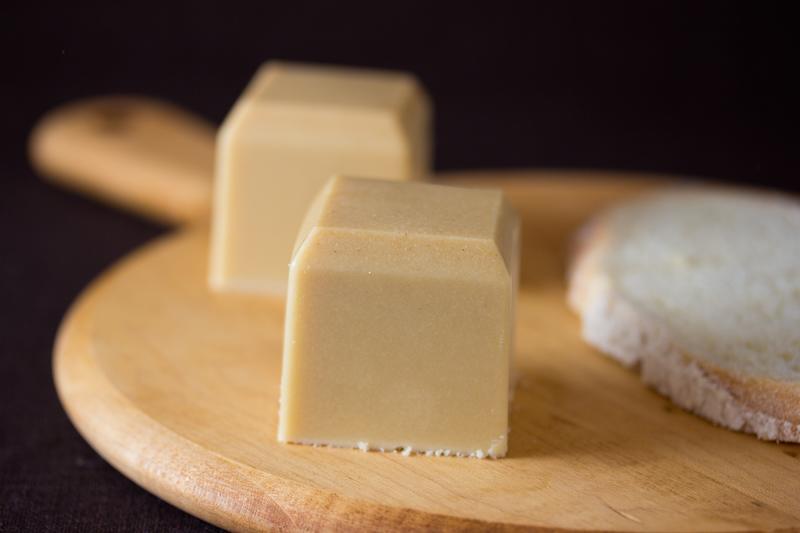 Several years ago, one of my favorite restaurants,
Millennium,
in San Francisco had a particular bread spread they would serve with fresh bread, just as you were seated. This particular spread wasn't buttery, but it had a particular creamy buttery
oomph
that actually made it taste better than butter when it was slathered on your crusty slice. And since it obviously wasn't butter, you could spread on even more without getting funny looks from your Mom across the table. You could run out of it and confidently ask for more, again and again! Then one day they switched over to a fava bean-based spread that was sadly sub par and the bread spread I loved oh so much mysteriously disappeared from existence. This savory bread spread made a lasting impression on me and I knew that one day I would rise to the challenge and create my own rich version.
The nuances of packing richness and savoriness into Vegan Butter
Although Miso Tahini Tarragon Vegan Butter is different from the creamy
Millennium
bread spread of yore, like the restaurant's version, I feel it fills the niche that so many vegan butters and spreads lack; the ability to provide a rich, savory kick that butter can't even do. This is because the tahini adds sharpness, the miso adds savory complexity and the tarragon ties it all together with an irresistible herbaceousness. And since it's Vegan Butter, it can be used in baking savory items like
pie crusts
for vegan pot pies,
pizza crusts
or even
biscuits
while keeping dough textures intact.
Vegan Butter is designed to mimic real butter in vegan baking applications. Like real butter, Vegan Butter is more solid than tub margarine and not as spreadable. This is so it can perform optimally in vegan baking applications. If your goal is to have a conveniently softer, spreadable Vegan Butter, swap out 1 Tablespoon of the coconut oil with 1 additional Tablespoon vegetable oil.
It's important to use shiro miso in Miso Tahini Tarragon Vegan Butter. Golden hued shiro miso has a delicate savory flavor compared to the
funk
of the other misos, mainly due to it not being fermented as long.
Learn more about the
food science behind Vegan Butter
.
Miso Tahini Tarragon Vegan Butter Recipe
½ cup + 1 Tablespoon refined coconut oil, melted
2 Tablespoons + 1 teaspoons tahini
1 Tablespoons + 1 teaspoons shiro miso
1 Tablespoon (about 3 grams) fresh tarragon
¼ teaspoon xanthan gum or ½ + ⅛ teaspoon psyllium husk powder
1) Melt the coconut oil
Melt the coconut oil in a microwave so it's barely melted and as close to room temperature as possible.
2) Mix your Vegan Butter ingredients
Place the coconut oil, tahini, miso, tarragon, canola oil, lecithin and xanthan gum in a food processor. Process for 2 minutes, scraping down the sides halfway through the duration. If you have a VitaMix, blend on the lowest setting for 1 minute.
3) Transfer the Vegan Butter to a mold so it solidifies
Pour the mixture into a mold and place it in the freezer to solidify. An
ice cube mold
works well. The vegan butter should be ready to use in about an hour. Store it in an airtight container in the refrigerator for up to 1 month or wrapped in plastic wrap in the freezer for up to 1 year. This recipe makes 1 cup (215 grams) of Miso Tahini Tarragon Vegan Butter, or the equivalent of 2 sticks vegan butter.