G.Vongola666
User reviews

sue warner
I cannot believe this is vegan!
I had one of my chocolate pangs again- the one that you dream of a regular chocolate cake with a creamy frosting? After breakfast i jumped on computer and googled vegan baking- and wella- here i was looking at a nice hunk of chocolate cake and thought what the heck lets try it again... It looked normal- it smelled terrific- and after buttercream frosting recipe you have- it was the BEST-NORMAL-NOT DENSE- LIGHT FLUFFY CAKE! It even fooled my grown sons!
Thank you for the best chocolate cake recipe ever - vegan or non-vegan!!!
Was this review helpful to you?

DixieGirl
Top 500 Reviewer
View all my reviews (1)
Sooooo good!
Oh my word...all I can say is that this cake is purely awesome. This is the best cake I've EVER ate, vegan or not. We have recently turned vegan for health purposes. Today is Thanksgiving, and for our desert we'd normally have my sister in law's delicious chocolate pecan cake. Well, we can't have that anymore, but I wanted to make some kind of treat for me, my husband, and our kids, as we're the only ones in the family that eat like this. For years her cake has set the standard for all cakes. Today, we found a new standard! This blew that cake out of the water! Everyone loved it! So moist and delicious. The glaze is AMAZING! This is my new favorite cake. Thank you so much for sharing!
Was this review helpful to you?
so good it is a dope cake
solid mix

lots of fun to eat and encompass

i am a post modern robot


good bye
Was this review helpful to you?

Shayna
This recipe was insanely good! It was my first try at a vegan cake or any cake, and I needed it for a school project. I can't wait to bring it to school.
Was this review helpful to you?

Lindsay
Best vegan cake recipe
I made this cake today and everything came out to perfection! The cake was so fluffy and light. The glaze was the right amount of sweet! I made two batches of the glaze because I love a lot of that on my cake, and it was just great. I can use this recipe at ease knowing that I can leave it in for exactly half an hour and for it to come out perfect. Very simple, delicious, and easy to make. I'll never buy boxed mixes again knowing I have this recipe bookmarked
Was this review helpful to you?

Diane Epstein
Wacky Cake
This cake is in the old circa 1955 Favorite Recipes of Home Economics Teachers -- Desserts cookbook on page 37. It was submitted then by 7 different home ec teachers. It is listed as Wacky Cake. I would guess that the term vegan was not even in existence then. It is a great one pan cake. No bowl to wash. If you are not vegan you can substitute melted butter. The best flavored cocoa is Ghiradelli.
This cookbook was sold as a fundraiser by Home Ec clubs.
Was this review helpful to you?

jennaleed
Top 500 Reviewer
View all my reviews (1)
So easy and delicious!
This cake was so easy to make and I honestly could not tell the difference between this and a chocolate cake with eggs and dairy! It is a staple in my household now and my go-to recipe for cakes because of how easy is. I'm looking forward to trying it with coffee instead of warm water.
Was this review helpful to you?

Nicole
This is my GO TO vegan chocolate cake recipe
This is by far, the #1 best chocolate cake recipe I have ever made or eating - vegan OR non-vegan! It has been approved by my sweets-loving and non-vegan husband and step-father, and they both agree that it is the best chocolate cake they have ever had. I've tried a few variations of it - like replacing coffee with Kahlua (yum!), and replacing the oil with applesauce or coconut oil, and everything seems to work beautifully. I can't thank you enough for posting it!
Was this review helpful to you?

kim
My "go-to" Chocolate Cake
This is a great chocolate cake recipe. I am not Vegan, but my daughter is, so when she wants a desert, we double the recipe, put it into two 8 inch layer pans, and frost it 2 different ways. We sometimes even split the layers for more frosting. I have one in the oven now for Thanksgiving tomorrow. Thanks for the recipe..it's definitely a keeper in this house.
Was this review helpful to you?
Beyond YUM!
Super straightforward recipe, with the most delicious result!
Can't believe how soft and fluffy it came out - and yep, can't belieeeeeve it's vegan.

BAKE IT!
Was this review helpful to you?

Sarah
Quantities
I can not see the quantities for the coca and the oil. It shows a picture of a square and then it just says cup. Can anyone help me with what these quantities are? I really would like to bake this cake.

Was this review helpful to you?

Samantha
All I have to say is wow...one of the easiest, yet best cakes I've ever made. I added a little apple sauce and baking powder because I can't help but tweak recipes to my own liking. The only other thing I would advise is to mix it in a separate bowl and spray the pan. Other than that it was awesome! It blew my boyfriend away and that's saying something!
Was this review helpful to you?

Roxana
I have done this cake several times already (first time as my birthday cake). As I have an intolerance to wheat flour, I used GF flours (buckwheat, chestnut flour) and it turned out fantastic! Of course I added a little bit of xantham gum and a little bit of tapioca (for the consistency) and I also do more of the glaze (aprox. one extra spoon of milk, margarine, etc.) Ah, and I add some roasted pecan nuts on top. Yummi!!!!
Was this review helpful to you?
Very moist
This recipe is so moist and easy to make. It's my new go to chocolate cake! Thanks for the recipe.
Was this review helpful to you?

Lin
Deliciously perfect
Thank you for sharing this recipe. It came out moist and with great texture. Easy and cheap! I am addicted to chocolate cake so my husband prohibited me from making it more than twice a month. He says I eat too much sugar, but it's great to know that this one will come out just right every time.
Was this review helpful to you?

Ruth
Lucy, we do have baking soda here - it's bicarbonate of soda, sodium bicarbonate.

The vinegar and bicarb are being used in this recipe instead of baking powder, so I would expect the flour to be plain flour (that's how I make cakes like these, anyway). You could use baking powder, but leave out the vinegar.
Was this review helpful to you?

Amanda
@Ruth - cup conversion
Hi Ruth from Ireland,

Depending on what you are measuring, a cup is roughly 250 mL. This website may help you as well. Happy baking!

http://allrecipes.com/howto/cup-to-gram-conversions/
Was this review helpful to you?
Thanks for the recipe, the cake turned out moist and flavorful (I used coffee). I made the glaze as well and it worked well with this cake. My only suggestion: the recipe tells you to mix everything in the baking pan, I tried it and I really think that it is easier to mix the batter in a bowl and then pour it into the pan. I think it's faster this way...
Was this review helpful to you?

Cailin
Best chocolate cake... EVER!
I am new to the vegan lifestyle, but a complete chocoholic! And this is by far the best chocolate cake I have ever had! I loved it! I did substitute the oil with apple sauce though, and only used 1 teaspoon of vanilla extract in the frosting. It was a huge hit with the family, and will most definitely be making it again!
Was this review helpful to you?

razzldazzl23
Top 50 Reviewer
View all my reviews (3)
BY FAR THE BEST VEGAN CHOCOLATE CAKE!
One word for this recipe, Wondrous! Not only was this cake delish, it was so easy to make! I followed the recipe exact & did use 1 cup of coffee instead of the warm water. The coffee gave it a nice kick to it I thought. I used decaf coffee. I've already made this cake several times & got rave reviews from vegans & non-vegans. Every time I crave chocolate cake, I just make this recipe because the ingredients are already in the kitchen. Thank you for this recipe!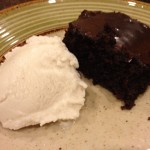 Was this review helpful to you?

Sharon
Yum
Made this for a vegan friend when she just had her baby. It's delicious. Great recipe
Was this review helpful to you?
Life Saver!
We've been on a really tight budget. Really very little in the cupboards! I needed to find a cake recipe with no soy milk, fancy egg subs, veg butter, shortening etc XD Not easy! This fit the bill! I didn't have cocoa either! I subbed 2oz vegan dark chocolate (grated into the dry mix). This worked out just peachy. Most cakes Ive made with the baking soda/vin combo come out soggy in the center. This one did not! It's a lovely, moist, fluffy chocolate cake :) With chewy chocolatey corners no less! Thanks for sharing!
Was this review helpful to you?

Martje
So easy and yummie
I am in Sri Lanka in a hostel at the moment, so i needed an easy recipe with ingredients that are available in a small village. This one was perfect!!
Was this review helpful to you?

Carlota
Delicious cake! I made it with organic ingredients, whole flour and sugar and best cacao powder.
Excellent!
Was this review helpful to you?

kim
This is a great recipe! One daughter is gluten free, the other is vegan....I simply substitute gluten free flour and voila! Killing 2 birds with one stone...I also mix it up in a bowl and make cup cakes! Makes 8-9 cupcakes, depending on how high you fill...everyone eats these, they're that good!
Was this review helpful to you?
Mine didn't rise ... did anyone else have this problem, or could take a guess why this happened?
Tastes great regardless :-)
Was this review helpful to you?

Ruth
Silly question...
This may be a silly question but how much is a cup?
I am writing from Ireland and am a novice baker so need measurements I can understand.
Thanks.
Was this review helpful to you?

Amanda
Yum!
I am not a vegan, a member of my household has recently turned vegan. I was baking a ciabatta when I realised it wasn't vegan and I should find something to bake for Jo. She loves chocolate cake and I think it would be one of the things she would have missed most. I made this cake and she was delighted, she said it was the best chocolate cake she had ever tasted, vegan or otherwise, and it felt like there was a party going on in her mouth.
I have to agree with her, it is delicious. The rest of the household could hardly believe it was vegan. Made it with the glaze and that was delicious too! Will be bookmarking it for later use.
Was this review helpful to you?

Sharada
Irresistible !!!
My first chocolate cake ever and I was lucky to get my hands on this recipe. It came out exactly as promised and tasted out of the world!
Accidentally I added more chocolate and then realized and substituted with more sugar, so it came out very chocolatey and with enhanced taste. So now I use 1/2 cup cocoa powder and 1 1/4 cup sugar each time :)
The glaze was tricky as I could not get Vegan butter (or margarine), so added some chocolate sauce instead.
The only part that I hate is the wait time of 2 hours for it to cool down, but it is all worth it !!!
Was this review helpful to you?

Cakebaker
Top 500 Reviewer
View all my reviews (1)
Delicious.
I am not vegan but was asked to do a cake by a friend who is, I have started to really enjoy baking vegan style, and find that most if not all recipes i try turn out super, and yummier.
This chocolate cake is great.
I doubled the recipe for a larger cake and did a bit of tweaking, about 1/2 cup less sugar and omitted one of the cups of water for soy milk.
I bake all my cakes on a low setting so it took quite a while to bake, but once cooled was perfect and moist.

Was this review helpful to you?