Vegan Rice Crispy Treat Cupcakes | Gluten-free

Mattie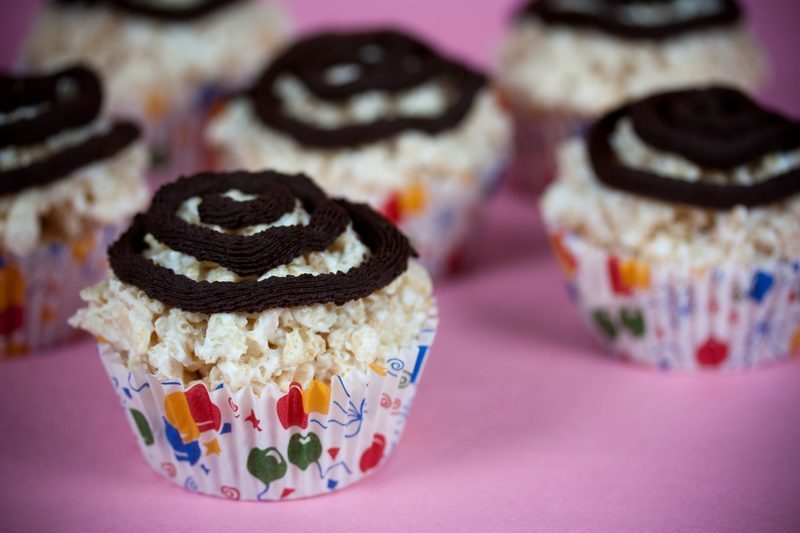 This Vegan Rice Crispy Treat Cupcake recipe is the first thing I made after ordering
Dandies Vegan Marshmallows
from Chicago Soy Dairy. I feel like a kid again with these gluten-free treats. Vegan baking doesn't get much easier than melting Vegan Butter, marshmallows, adding vanilla extract then mixing in puffed rice. Making the vegan ganache is slightly more involved but still simple. Be sure to make these as close to your eating occasion as possible because Vegan Rice Crispy Treats love to dry out. If you need to make them a day or so beforehand, keep them in an air-tight container.
Find more
Gluten-free recipes
on Veganbaking.net
Vegan Rice Crispy Treat Cupcake Recipe
¼ cup
Regular Vegan Butter
or margarine
4 ¾ cups regular size vegan marshmallows
½ teaspoon vanilla extract
5 ½ cups puffed rice
1 preparation of
Vegan Dark Velvet Ganache
,
Easy Vegan Ganache
or other frosting recipe
2 Tablespoons non-dairy milk (mixed into the ganache to make it softer)
1) Melt the Vegan Butter and the marshmallows
Place cupcake liners in cupcake tins for 12 cupcakes. In a large saucepan, melt the Vegan Butter slowly over low heat. Add the marshmallows and stir until melted and well incorporated. Remove from heat and stir in the vanilla extract.
2) Mix in the puffed rice
Thoroughly mix in the puffed rice with a spoon.
3) Press the rice crispy mixture into shape
Press the mixture into each cupcake mold so it takes up the all the space in the mold. You want the cupcakes to be slightly domed. Let them cool for at least 2 hours.
4) Prepare the ganache topping and apply it to the cupcakes
While your little cupcakes are cooling prepare your Dark Velvet Ganache or other frosting. Don't forget to mix in 2 extra Tablespoons of non-dairy milk so the ganache is a frosting consistency. Pipe it or thinly spread it over the cupcakes after they have cooled. You don't want to over do the ganache or the the cupcakes will be a little on the too-sweet side. If you used Dark Velvet Ganache, wait another few hours for it to cool to near room temperature before piping or spreading. These only keep for a few days which is a great excuse to just accidentally eat as many as possible.
This recipe makes about 12 Vegan Rice Crispy Treat Cupcakes.
Rice Crispy Treat Cupcake Variations
For peanut butter Rice Crispy Treats add a ¼ cup peanut butter to the melted margarine and marshmallow mixture.
For Chocolate Chip Rice Crispy Treats mix in 1 cup semi-sweet chocolate chips after you mix in the puffed rice cereal.
For Chocolate Rice Crispy Treats mix in a ½ cup of sifted cocoa powder and 2 Tablespoons of non-dairy milk into the margarine and marshmallow mixture.
For Coconut Rice Crispy Treats add a ½ cup unsweetened shredded coconut to the melted margarine and marshmallow mixture.
You can also use different cereals other than puffed rice cereal for fun variations.