Ask a Vegan Baker
Our community would love to help you with your vegan baking questions. Please log in to ask or answer a question. Want to be on the Ask a Vegan Baker answer team? Contact us! Dganit
Offline
This is the second time I am making this recipe:

Components:

White Dough :
2 1/2 cups (350 g) white flour
Heaping tablespoon (10 g) dry yeast
1 1/2 tablespoons (15 grams) sugar
1 1/4 cups (220 ml) soy milk or water
Tsp (8 grams) salt

Red Dough:
2 1/2 cups (350 g) white flour
Heaping tablespoon (10 g) dry yeast
1 1/2 tablespoons (15 grams) sugar
2 small boxes (200 ounces) tomato paste
1/2 cup (110 ml) water

then you put them on top of each other and roll for 2 colors bread. last time it came out really nice.

Only this time I replaced half the flour in both masses with wholewheat flour and also added olives.
the end result was a bread with a hole in the middle, and not quite ready dough around it...

The same Components, same heat and same time ...

Can anyone tell me why it did not work this time?

Many thanks!
Accepted Answer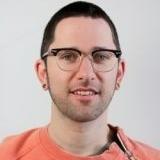 Mattie
Offline
That bread sounds tasty Dganit!
It looks like there's too much whole wheat flour in the bread. I recommend replacing a 1/2 cup or up to 1 cup whole wheat flour in each dough instead of replacing half the total flour with whole wheat.
Whole wheat flour can cause problems in breads if there's too much of it. This is because it contains the bran husk, which can block gluten strands and actually cut them after they've been formed, leading to a bread that won't rise. The result is often a raw, dense and gummy loaf.
Many bakers get around this issue by making a slightly wetter dough and allowing it to sit, wrapped in plastic wrap in the refrigerator for a day or so. This allows water to hydrate the flour more fully which allows the bran husks to soften and the gluten to join together more adequately and become more elastic. It also will have the side effect of producing a more flavorful loaf. If you go this route, just be sure to allow several more hours of rise time because the dough has to get back to room temperature so the yeast can begin to work again.
Depending on how much olives you're adding, keep in mind that solid objects like olives are going to displace flour, which would normally rise during baking. The more solid objects you add, the less your loaf will rise.
Your best bet is to just reduce whole wheat flour content first and work from there.
Good luck!

Accepted Answer

Veganrecipes4u

Offline

I completely agree with Mattie that the problem is down to using wholewheat flour and he offers some good solutions. I just wanted to add that you could try using different grades of wholewheat flour (some are heavier than others or contain less bran I know in Europe they have a numbering system, which is useful to be able to identify the different types. I don't know if this exists in the States though.) or use a different kind of flour such as rye or spelt.
Your Reply
---

Please login to post a reply
You will need to be logged in to be able to post a reply. Login using the form on the right or register an account if you are new here.
Register Here »