Ask a Vegan Baker
Our community would love to help you with your vegan baking questions. Please log in to ask or answer a question. Want to be on the Ask a Vegan Baker answer team? Contact us! maesti
Offline
I posted this as a reply to another question about cupcakes and did not get any replies so thought I would add it as its own question as I still haven't managed to make cupcakes like my DIL does

.
I love the vanilla cupcake recipe from VCTOTW as long as I use the margarine version and not the oil. However... my husband says the crumb is on the coarse side compared to the cupcakes my DIL bakes for him (she uses eggs). Any ideas? Is it to do with the chemical reaction with the vinegar do you think? They taste good and are moist but the texture is a bit airier than my DIL's cupcakes.
DIL (who is a pastry chef) suggested changing the vinegar away from apple cider vinegar. I tried using some red wine vinegar in the mocha cupcakes I baked yesterday. But... crumb is still coarse. Husband munching away on them as I type but changing the vinegar didn't help in this case.
I also tapped the muffin pan on the counter before baking in case the air holes were the problem.
Accepted Answer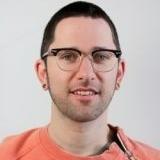 Mattie
Offline
Hi maesti!

The vinegar contains acid which works as a tenderizer. In this context, tenderizing means that the acid reduces the gluten's ability to bind, making the crumb a little more soft. Switching out the vinegar with different types should theoretically not make a difference because it's still just going to be acid acting on the gluten, regardless of what kind of vinegar you use.

The non-vegan cupcakes your husband prefers has a large part of the crumb made up of coagulated egg protein which is probably contributing to the different crumb texture and working as the main structure builder. Since vegan cupcakes utilize gluten bonds for structure building, the crumb textures between vegan cupcakes and non-vegan cupcakes will never feel exactly the same.

As far as making the crumb less coarse, I don't have a definitive answer. I suspect you're using all-purpose flour and a little bit of starch, which is what I believe the VCTOTW cupcake recipe recommends. You might want to look into trying cake flour instead of all-purpose flour, although since it has less gluten, you might have leavening issues. If you do have leavening issues after this adjustment, you could also try counteracting it by increasing the baking powder by about a half teaspoon. It's a longshot, but it could work.

Good luck and let me know if you figure it out!
There are no replies here yet.
Your Reply
---

Please login to post a reply
You will need to be logged in to be able to post a reply. Login using the form on the right or register an account if you are new here.
Register Here »