Vegan cream cheese taste test - Which one smothered the competition?

Mattie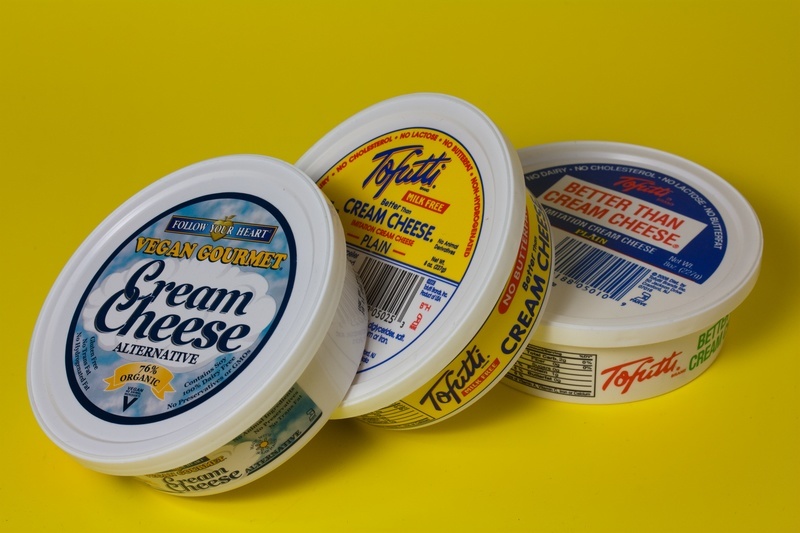 We're finally in the age where there's an increasing number of options when it comes to vegan food products. Back in the day we used to have to forego cheesecake or
take matters
into our
own hands
if we decided to eschew animal products. Then
Tofutti Better Than Cream Cheese
came out and everyone rejoiced because they could finally have
cheesecake
and New York style
bagels
that were easy to make and didn't suffer from flavor compromises. But then a huge Doh! moment occurred. It's chock full of trans fats! Toffutti answered the call with
Better Than Cream Cheese Non-Hydrogenated
. Other companies are now following suit with their own vegan cream cheeses such as
Follow Your Heart Cream Cheese Alternative
. Which of the lot is recommended for your cheesecakes this season? Read on to find out.
Tofutti Better Than Cream Cheese
This is the original vegan cream cheese. If you get vegan cream cheese on a bagel in a cafe there's a good chance it's this stuff. It tastes amazing and it's a tragedy it contains hydrogenated oils. This vegan cream cheese exhibited a creamy mouthfeel and delicate flavor that's extremely close to real cream cheese all the way through to the finish.
Ingredients: Water, non-hydrogenated soybean oil, isolated soy protein, maltodextrin, tofu, nondairy lactic acid, sugar, locust bean, guar and carrageenan gums, salt, vegetable mono- and diglycerides, and potassium sorbate (added as a preservative).
Serving: 2 Tablespoons
Protein: 1 gram
Fat: 5 grams
Tofutti Better Than Cream Cheese Non-Hydrogenated
Health experts recommend hydrogenated oils be avoided at all costs. This posed a little problem for Tofutti so they reformulated Better Than Cream Cheese to make a reformulated option. Tofutti's non-hydrogenated version should taste just as good as the hydrogenated version because the only thing they're doing is swapping out the hydrogenated fats with a blend of other fats including palm oil right? Wrong. Think of this version as new coke. Due to this swap of fats they had to do a major reformulation. This vegan cream cheese had much more subdued flavors than it's hydrogenated brother and also tasted somewhat grainy. This could be due to some of the vegetable starches that haven't been incorporated completely. It's still a good vegan cream cheese but you're not going to be fooling anyone who's accustomed to the flavor of real cream cheese.
Ingredients: Water, expeller pressed natural oil blend (soybean, palm fruit, olive), maltodextrin, soy protein, tofu, non-dairy lactic acid, organic sugar, blend of natural gums (locust bean, guar, cellulose, xanthan, carrageenan), veg mono and diglycerides, salt.
Serving: 2 Tablespoons
Protein: 1 gram
Fat: 5 grams
Follow Your Heart Cream Cheese Alternative
This is the new player on the market. Follow Your Heart has been making a name for themselves with their nationally distributed
vegan cheeses
. Like Tofutti's Better Than Cream Cheese Non-Hydrogenated, Follow Your Heart's vegan cream cheese is also non-hydrogenated. This vegan cream cheese was excessively gummy, likely due to the large list of vegetable starches in it's ingredient list. It also exhibited a slightly salty flavor with a prominent lemon finish on the palate. That said, this vegan cream cheese would still be wonderful paired with crackers or vegetables on an hors d'oeuvres plate.
Ingredients: Filtered Water, Palm Fruit Oil*, Soybean Oil*, Inulin (Chicory Root Extract), Soybeans*, Soy Protein, Agave Syrup*, Sea Salt, Soy Protein*, Lactic Acid, Rice Starch*, Lemon Juice Concentrate*, Natural Flavor, Locust Bean Gum*, Xanthan Gum. *Denotes ORGANIC
Serving: 2 Tablespoons
Protein: 2 grams
Fat: 8 grams
The Verdict
All three of these vegan cream cheeses are great alternatives to the real thing. Due to the recommended avoidance of hydrogenated oils, I can't recommend Tofutti Better Than Cream Cheese, even though it's flavor won out over it's other competitors.
Tofutti Better Than Cream Cheese Non-Hydrogenated came in a close second in the taste department and it's what I use in my cheesecakes and other sweets. A little trick for vegan cheesecake is to add a little soy yogurt to up the cheesecake flavor ante to more realistic levels. This solution enables Tofutti Better Than Cream Cheese Non-Hydrogenated to still work wonders in vegan cheesecakes so you get the best possible flavor without the major health consequences.
Follow Your Heart Cream Cheese Alternative's excessive gumminess, salt and lemon flavors probably wouldn't do wonders in your vegan cheesecake but there are lots of hors d'oeuvre and sandwich applications where those flavors would make these foods excel. It also contains 76% organic ingredients which is a bonus. It will be interesting to see what the future has in store for vegan cream cheese. I predict more non-hydrogenated options and an increasing number of blended flavor choices. Competition is good in this regard because we all reap the benefits.
What are your favorite vegan cream cheeses and why? Let us know by leaving your comments below.
User comments

felicia
I am wondering, what you think of go veggie's cream cheese? I tried daiya and just about spewed. I have been turned of of sampling them now. I just found go veggie it says they use coconut oil so I was wondering if you have tried them?
Was this review helpful to you?

Cathy
Kite Hill (only found at Whole Foods?) is worth looking at. It's made from almond milk and the chive flavor especially tastes great
Was this review helpful to you?

Judith Halsey
Ms.

Great article, thanks, and glad I came across your site! I had high hopes for Daaiya as well on this, but no... Would love to see Hampton Creek give it a try, though.
Was this review helpful to you?

Ayaka
Hi there,

I have only had the tofutti so it is nice to see reviews on other brands'. I just wanted to point out that the protein and fat content of both of the tofutti are definitely wrong... I always wish there were brands of cream cheese that is high in protein, so when I was reading your post, I was like "oh, really?" and I went back to tofutti website. As I remembered, there is almost no protein...just 1g. I really hope someday I can find store bought vegan cream cheese that is protein rich :)
Was this review helpful to you?

Kathy
Another new offering
Trader Joe's now has their own vegan cream cheese. The flavor and aroma are much more like dairy cream cheese than Tofutti's. The texture is a little less smooth though. No palm oil in this one. It's got the now-popular coconut oil, and also sunflower oil. Also "vegan culture" - so does that mean this one is actually fermented?
Oh, and it's less expensive than Tofutti too! I paid $2.99 for it. (tofutti was over $4.)
Was this review helpful to you?

Anna
Daiya has recently come out with a vegan cream cheese. What's your take?
Was this review helpful to you?

Sandra
LMT
Can vegan cream cheeses be used in vegetable lasagna?
Was this review helpful to you?

sarah P
Palm Oil is a big problem
I wish I could find a product with out trans fat, but more importantly, with out palm oil. Purchasing palm oil is just as unethical, if not more, than eating real cheese itself. The farming of this product is putting the future of orangutans and many other species in serious danger. Please do some research on this crisis, as many vegans like myself would love products that exclude this ingredient.
Was this review helpful to you?

Teresa
I wish that I could find the hydrogenated stuff. My son has a milk allergy and that is the only one that he likes.
Was this review helpful to you?

Dana
I am a big Tofutti fan. I just tried the Follow your Heart Cream Cheese and I was disappointed. Tofutti is better on a bagel. However, I used the Follow Your Heart in a vegan baked ziti recipe and it was delicious.
Was this review helpful to you?

Jeanie
comments
I can't find a date for this article, so I don't know how old it is, but I prefer the Follow Your Heart cream cheese to the others. I didn't find it gummy at all but very smooth, and it lacked the soy-y taste of the Toffutti brands. It's definitely my favorite.
Also, the ingredients you listed for the original Toffuti cream cheese contain no hydrogenated oils. The only oil listed is, "non-hydrogenated soybean oil". Have they changed their ingredients or is this just a typo?
Was this review helpful to you?