Garlic Vegan Butter | Soy-free

Mattie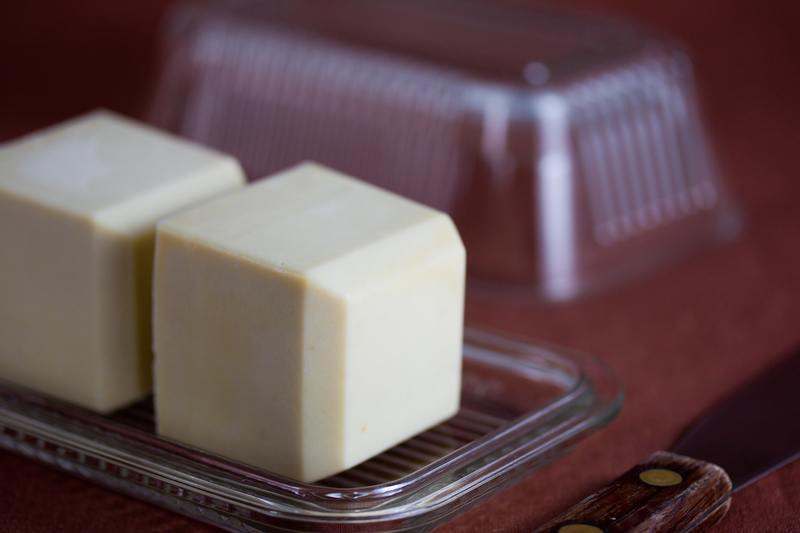 Several years ago I ate at a world famous garlic themed restaurant in San Francisco and discovered to my excitement that caramelized garlic can be delectable spread on bread the same way as butter. I couldn't believe how the garlic transformed from a spicy, harshness to a smooth, subtle butteriness with just the application of heat. In later years I became more familiar with this magical trait of garlic and decided to pair it with the creaminess of vegan butter here. Enjoy this Garlic Vegan Butter spread on your toast, baked into your hearth breads or use it as a base for something like puff pastry garlic knots. Either way, it'll be able to stand up to the complexity of traditional butter.
Vegan Butter is designed to mimic real butter in vegan baking applications. Like real butter, Vegan Butter is more solid than tub margarine and not as spreadable. This is so it can perform optimally in vegan baking applications. If your goal is to have a conveniently softer, spreadable Vegan Butter, swap out 1 Tablespoon of the coconut oil with 1 additional Tablespoon olive oil.
Garlic Vegan Butter Recipe
¼ cup + 2 teaspoons caramelized garlic paste (about 30 cloves or 95 grams)
½ cup + 2 Tablespoons + 1 teaspoon refined coconut oil, melted
1 Tablespoon extra virgin olive oil
¼ + ⅛ teaspoon salt
1) Caramelize your garlic
Preheat your oven to 400F (204C). Peel the garlic and place it in a heat proof container such as a small metal or ceramic bowl. Cover the bowl with aluminum foil and poke about 6 holes for steam to escape. Bake for about 25 minutes or until the cloves are soft when poked with a fork. Remove from heat, allow to cool and transfer the caramelized garlic to a blender.
2) Mix your Vegan Butter ingredients
Melt the coconut oil in a microwave so it's barely melted and as close to room temperature as possible. Transfer it to the blender. Making smooth vegan butter is dependent on the mixture solidifying as quickly as possible after it's mixed. This is why it's important to make sure your coconut oil is as close to room temperature as possible before you mix it with the rest of the ingredients.
Add the olive oil, salt and soy lecithin. Blend on high for 2 minutes, scraping down the sides with a spatula halfway through the duration.
3) Transfer the Vegan Butter to a mold so it solidifies
Pour the mixture into a mold and place it in the freezer to solidify. An
ice cube mold
works well. The vegan butter should be ready to use in about an hour. Store it in an airtight container in the refrigerator for up to 1 month or wrapped in plastic wrap in the freezer for up to 1 year. This recipe makes 1 cup (215 grams), or the equivalent of 2 sticks Garlic Vegan Butter.
User reviews
Great Recipe!
Garlic is one of my favorite flavors in the world and I've been looking into some good vegan recipes as part of an anti-inflammatory diet and this is definitely one that I'll try.

Thank you!
Was this review helpful to you?
This has saved my sister so much time in prepping her own butter!
Was this review helpful to you?
Mmmm butter
I'm so excited to try this! I cook almost everything with butter so this should be a great alternative.
Was this review helpful to you?

ericleads
Top 1000 Reviewer
View all my reviews (1)
Can't go wrong with garlic!
I've always been wary of vegan foods until I started trying them. But vegan butter?? I thought no way...but this recipe proved me wrong. Delicious!
Was this review helpful to you?

Joe
Love Garlic
I love garlic, both for its taste and its health benefits. I gotta try this!
Was this review helpful to you?

Danielle
Better than the real thing and the only reason I r
I LOVE this recipe! Garlic bread is one of my top 2 favourite foods and the reason I was reluctant to go vegan. BUT now I found this recipe and actually prefer it!
Was this review helpful to you?

Nathan
Sounds great to me
I've found the recipes on this site to be great, with a lot of thought and experience behind them. I haven't made this particular recipe yet, and while I don't normally comment on recipes I haven't made yet, the author of the comment below this one obviously hasn't made this recipe either, and I wanted to express my appreciation for the site and bump that pointless negativity off the "latest comments" sidebar. Thanks Mattie!
Was this review helpful to you?

Shitty recipe
Don't use this recipe.
1 never cook with aluminum foil, it releases toxic gas.
2 microwaving causes cancer.
3 recommending unhealthy ingredients such as soy is poor manner by any cook...

4 I read the ingredients, procedure and decided to take my business elsewhere.

I'm not a prick or a problem, I simply care about my health more than the author of this recipe.
Was this review helpful to you?

ChocoholicPhilosopher
Top 50 Reviewer
View all my reviews (7)
Delicious
This on fresh hot bread is absolutely incredible.
Was this review helpful to you?

Jane
carmelization not healthy
Try to slow cook the garlic but not brown it. Caramelization to anything is not healthy as it contains A.G.E.'s which cause unhealthy visible aging.
Was this review helpful to you?