Vegan Cranberry Pecan Oatmeal Cookies

Renoodle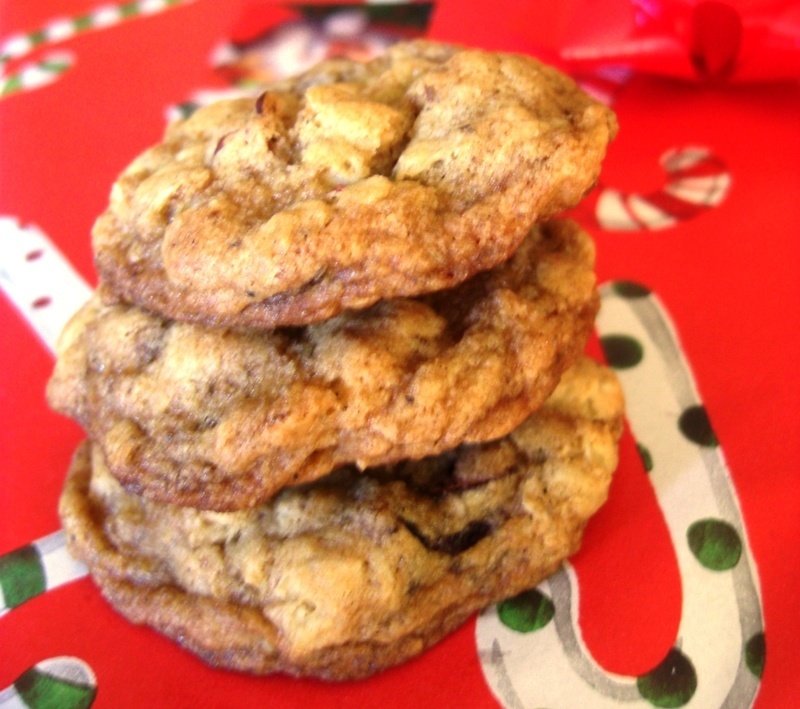 These Vegan Cranberry Pecan Oatmeal Cookies are one of the standards of our Christmas baking celebrations. They are crispy on the outside and soft on the inside. The crunchy pecans and tart-sweetness of the cranberries really make a complex and well rounded flavor and texture. They are really, really delicious!
Find more
Cranberry recipes
on Veganbaking.net
Vegan Cranberry Pecan Oatmeal Cookie Recipe
2 ½ Tablespoons
golden flax meal
6 Tablespoons water
2 cups all-purpose flour
1 teaspoon baking soda
½ teaspoon baking powder
½ teaspoon salt
1-2 pinches cinnamon
1 pinch nutmeg
1 cup (2 sticks) Earth Balance margarine, room temp
1-3 teaspoons vanilla
1 cup granulated white sugar
1 cup packed brown sugar
2 cups oats
1 cup dried cranberries
1 cup chopped pecans
1)
Preheat your oven to 400F (204C). Mix the flax and water in a small bowl and let it gel up.
2)
Combine the flour, baking soda, baking powder, salt and spices in a medium mixing bowl.
3)
Beat the Earth Balance in a separate medium mixing bowl until softened (but not liquidy). Beat in the flax meal mixture until well combined followed by the vanilla then the sugar. Mix in the flour with a rubber spatula then mix on low for 5 seconds. The batter will be thick.
4)
Stir in the oats, cranberries and pecans. Drop by the rounded Tablespoon onto a parchment paper-lined cookie sheet, roll into balls and place 2 inches apart. (Try to keep the dough cool in between baking sessions. I keep mine in the fridge) Bake for 11 minutes or until golden brown. Cool the cookies on their sheets for 1 to 2 minutes then transfer to cookie racks and cool completely (or eat while hot!). This recipe makes 15 to 20 Vegan Cranberry Pecan Oatmeal Cookies.