Vegan Sourdough Pancakes

Mattie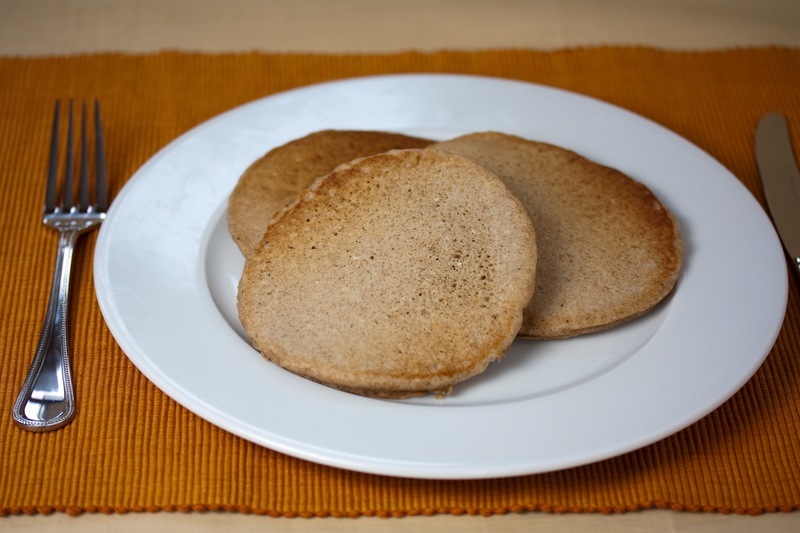 This Vegan Sourdough Pancake recipe is one more reason to keep a
sourdough starter
in your refrigerator at all times. They're wild yeasted which gives them a fascinatingly complex flavor not normally found in either vegan or traditional pancakes. They require advance preparation of a sourdough starter that is used as the foundation of the batter. If you already have this batter around, these pancakes will be even easier to make than
Easy Vegan Pancakes
. If you keep your starter in the refrigerator, it doesn't need to be removed several hours before using as it does in bread baking. Feel free to mix 1 cup of berries or ½ cup chopped nuts into the batter before pouring. Top them with maple syrup and/or a dollop of almond butter.
Proper cooking surface temperature is key
In order for your pancakes to cook to perfection, it's essential that your cooking surfaces reach the proper cooking temperature (about 375F or 191C). This will ensure your pancakes don't stick and are cooked through consistently with slight browning but no burning. If your pancakes are sticking it's almost always because your cooking surface isn't hot enough. I recommend turning on the heat under your cooking surfaces as soon as you walk into the kitchen to make your pancakes so everything gets a chance to heat up, un-oiled. Most cast iron griddles, skillets and electric griddles have lots of metal to disperse the heat so they need extra time to reach their proper cooking temperature.
Find more
Sourdough recipes
on Veganbaking.net
Vegan Sourdough Pancake Recipe
1 ½ cups sourdough starter
1 ¼ cups non-dairy milk
1 cup all-purpose flour
¼ cup wheat germ, wheat bran or oat bran
¼ cup
vegetable oil
2 Tablespoons sugar
1 teaspoon vanilla extract
1 teaspoon baking powder
¼ teaspoon baking soda
1 teaspoon salt
1 teaspoon cinnamon
½ teaspoon nutmeg
½ teaspoon ginger
1) Whisk together the batter
In a medium bowl, whisk together the sourdough starter, non-dairy milk, all-purpose flour, wheat germ, wheat bran or oat bran, vegetable oil, sugar, vanilla extract, baking powder, baking soda, salt, cinnamon, nutmeg and ginger.
2) Bake the vegan pancakes to perfection
Grease a griddle or a large iron skillet with canola oil or a similar heat tolerant oil. If you're using a non-stick surface forego the greasing process. The surface is ready for pancakes when water flicked on it sizzles. Using a ladle, drop about 1/3 cup of batter to form a pancake. When small bubbles appear, flip the pancake with a spatula. A thin steel spatula with a large surface area works well. Let the pancakes cook for at least another 2 minutes on the other side or until golden. Do not press down on pancakes with the spatula.
Pancakes keep for up to 5 days in an airtight container in the fridge and can be easily heated in a toaster.
This recipe makes about 10 Vegan Sourdough Pancakes.
User reviews

Nathan
This recipe was delicious! I actually used it to make a batch of waffles, and I found that at first they were a bit too flimsy; so I added a teaspoon of lye water (a Chinese baking ingredient) and they were beautiful and crispy! If you're in the mood for some recipe experimentation I'd definitely recommend it!
Was this review helpful to you?
Vegan Sourdough Pancakes
I just made these sourdough pancakes last night for dinner and they were AMAZING! By far the best pancakes I've ever made. I didn't have any baking soda on hand though, so I used 2 1/2 teaspoons of baking powder instead. I also omitted the oil and sugar and added one large ripe banana cut up into small chunks, 2 teaspoons of apple cider vinegar and about a 1/2 teaspoon of nutmeg. Banana Eggnog Pancakes from theppk.com site (totally recommend checking it out!) is usually my go to recipe for pancakes. This was the prefect hybrid recipe I was longing for to use half of my starter. The sprouted whole wheat flour I have been using to make my starter for bread making was growing with each feeding faster than I could use it to make bread alone, and I refuse to waste it by discarding half of it down the drain like so many say to do. This is the perfect solution, make pancakes! I will be making pizza dough next with my excess starter.
I love your site Mattie. It is a wonderful resource that I am ever grateful I found. Keep up the great work! :) YOU ROCK! Thank you so much for having such an extensive plethora of vegan recipes to refer to that really go in depth to explain how it all works. It has helped me build my confidence tremendously in my new found vegan cooking/baking, sprouting and fermenting over the past few months.
Was this review helpful to you?