5 Different Types of Non-Dairy Milk Reviewed

Mattie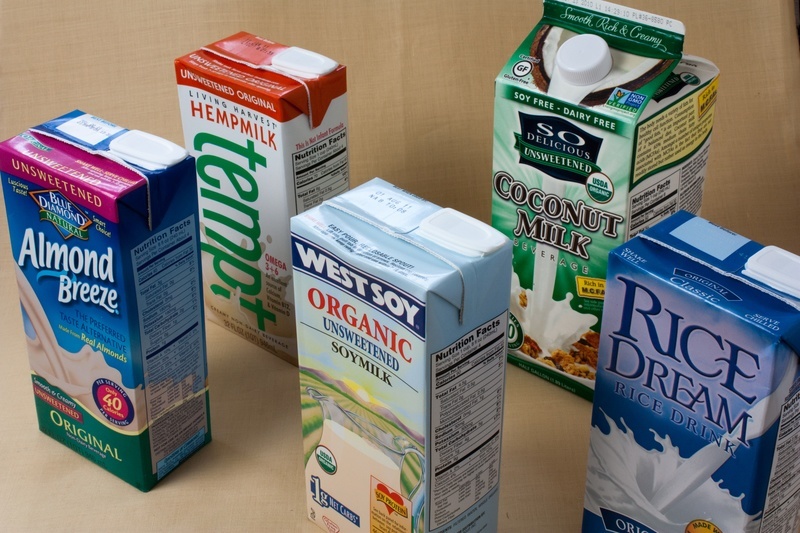 There's been lots of development in the world of non-dairy milk in the last couple years. We used to just have soy milk then rice milk showed up on the scene followed by almond milk. Lately coconut milk and hemp milk have arrived on market shelves. I've been using soy milk religiously ever since I switched from dairy milk back in ye olden days and loved it so much I never really felt the need to move away from it. Non-dairy milk is such an important staple in vegan baking that recently I felt it would be beneficial to the world of vegan baking to sit down and take a really close look at what I consider to be the five most popular non-dairy milk types. I wanted to see how they measure up against each other from a vegan baking perspective. How do they taste? How creamy are they? Do they curdle when exposed to apple cider vinegar? Will my recommended non-dairy milk for vegan baking, soy milk, retain it's vegan baking crown or will another non-dairy milk prevail?
The Role of Non-Dairy Milk in Vegan Baking
In vegan baking there are two schools of thought. One is to take measures to make foods that are somewhat less detrimental to one's health by using less sugar, fat and utilizing alternative ingredients that add nutrients. This school of thought is common when baking for restricted diets. The other school of thought is to make foods where taste and texture are of the utmost importance. In this school of thought, making healthy baked goods is considered a contradiction in terms. No matter what vegan baking school of thought you adhere to, or if you adhere slightly to both, choosing your non-dairy milk wisely will greatly effect the outcome of your baked goods. I personally follow the school of thought that puts flavor and texture above all else and go to great lengths in order to create flavors and textures for food items that need to measure up to their non-vegan counterparts. We're competing against butter and eggs which are miracles of baking science. We need all the help we can get.
Curdling Soy Milk to Add Flavor Depth
One way that I enhance flavors and create flavor depth in vegan baking is to slightly curdle soy milk before it's added to the recipe by whisking it in a small bowl with a bit of apple cider vinegar. This can be done with lemon juice as well but I prefer apple cider vinegar because it adds dairy-like flavors on it's own. The acids it contains curdles the proteins in the soy milk which allows a multitude of complex flavor compounds to be produced. Before curdling, the proteins in the soy milk are coiled up like little balls of yarn. The acids allow these proteins to unfold and cause the mixture to thicken as the flavor compounds are generated. This thickened curdled mixture can further improve vegan baking performance by increasing leavening power and enhancing the crumb quality of cakes and muffins.
As part of this review I performed a curdle test to measure flavor production. I tasted the non-dairy milk after curdling to assess the degree to which these flavors were produced. This test was performed by placing ½ cup non-dairy milk in a bowl, whisking 1 teaspoon unfiltered apple cider vinegar into it, letting it sit for 15 minutes then tasting the results.
I picked the particular non-dairy milks in this review because I felt they are widely available brands in the continental United States that were good representations of their non-dairy milk type. I selected unsweetened versions of all non-dairy milks except the Rice Dream because they don't make an unsweetened version of it. I picked unsweetened versions whenever possible because I didn't want the sugar to mask the true flavors in the non-dairy milk. I use unsweetened soy milk in my vegan baking recipes for this same reason; I like to have complete control over how much sugar I'm adding to a recipe.
Please keep in mind that the ratings and opinions in this review are from my taste perception alone and may not be the same as what your palate tastes. I encourage you to buy different types of non-dairy milk and come to your own conclusions while using this review as an aid.
Blue Diamond Natural Almond Breeze Almond Milk Unsweetened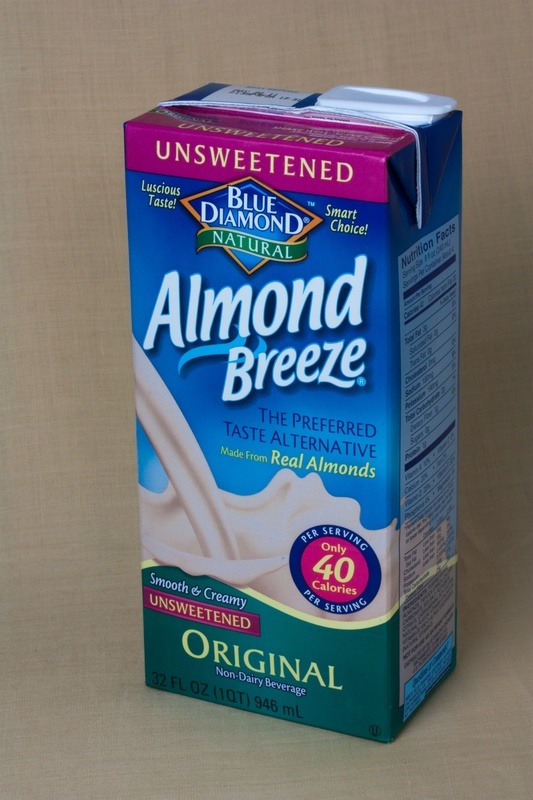 The Taste Test
I found this moderately creamy non-dairy milk to taste slightly sour with a nutty, salty finish. I remember how much I love the chocolate version of this almond milk but I didn't find the same to be true of this version. The sour, nutty, salty flavor was a little off-putting. Curdling barely created more flavor. I would turn to this non-dairy milk for vegan baking if my preferred alternatives weren't available.
The Ratings (0 to 5 with 5 being the best)
Overall Flavor: 3
Creaminess: 3
Ability to curdle with apple cider vinegar: 2
Overall: 3
Ingredients
Purified water, almonds, tapioca starch, calcium carbonate, sea salt, potassium citrate, carrageenan, soy lecithin, natural flavor, vitamin A palminate, vitamin D2 and D-alpha-tocopherol (natural vitamin E).
Nutrition Highlights
Serving size: 1 cup (240mL)
Fat: 3g
Protein:1g
Living Harvest Tempt Hempmilk Unsweetened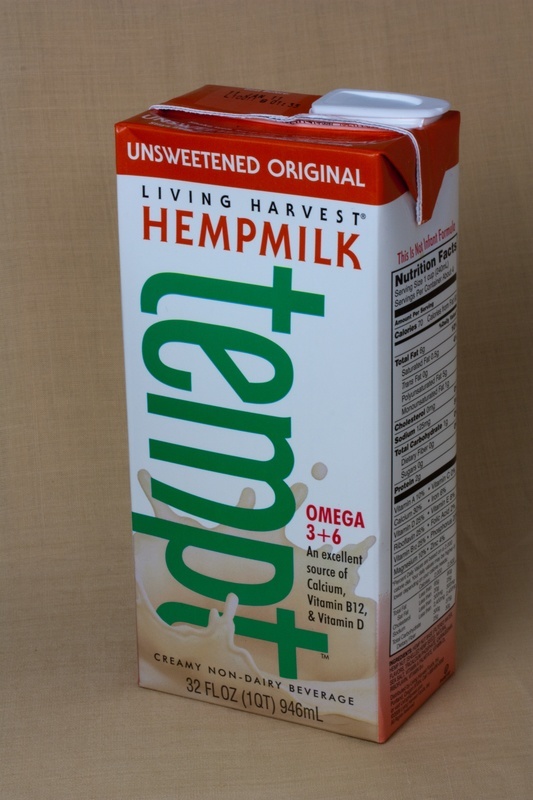 The Taste Test
Hemp milk is one of the newest non-dairy milks on the scene. I found this moderately creamy beverage to have a pleasant slight maltiness that was consistent throughout the flavor journey. I found it the most similar to regular dairy milk at room temperature and the best tasting out of the bunch. It did have a barely discernible bitter finish that reared it's ugly head when I added it to coffee, making the coffee almost undrinkable for me. After curdling it produced a moderate level of complex flavors; more than almond milk but not as much as soy milk. I would use this non-dairy milk for vegan baking if soy milk wasn't available.
The Ratings (0 to 5 with 5 being the best)
Overall Flavor: 5
Creaminess: 3
Ability to curdle with apple cider vinegar: 2
Overall: 4
Ingredients
Hemp nut base (filtered water, hemp nut (shelled hemp seed)), natural flavors, tricalcium phosphate, carrageenan, sea salt, vitamin A palminate, vitamin D2, riboflavin, vitamin B12.
Nutrition Highlights
Serving size: 1 cup (240mL)
Fat: 6g
Protein:2g
West Soy Organic Soy Milk Unsweetened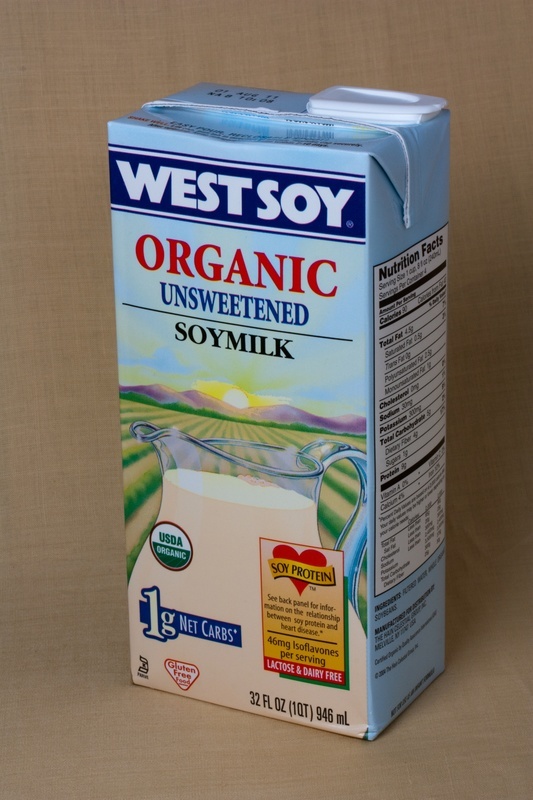 The Taste Test
This is the non-dairy milk that I've been using for years and the one that most of the recipes I've designed have used. Hain Celestial Foods (the owner of West Soy as of this writing) is one of the last, big honest companies selling organic, nationally distributed soy milk which is also one of the reasons I patronise this brand. I've found the flavor of West Soy to be very good compared to most of the other soy milks out there. When pinned against the rest of the competition in this roundup, I found it to come out on top in regards to smoothness and creaminess. It had a light initial sweetness that evolved towards a slightly tart, beany aftertaste that was pleasant. It performed best on the curdle test, creating a complex yogurt-like flavor, reminiscent of sour dairy cream; perfect for adding extra flavor depth to everything from ice creams to leavened breads to cookies.
The Ratings (0 to 5 with 5 being the best)
Overall Flavor: 4
Creaminess: 5
Ability to curdle with apple cider vinegar: 5
Overall: 5
Ingredients
Filtered water, whole organic soybeans.
Nutrition Highlights
Serving size: 1 cup (240mL)
Fat: 4.5g
Protein: 9g
So Delicious Coconut Milk Unsweetened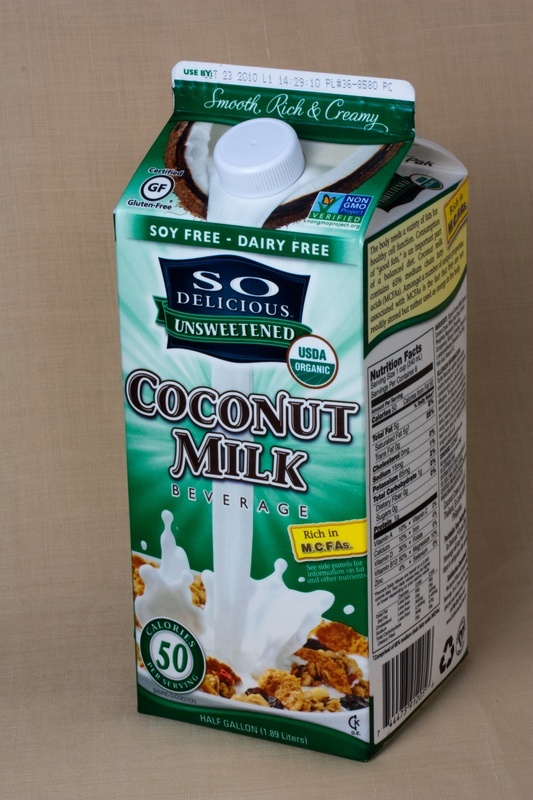 The Taste Test
The first time I saw this on the shelf at the local health food store I did a double take. It's great to finally have so many options for non-dairy milks. I found this non-dairy milk to be surprisingly low in creaminess. Coming from coconuts I was sure it would be more creamy than soy milk, almond milk and hemp milk but found it to be slightly watery. Another thing that surprised me about this unsweetened beverage was how much it generally lacked flavor and actually had a slightly bitter finish on my palate. I'm sure the sweetened version must benefit from the sugar really waking up the coconut flavor. I would have a little trouble guzzling a glass of this stuff in this unsweetened state. It didn't curdle at all during the curdle test which was probably a result of the low protein level. I would use this non-dairy milk for vegan baking if no other alternatives were available.
The Ratings (0 to 5 with 5 being the best)
Overall Flavor: 2
Creaminess: 2
Ability to curdle with apple cider vinegar: 1
Overall: 2
Ingredients
Organic coconut milk (organic coconut cream, water, guar gum), calcium phosphate, magnesium phosphate, carrageenan, vitamin A palminate, vitamin D2, L-selenomethionine (selenium), zinc oxide, folic acid, vitamin B12.
Nutrition Highlights
Serving size: 1 cup (240mL)
Fat: 5g
Protein: 1g
Rice Dream Rice Drink Original Classic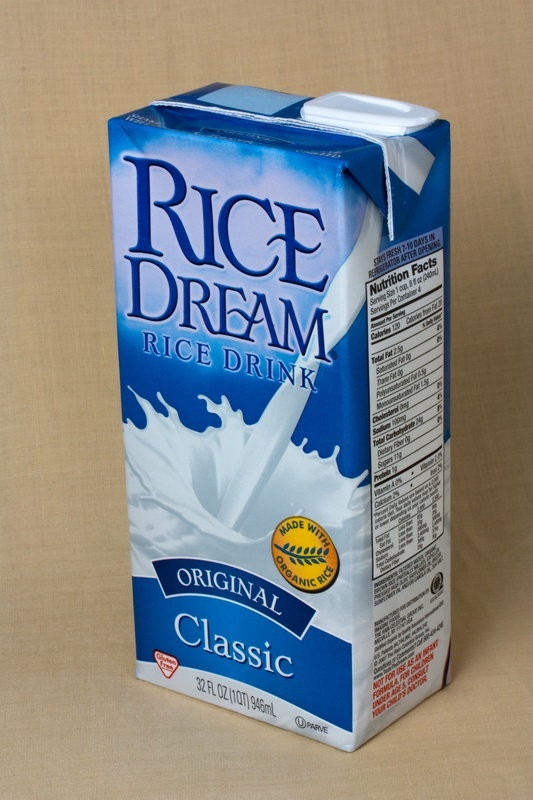 The Taste Test
Rice Milk has been around for awhile and it's been years since I revisited it. I was excited to taste it again since my palette is much more well tuned than it was the last time I worked with it. Surprisingly, I found it to be watery, thin and lacking in substance and creaminess. I was unable to find it in its unsweetened form because Rice Dream doesn't make it. This is probably because without the sugar this drink would taste a little too much like water. It had a overly sweet, sugary flavor which only slightly reminded me of milk. You could actually see the oil droplets suspended in it because they weren't completely emulsified. It didn't curdle at all in the curdle test probably due to the lack of protein. I would use this for vegan baking if no other alternatives were available.
The Ratings (0 to 5 with 5 being the best)
Overall Flavor: 1
Creaminess: 1
Ability to curdle with apple cider vinegar: 1
Overall: 1
Ingredients
Filtered water, organic brown rice (partially milled), expeller pressed high oleic safflower oil and/or sunflower oil and/or canola oil, sea salt.
Nutrition Highlights
Serving size: 1 cup (240mL)
Fat: 2.5g
Protein: 1g
Non-Dairy Milk Review Wrap Up
I learned a great deal about how different non-dairy milk types stack up against each other in vegan baking applications in these tests. You could argue that I didn't bake anything as part of these tests so this review only goes so far in judging their performance. This is correct but after years of baking I've learned that the flavor of prepared food is the sum of its total parts. This means that in order to make great baked items, every ingredient you add must be of the best flavor and highest quality. This is why I stay away from things like tofu and beans when designing recipes. If you want it to compete with the non vegan competition you must ensure that every ingredient used produces good flavor.
I found it interesting how the curdling quality was directly proportional to the amount of protein in the non-dairy milk. I'll now think twice before calling for non-dairy milk instead of soy milk in many of my recipes where I rely on the flavor compounds created by the curdling of apple cider vinegar and soy milk.
I'm going to stick with soy milk for my vegan baking adventures but keep hemp milk as a close second alternative (as long as it's not added to my coffee). The next time I'm in a pinch and soy or hemp milk can't be found I'll turn to almond milk as a third alternative and if I can't find this I'll go on the lookout for coconut milk, followed by rice milk. I'm aware that over use of soy in food products may be a health concern to many readers as of this writing due to some health studies that have been published. In vegan baking we're using so little of it that if you're concerned about it you really shouldn't be eating baked items in the first place because the sugar and glycemic index issues are a much more serious health issue. Remember that most things in moderation are ok. If you're still concerned or allergic to soy then it's great that we now have hemp milk as a soy-free alternative. Its wonderful to finally be in an age where we have so many alternatives to dairy milk to choose from.
User comments
Was this review helpful to you?

Daniel Watsons
Been drinking more non dairy milk and it helps with my diet
Was this review helpful to you?

Olivia Brooklyn
GREAT
Apple Cider seems to be too strong for me. window replacement south bend

Was this review helpful to you?

harmonxjim33
Top 10 Reviewer
View all my reviews (14)
candy crush friends cheats
Get to know each Candy Friend and choose the right companion for every level you encounter!
Was this review helpful to you?

802carol
View all my reviews (1)
Sugar nation
I'm disgusted at how people need everything to be sweetened. I love flax milk it's my favorite non dairy milk but there is only one place I can find it near me where it sells unsweetened. What the hell is the matter with everyone and their horrible sugar/junk food diets? The mass public is sick.
Was this review helpful to you?
(Updated: December 24, 2016)

johansteyn
View all my reviews (1)
I have seen milk from quinoa which might be a good alternative. It is very high in protein and is also a complete protein. This should curdle very well, but I do not know about the taste.

By the way, apple cider does not work for me. Its taste is so strong that everything tastes like it if it is added. I just use lemon juice.

Oat milk has a good taste, but I think the protein is too low.

I generally prefer to not use milks from the box, but rather use milk I make myself using powder.
Was this review helpful to you?

Barbara
Do any of you have any milks without palm products? On the label I found "Vitamin A palmitate". Except for Rice Dream. Yah! for Rice Dream!!
The manufactured or synthetic version is usually in the form of retinyl ("vitamin A") acetate or retinyl ("vitamin A") palmitate. Vitamin A palmitate, for example, may begin as citral (lemon grass oil); is placed through many stages of refining, alteration, and processing to become vitamin A acetate; then it is combined with ethyl palmitate, (a refined fatty acid from palm oil) to complete it. This final product has absolutely nothing to do with whole food. The FDA lists vitamin A acetate and palmitate as having "well-recognized toxicity" when consumed at levels of 25,000 IU per day or higher, though some studies suggest toxicity occurs in some people at lower levels. Adverse effects include severe liver injury (such as cirrhosis), bone and cartilage pathologies, elevated intracranial pressure, and birth defects in infants whose mothers consumed supplements during pregnancy. Some studies indicate that the use of water-miscible, emulsified, and solid preparations cause more chronic problems of toxicity (and may be 10 times as toxic) than oil-based preparations! Thus, solid tablets or powders containing synthetic vitamin A are more toxic than perles containing oil. Vitamin D appears to help protect against toxicity from isolates. ii
http://www.allaboutnutritionalhealing.com/vitamina-terrificortoxic
So not only is it BAD for you, I hope you know there's no such thing as sustainable palm oils. If you guys want to stay ahead of the game, you NEED to STOP using Palm Products and advertise that you don't use them. The message has to get out there that the use of palm oil products is ruining the plant. Do some investigating. It's easy to find out how truly horrible it is to use palm oil.

HBO's "VICE" had a special on Indonesia's palm plantations. VERY Eye Opening!! Check it out!
Season 3, Episode 6 (2015); HBO's Vice (TV series) Title Original air date: April 17, 2015
"The Post-Antibiotic World & Indonesia's Palm Bomb"

The Post-Antibiotic World: The overuse of antibiotics leads to dire consequences, causing scientists to search for new natural sources of anti-bacterial compounds.
Indonesia's Palm Bomb: As the demand for palm oil grows, growers in Indonesia push farther onto rainforest land, torching the forests.

Please respond to the world with the message that you're going to make a difference.

Was this review helpful to you?

Lars
I'm sure many of these would work in smoothies, or other blender combos for drinking. I recently saw "Oat Milk" at the local Fresh & Easy, though I haven't tried it. Maybe you can add it to this review.
Was this review helpful to you?
We obviously have opposite taste buds. I give Almond Milk a very high rating. Almond milk is drinkable alone, which I don't find among other milks. And the chocolate is pretty good. Hemp milk is at the bottom for me. Hemp milk tastes like rope. And yes, I know what rope tastes like...I was a kid once. Rice milk tastes like watery rice, and I don't like this flavor in liquid form. Soy milk tastes like weeds (too planty) and I don't like this either. Coconut milk, even the unsweetened kind, is actually sweet. It's good in cereal and coffee. So, I don't really understand your ratings. We're complete opposites, here.
Was this review helpful to you?

almond
Make your own plant milks, easy, fast, and much mu
Apart from soy milk, and rice milk they all take just a few minutes and a blender to make.
Rice milk takes longer, but that is just cooking time. T Just a few minutes of work just like the others.
Was this review helpful to you?

Emilie
Bob March, I am vegan and in full boycott of the soy industry. I am also amazed that you come on here complaining about soy being carcinogenic, when dairy itself contains two naturally occurring hormones that are the strongest known contributers to growth of cancer cells in humans, IGF-1 and Casein, both of which are FAR, FAR more carcinogenic than anything in soy. Farm animals are fed most of the soy on the planet so if you are worried about GMO in soy, or pesticides in soy, whatever toxicity in the soy, is also transferred to the meat, dairy and eggs. If your worried about man boobs, you should get off the dairy ASAP.
Was this review helpful to you?

Carter
Conspiracy theories and soy scares
People, do your own research before regarding opinions like those of Bob March, below
Was this review helpful to you?

Bob
Soy: Avoid it at all costs
You vegans and your push of soy is sick. You know soy causes cancer, you know it causes infertility, you know it leads to men growing certain things that aren't natural, but yet you keep pushing and promoting soy. It's a known fact at this point from multiple studies that soy is a health hazard. I stay away from it and anyone reading this should do their homework. The author of this article promoting their soy agenda...don't listen to them!!
Was this review helpful to you?

Garrett
All but two of the above products contain carageenan, so I won't even touch those.
Was this review helpful to you?

Tabitha
Question
I grew up drinking whole milk, but now I have developed and allergy . I also can not consume soy products, because of a medical condition. Do you have any suggestions on how to teach my taste to like milk alternatives?
Was this review helpful to you?

Audrey
Coconut Milk
Great review. Just wanted to add some tips for using cocnut milk and for those who want to stay clear of soy. I am an avid user of cocunut milk for all my vegan needs and discovered early on that if you just pour the milk out of the carton it is watery. You have to shake it so the fat mixes evenly and then it is very creamy. In recipes that call for buttermilk I use the cultured coconut milk and when replacing heavy cream or condensed milk I use 1 part coconut milk with one part mimicreme and the results are perfect every time.
Was this review helpful to you?

Icanvegan
Top 1000 Reviewer
View all my reviews (1)
Almond Milk Rocks!!
Just throwing in my 2 cents. I actually prefer almond milk to most other non-dairy milks. I try to steer clear of soy products, when I can, because pretty much everything has soy in it these days and overexposure to soy can cause health problems for some.

Granted, soy milk does curdle better, and I do still use it to make your fabulous vegan butter, I find that almond milk curdles just fine for my baking needs.

I truly love this website; the recipes and the info are invaluable to a new vegan like myself!
Was this review helpful to you?

joyce
no ill intentions with this comment, just thought to share something I've read more than once regarding Hain:

..who owns Hain? The prime investors in the Hain Food Group are mutual funds and holding companies. Their principal stockholders are Phillip Morris (tobacco), Monsanto (genetically modified food), Citigroup (responsible for rainforest destruction), Exxon/Mobil, Wal-Mart, Entergy Nuclear, and Lockheed Martin (weapons manufacturer). In 9/99 the H.J. Heinz Co. acquired ownership of nearly 20% of Hain ...Heinz is principally owned by the same mutual funds and principal stockholders as is Hain.

Having tried many of these products, I can't ignore never feeling very good after having something from a tetra-pak. Vibrant and full of energy is still the best food!
Was this review helpful to you?

Kim
I'm just now coming onto this non-dairy milk test. I think the article was very interesting. I also agree that soy milk works best for baking. Thanks for sharing this information.
Was this review helpful to you?

Sonia
National Sunflower Association
Try sunflower milk. Sunflower is an up-and-coming choice in the non-dairy beverage field. Sunflower seeds are a SUPERFOOD with powerful cancer fighting antioxidants, vitamins and minerals that promote heart and brain health, strengthen bones and teeth, and help maintain younger-looking skin in addition to folic acid which enhances prenatal health. Sunflower seeds are an amazing source for Vitamin E, Phosphorus, Folic Acid, Calcium and Vitamin D.
Was this review helpful to you?

vegantester
Top 50 Reviewer
View all my reviews (4)
hazelnut milk
i started buying hazelnut milk a few months ago, after noticing it at our local supermarket. it has a distinctive nutty flavour and is great on cereal - which is what i exclusively use it for - but not sure how it would go in any kind of baking. it's also pretty heavily sweetened, i think.

trader joe's sells a whole grain (oat, quinoa) milk, too, which isn't bad.
Was this review helpful to you?

meghan
A milk I have discovered (at WalMart actually) is Flax Milk. It is loaded with omega 3s among other things..I like the vanilla version but the original is good too. A little bit of a 'flax' aftertaste but it didn't bother me much. Look for it its yummy!
Was this review helpful to you?

Maria
Try the original So Delicious coconut milk or the vanilla, if you want something to drink straight up. I think you'll love it as much as I do. But because So Delicious coconut milk has a very neutral flavor, (unlike soy or hemp, which are very distinctive), the unsweetened version is much better suited for use in recipes and smoothies, where it won't change the flavor of whatever it is you're making. We have all three flavors at our house. It's our family's go-to milk for everything!

(P.S. I am able to make the coconut milk curdle with either lemon juice or vinegar.)
Was this review helpful to you?

free2bme
Top 1000 Reviewer
View all my reviews (1)
coconut milk
i live trinidad thats in the caribbean and we use coconut milk to do almost everything cooking, baking, ice cream, sauces to me its really tasty i love using that milk the most and one of the easiest milks to get and the soy but i do not like the taste of soy but these 2 milks are available at every supermarket in the country if you get to make coconut milk from the coconut itself you will know what im talking about the store bought ones isn't as strong and lacks the real coconut flavour.
Was this review helpful to you?

Mandy Delamuerte
oat milk worthy of reconsideration
I'm allergic to soy, tree nuts, and coconut (and so much more: dairy, gluten/wheat, seeds including flax & sunflower, and fruits). I have to use Oat, Rice, or Hemp milks when cooking and I try to stick with "original" flavor and avoid the flavored ones due to sugar content. I prefer to use hemp milk for cooking/baking, and I don't mind the taste of it at all. I can't use Tempt products because of allergies. I stick with Pacific Natural as they are an allergy friendly brand and very clear on the allergens in products and how they process their products. I Love the Pacific Naturals Oat or Hemp milk to make homemade hot chocolates with, or other beverages. Very creamy and delicious. I use Rice milk the very least, but if unable to find the oat or hemp, I have no issues in buying the rice milk. I agree, it's not as creamy as one would want it to be. I've never tried curdling it, and after reading this won't bother trying. When using hemp or oat to cook/bake, I find the taste of the milks aren't noticeable in the dishes I make. If choosing to drink them straight, I'm not bothered by the funny taste. Perhaps it's because they don't make me ill.

I have tried making my own milks but the time, energy, and mess it creates isn't worth it for my needs. I also don't drink or use enough milk to make at home, as homemade milks tend to need to be used within 3 days. If I had a gaggle of kids, I would be making my own milks.

I recommend you give oat milk another shot.
Was this review helpful to you?

laura
What about Oat Milk?
This was very interesting to me because I've been vegan for over 10 years now- a vegetarian ever since i was 11. I started out using Silk Soy Milk as i'm sure many of us do, and i remember liking it okay [for cereal, coffee, baking] but never liked it for drinking. When i started to realize there were other alternatives I tried them all. I think they all have their uses. In fact, i almost never use soy milk anymore because i kind of felt like i should "mix it up" and avoid eating so much soy. However, the one thing your article really revealed to me which i never realized is the comparison of ingredients! I love that Westsoy's ingredients are so basic. That's definitely something to consider! Now i think, should i really be consuming so much carageenan? All that being said i tend to use Pacifica Low Fat Oat milk for baking. Sometimes Almond Milk, Sometimes even Rice milk. I use Hemp milk for savory things, and the coconut milk has an odd flavor to me so i don't use it. I think i may have to pay more attention to the different results the different milks render. I also like your input on which ones curdle best. I recently made "butermilk" biscuits and forgot the curdling step!

I think all and all, you have made me reconsider using soy milk. Thanks! Just in time for all my holiday baking!
Was this review helpful to you?

Linda
non dairy milk reviewed
I thought the hemp milk was disgusting—it tasted like, well, ground up hemp rope, and it was light brown & gritty, with the only similarity to milk being that it was liquid.
I prefer cooking with soy, and am quite fond of vanilla flavored soy, rice, or almond on cereal or in a glass.
Was this review helpful to you?

Laurel
Where's the Mimiccreme?
I was so excited when I saw the title for the "milk" comparisons. I wanted to see how MY favorite "mimiccreme" stood up to the challenge. I used it last thanksgiving in gravy and mashed potatoes and no one said a word. We just didn't tell anyone and they all had seconds and even took some home.
So what is your take on it or haven't you tried it yet?
Was this review helpful to you?

theurbanhousewife
View all my reviews (1)
Nice..
This is super interesting! Thanks for posting it.
Was this review helpful to you?

Andrew
A thought
Thanks for the wrap-up. I had been curious about that coconut stuff, but it sounds as though I'm better off using actual coconut milk if I want to make something along those lines.

As for the hemp milk, I find it has some specific applications in which it far outperforms soy. For instance, soymilk pancakes tend to be very dense and not fluffy and light, like how pancakes should be. For that I always use hemp milk (with no ACV) to get lighter, fluffier results.

I also sometimes mix hemp milk with some homemade cashew cream to provide extra fat but keep the lighter consistency. I did this for some chocolate cupcakes this weekend and they were light, moist and decadently rich.
Was this review helpful to you?
View all user comments