Absolutely Apple Butter

Mattie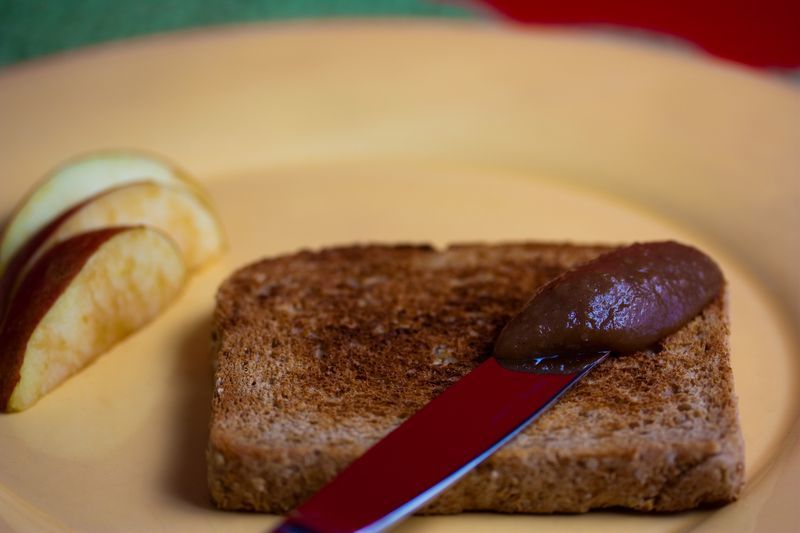 Apple butter varies from apple sauce in that apple sauce is just puréed apples with some spice and sweetener optionally added. Apple butter has a bit of a cult following because it more accurately captures the essence of the apple. It consists of a spiced apple sauce that's cooked down for several hours so the sugars caramelize, preserving the mixture in the process. Cooking the mixture also produces more complex flavor compounds, activates naturally occurring pectin so it gels and reduces it so it's more concentrated. The result is rich, creamy apple heaven. Fall apple perfection captured in a jar. You can make a large batch from this recipe and can it for future use or spread it immediately on toast, pancakes or use for anything where you would use fruit preserves.
Use the right types of apple in your preferred way
I've found that sweet tart apples that you'd normally use for baking shine in apple butter. This particular recipe differs from traditional recipes because the skins are left on so the flavor is more complex. This is similar to wine production in where the skins contribute to more flavor depth. Another side effect of this is increased nutritional content because apple skins contain a multitude of antioxidants. This recipe requires a food processor in order to achieve this goal. In my testing I was unable to purée apples adequately in my blender.
Find more
Apple recipes
on Veganbaking.net
Absolutely Apple Butter Recipe
3 pounds apples (about 10) that are
best for baking
. Organic preferred.
½ cup + 2 Tablespoons sugar
¼ cup apple cider vinegar
2 Tablespoons brown rice syrup, dark agave syrup or barley malt
1 teaspoon cinnamon
½ teaspoon nutmeg
½ teaspoon allspice
¼ teaspoon cardamom
¼ teaspoon cloves
1/8 teaspoon salt
1) Prepare your apples
Organic apples are preferred because we're using them with their skins. Wash the apples with soap and water and cut out the bad spots to discard. Weigh the apples to make 3 pounds. Core, slice and process them in two separate batches in a food processor for 5 minutes per batch. Don't worry about the small patches of apple skin. It's going to be cooked down and reprocessed later.
2) Add everything to a stock pot and simmer on low
Place the apple puree in a large stock pot and stir in the sugar, apple cider vinegar, brown rice syrup, dark agave syrup or barley malt, cinnamon, nutmeg, allspice, cardamom, cloves and salt. Cook covered on low heat while stirring about every 15 minutes. Be sure to scrape the bottom while stirring to ensure that the bottom doesn't burn. Do this for 3 hours.
3) Allow to cool and process the Apple Butter
Remove from heat and allow the mixture to cool enough so you can safely pour it into your food processor. Process the mixture for a couple minutes.
4) Can if you can
Can the apple butter with your preferred canning method or transfer it to a covered container. Apple butter will keep in the refrigerator for up to two weeks or two years on the freezer. This recipe makes about 4 cups of Absolutely Apple Butter.