Vegan Bonbon Recipes

Mattie
3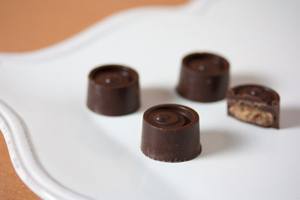 One of the reasons marzipan goes back ages is because it's extremely versatile. It can be used for anything from cake decorations, fillings in cookies and pastries or in this case, a center in this Vegan Bonbon recipe. A touch of almond extract brings out some extra flavor so it can compete on the same level as the chocolate. This recipe uses a
chocolate mold
. If you don't have one, place the marzipan balls in the freezer for an hour or so, roll them in melted chocolate, then place them on a parchment paper lined cookie sheet before returning them to the freezer for about another hour.
Vegan Bonbon Recipes

Mattie
3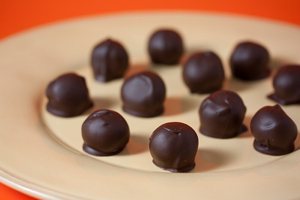 This Vegan Chocolate Orange Bomb bonbon recipe packs a seductive orange one two punch: They involve candied orange peel pureed with a kiss of Grand Marnier, mixed together with chocolate, then enrobed in a chocolate shell. This is a great vegan bonbon to have on hand when assembling your own box of chocolates for a special occasion.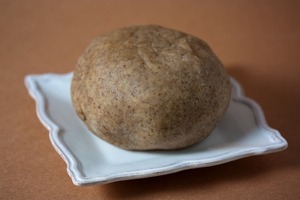 Marzipan is almond meal that's been added to caramelized sugar which makes it similar to frosting in consistency. It's origins come from present day Iran or Spain according to theory but its true origins, as well as where the term 'marzipan' originated from are shrouded in mystery. It's extremely versatile, making a fantastic filling for cookies and pastries, a center for chocolates like
Marzipan Truffles
or rolled into stollen. It can be colored, flavored and formed into candies or used in cake decorating. You can even use other nuts besides almonds like macadamia nuts, cashews or brazil nuts. Marzipan can also be mixed with fruit and served in squares. In the vegan recipe below I didn't remove the skins of the almonds so it came out a light brown.
Vegan Brittle and Bark Recipes

Mattie
2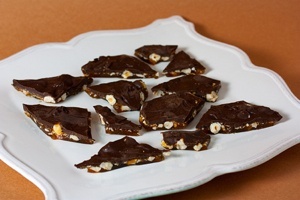 Hazelnuts, also known as filberts, are toasted to give this Vegan Chocolate Hazelnut Bark recipe a great crunch. Frangelico, a hazelnut liqueur, ups the ante with the hazelnuts for a deep, rich flavor. This vegan brittle is further enhanced with orange zest and then smothered in chocolate.
Vegan Yeasted Enriched Bread Recipes

Mattie
4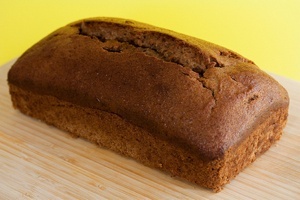 The more I use yeast instead of baking powder for quick breads such as Yeasted Vegan Banana Bread, the more I notice that yeasted breads produce far better flavor results. How did we get into this bad habit of
chemically leavening
our sweet breads with baking powder and baking soda? One word: convenience. Yeasted breads take about 3 times longer to make because we have to wait for the yeast to do it's thing. Yeast leavened breads are usually considerably more flavorful than chemically leavened breads because as the yeast ferments and spits out C02 that rises the bread, it also produces a multitude of complex flavor compounds. This is not the case with chemically leavened breads where few flavor byproducts are produced during the chemical reaction between acid and alkalne that produces the C02. Yeasted Vegan Banana Bread is now my go-to vegan banana bread recipe.
Other Vegan Baking Recipes

Mattie
1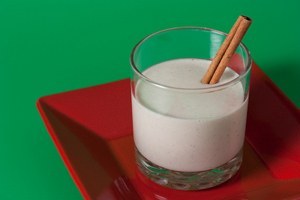 This Vegan Cashew Egg Nog recipe is super easy to make and doesn't actually contain eggs. It's just a great 'nog to put a splash of bourbon or rum into. It's even good on it's own. Using the arrowroot powder or tapioca flour is important to achieve the creamy texture and emulsify the fats with the rest of the liquids. Perfect for a lazy evening next to a
crackling fire
space heater. Legend has it that egg nog originated in England where it consisted of a mix of milk, eggs and either brandy, Madeira or sherry. It wasn't until it was brought over the the United States that it started to get mixed with bourbon, a reaction to other liquor's scarcity during the American Revolutionary War.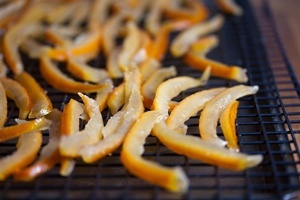 I used to get so grossed out at the mere thought of accidentally eating orange peel while eating an orange. Then I had candied orange peels and appreciated their candy form and created this recipe. Candied orange peels are a very versatile delicacy. Use them in Panettone, Stollen, Hot Cross Buns, pair them with almonds and cover them with chocolate or mince them and use them for topping on ice cream. Feel free to use other citrus peels in place, or in addition to orange such as lemon or lime. Just be sure to use organic peels because non-organic ones often have high concentrations of pesticide residues.
Other Vegan Cooking Recipes

Mattie
0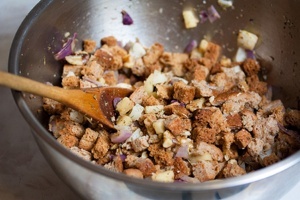 This Vegan Apple Walnut Stuffing recipe is great inside
Stuffed Seitan
or alongside some
Cranberry Sauce
during holiday feasts. Apples give it a light flavor-enhancing sweetness which is a great accompaniment to the textures of water chestnuts and walnuts.
Vegan Sponge Cake Recipes

Mattie
4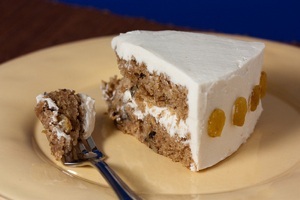 This Vegan Parsnip Cake recipe is carrot cake's long lost brother, featuring parsnips which are slightly spicy and astringent. Parsnips are teamed up with pineapple, golden raisins, non-diary yogurt and a touch of cardamom to make a vegan cake that's lighter and spicier than carrot cake but every bit as tasty. Like carrot cake, Vegan Parsnip Cake should be liberally frosted with
Easy Vegan Cream Cheese Frosting
or a
variant thereof
for best results.
Vegan Cheesecake Recipes

Mattie
3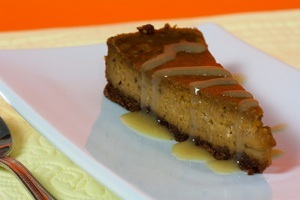 Pumpkin Cheesecake is one of my favorite desserts during the holidays. This vegan recipe variation pairs pumpkin with
Easy Vegan Caramel Sauce
for a great way to end a feast. It also features barley malt syrup, lemon juice, cinnamon and ginger powder to help marry bold pumpkin flavor with vegan creaminess. I recommend opting for non-hydrogenated vegan cream cheese so you can avoid trans fats. This vegan cheesecake also goes great with a dollop of
Vegan Vanilla Ice Cream
.
Vegan Sauce Recipes

Mattie
8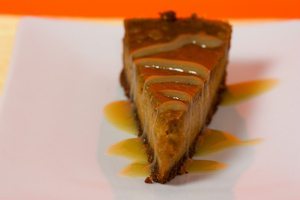 Use this Easy Vegan Caramel Sauce recipe to bring another dimension to vegan cheesecakes, ice creams, pies, brownies or pretty much anything. Caramel is one of those rare taste miracles that's in the same realm of chocolate sauce and maple syrup; it would probably make cardboard taste delectable. It's liquid gold. This is an easy to make sauce that utilizes coconut cream for rich flavor. Coconut contains flavor compounds called lactones which are among the same compounds that give dairy products like cream their signature flavors. Want to turn up the flavor level to eleven? Replace the vanilla extract with 1 Tablespoon bourbon, rum or brandy.
Vegan Pastry Recipes

Mattie
2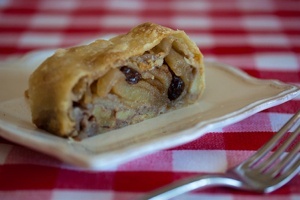 Strudel is one of those treats that everyone loves. If I met someone who was anti-strudel I'd back away if I were you. Strudel has origins in Austria and Hungary dating back to the late seventeenth century. Traditional Austrian strudel is not made with phyllo dough or puff pastry but with a thin dough with a high gluten content that gives it elasticity. Traditionally, strudel can be filled with cherries, apples, spinach, sauerkraut or cheese. This Vegan Apple Strudel recipe features apples picked fresh from an apple orchard in Pennsylvania and is enhanced with rum, raisins, cinnamon, nutmeg and allspice.
Vegan Topping Recipes

Mattie
2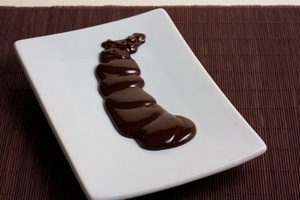 Although not as smooth and creamy as
Dark Velvet Ganache
, this Easy Vegan Ganache recipe is still great when you need vegan ganache in a pinch. Ganache can be a very versatile base for a recipe. It can be adapted to anything from frostings to truffles to fillings. Just adjust the non-dairy milk in this recipe plus or minus up to 2 Tablespoons to get the thickness that suits your needs. For example: 2 more Tablespoons non-dairy milk will make this ganache solidify into a soft frosting-like consistency at room temperature. ½ cup of non-dairy milk yields ganache that is perfect for
vegan cakes
. You can even customize it further with things like Grand Marnier, Chambord, espresso or mint extract.
Vegan Spread Recipes

Mattie
4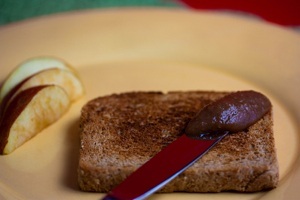 Apple butter varies from apple sauce in that apple sauce is just puréed apples with some spice and sweetener optionally added. Apple butter has a bit of a cult following because it more accurately captures the essence of the apple. It consists of a spiced apple sauce that's cooked down for several hours so the sugars caramelize, preserving the mixture in the process. Cooking the mixture also produces more complex flavor compounds, activates naturally occurring pectin so it gels and reduces it so it's more concentrated. The result is rich, creamy apple heaven. Fall apple perfection captured in a jar. You can make a large batch from this recipe and can it for future use or spread it immediately on toast, pancakes or use for anything where you would use fruit preserves.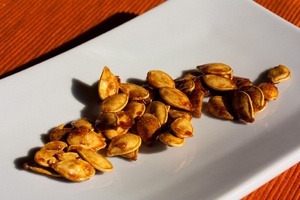 Don't know what to do with all those pumpkin seeds from pumpkin carving? Take those little pepitas and dress them up in little spiced sugar costumes with this Candied Spiced Pumpkin Seeds recipe. They'll love it and you will too because this vegan recipe features barley malt syrup, cinnamon, cloves and cardamom to help push the savory pumpkin seed flavors forward.