Vegan Baking Recipes
Vegan Ice Cream Recipes

Mattie
6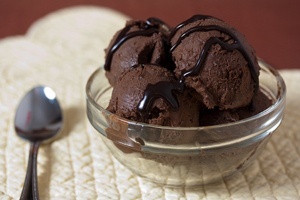 This Vegan Double Chocolate Brownie Chunk Ice Cream recipe was going to be called Triple Chocolate Brownie Chunk Ice Cream due to it's use of two different types of chocolate and brownie chunks mixed in. Then I realized that things were starting to get out of hand and I had to look out the window and count to ten. Its still full of chocolate though; This Category 1 chocoholic wouldn't lie. It's a great way to use up those extra
Ultimate Vegan Brownies
you have lying around that you've desperately been trying to eat. Wishful thinking, no? Drizzling some
Double Chocolate Sauce
over the top is highly recommended.
Vegan Pizza Crust Recipes

Mattie
0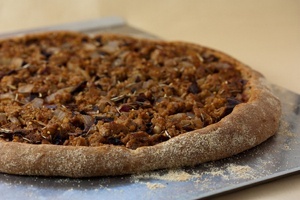 This Vegan Sourdough Pizza Crust recipe has a little more oomph in the form of the flavors produced by wild yeast fermentation, also known as sourdough. The wild yeast isn't enough to leaven the dough completely on it's own so it's
spiked
with some bread yeast to help it along. This vegan crust is great for cheeseless pizzas or other pizzas where you're not using intensely flavored toppings and you'd like the crust to contribute more flavor to the pie. It's also a great way to use the
sourdough starter
you've been keeping in your fridge. You do have a resident starter in your fridge right?
Vegan Sponge Cake Recipes

Mattie
1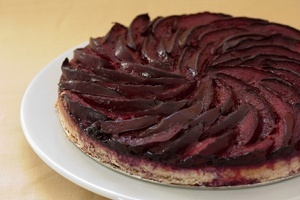 This Vegan Plum Cake recipe is based on a traditional
Pflaumenkuchen
, or German plum cake. I broke with tradition a little and enhanced the plums with a splash of rum and a dusting of sugar and cinnamon. I wanted the intense fruit flavors to be well balanced by a flavorful cake so I used the power of yeasted cake to add flavor depth in the cake department. Yeasted cake also has the benefit of utilizing gluten bonds for binding which frees us from needing to use any fancy egg replacers. I purposely designed this cake to be on the dense side because I felt that it helped to showcase the plums.The result is a fruit forward plum topping baked into a cake that can hold it's own. Black plums are preferred due to their high level of sweetness. Feel free to make this cake using any combination of other stone fruits you may have on hand.
Vegan Muffin Recipes

Mattie
1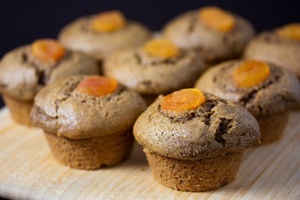 The sweetness of apricots and the earthiness of 100% rye flour complement each other, especially when accompanied by molasses, cardamom and espresso powder in this Vegan Apricot Rye Muffin recipe. Rye flour contains a low amount of gluten compared to wheat based flour so in order to enhance binding, the batter is mixed for 1 minute to allow the starches in the flour to become activated. The pectin in the apricot preserves also acts wonderfully as a binder in these vegan muffins.
Vegan Pancake Recipes

Mattie
2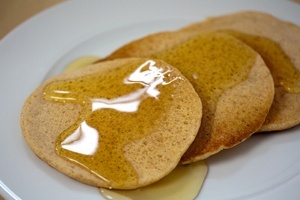 Lemon and corn both work to bring out each other's best qualities in this Vegan Lemon Cornmeal Pancake recipe: corn highlights lemon's tanginess and lemon enhances corn's savory flavors. These bright, buttery flavors packed into a vegan pancake is a great way to start the day. Try them topped with a touch of almond butter, fruit and/or real maple syrup.
Vegan Pie Recipes

Mattie
3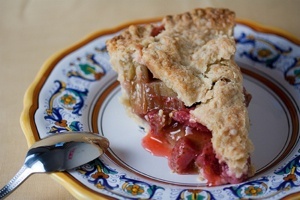 Strawberry and rhubarb's sweet and tart flavors are married with a hint of orange zest in this Vegan Strawberry Rhubarb Pie recipe. Strawberry and rhubarb together in a flaky pie crust is probably the most effective way to ring in the spring and summer months via flavor alone. Both of these fruits let go of lots of water during baking which can make things on the soupy side. A generous amount of arrowroot flour and a longer baking time at a slightly lower temperature than usual solves this issue and gives the pie a chance to bake to its juicy perfection. It's like a summer vacation in your mouth.
Vegan Brownie Recipes

Mattie
51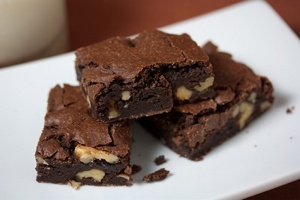 Ultimate is not something that I throw around lightly, especially for vegan brownies. I've had my share of vegan and regular brownies and been baffled by how lacking vegan versions are. Growing up on my Grandmother's brownies, I learned that a good brownie should be dense, fudgy and soft; not light, cakey and dry. Why is it so hard to emulate a traditional brownie recipe that simply consists of a few simple ingredients? Hint: it's due to the egg, which emulsifies, binds, slightly leavens then bakes up as part of the actual base of the brownie itself. To emulate this takes an expedition deep into the innards of brownie science, oh and for me, about seven years of failing until figuring this out.
Vegan Hearth Bread Recipes

Mattie
1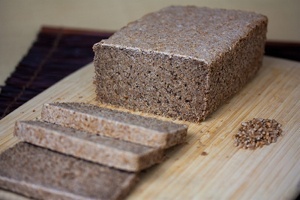 This Sprouted Wild Yeasted Whole Wheat Bread recipe is a nod to how the first breads probably got their start. Wheat berries were probably softened with water, ground and left out in the elements where they were then populated by airborne yeasts and bacteria, causing the dough to rise slightly. Placing this dough on hot rocks in or near a fire probably resulted in a fine vegan treat like nothing else available at the time.
Vegan Topping Recipes

Mattie
2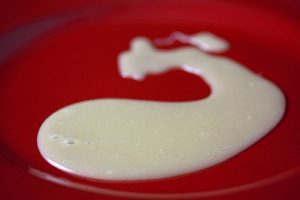 This smooth Vegan White Chocolate Ganache recipe uses cocoa butter without the cocoa solids making it a versatile white and creamy vegan topping for cakes, truffles or fillings. Unlike margarine or butter, cocoa butter and coconut oils melt rapidly when they reach their melting point instead of softening slowly. Due to this, extra care must be taken as it resolidifies from it's melting temperature of 93F (34C) to 100F (38C). You can adjust the firmness by adding or subtracting 1 Tablespoon of water. Also feel free to substitute 1 teaspoon to 1 Tablespoon of liqueur or other flavoring extract to further customize your ganache.
Vegan Waffle Recipes

Mattie
2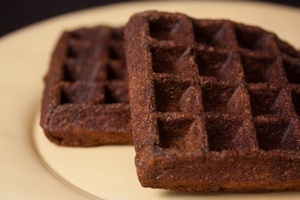 One of my favorite breakfasts is this Vegan Gingerbread Waffle recipe accompanied by a cup of strong coffee and veggie sausage on the side. Just when you''re thinking that you may be eating dessert you'll notice a savoriness that will assert that this is indeed breakfast. Slather these vegan waffles with a touch of almond butter, a splash of maple syrup and a sprinkling of
Balsamic Candied Pecans
to make this a truly memorable experience.
Vegan Frosting Recipes

Mattie
4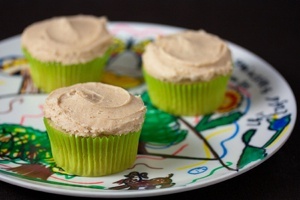 This silky smooth Rich Vegan Peanut Butter Frosting recipe packs a peanut buttery punch that can really dress up any vegan cake. This recipe takes advantage of
caramelizing sugar to the thread stage of 230F (110C)
where it contributes a smooth velvety texture. It also utilizes the power of soy milk powder (not to be confused with soy flour). Soy milk powder adds extraordinary creaminess while still allowing the frosting to remain firm.
Vegan Pastry Recipes

Mattie
4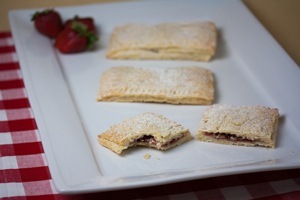 Pop tarts are one of the easiest ways to pair fruit with flaky pastry goodness. This Vegan Strawberry Pop Tart recipe can be customized with whatever fruit preserves you have on hand. You can also fill them with things like chocolate; maple sugar and cinnamon; bananas and coconut, the possibilities are endless! Heck, you can even fill them with savory stuff like caramelized onions, mushrooms and potatoes. I won't judge. Just be sure to keep the filling under 2 teaspoons so they don't push out the sides during baking. The pastry is based on
Flaky Pie Crust
and features just the right ratio of Vegan Butter or margarine to shortening for the flakiest, most flavorful crust around.
Vegan Pancake Recipes

Mattie
0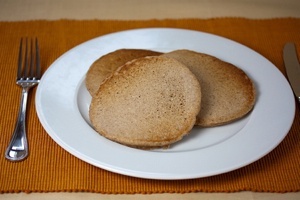 This Vegan Sourdough Pancake recipe is one more reason to keep a
sourdough starter
in your refrigerator at all times. They're wild yeasted which gives them a fascinatingly complex flavor not normally found in either vegan or traditional pancakes. They require advance preparation of a sourdough starter that is used as the foundation of the batter. If you already have this batter around, these pancakes will be even easier to make than
Easy Vegan Pancakes
. If you keep your starter in the refrigerator, it doesn't need to be removed several hours before using as it does in bread baking. Feel free to mix 1 cup of berries or ½ cup chopped nuts into the batter before pouring. Top them with maple syrup and/or a dollop of almond butter.
Other Vegan Baking Recipes

Mattie
1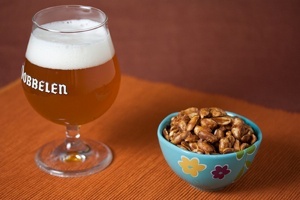 This Vegan Maple Roasted Peanut recipe makes an addictive snack. Once I was on a San Francisco Muni train and was in the process of getting busted for both sneaking on without paying and eating while on the train. As the Muni cops closed in, I clutched my container of Maple Roasted Peanuts tightly.
Vegan Frosting Recipes

Mattie
6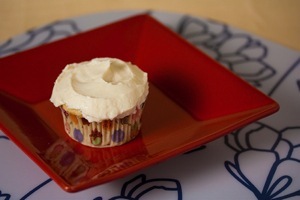 Use this smooth, creamy Rich Vegan Buttercream Frosting recipe for decadent
vegan cakes
where you want some buttery flavor to shine through. In my search for a truly decadent frosting that is also resistant to melting in warmer temperatures, I utilized the power of soy milk powder. (not to be confused with soy flour). Soy milk powder adds extraordinary creaminess while still allowing the frosting to remain firm. This allowed me to use a simple syrup (sugar and water) for a sweetener so the frosting is silky smooth. This vegan frosting also takes advantage of caramelizing sugar to the
thread
stage of 230F (110C) where it contributes a smooth velvety texture. Finally, I used Vegan Butter or margarine as the main fat due to it's affordability and availability.