Vegan Yeasted Enriched Bread Recipes

Mattie
4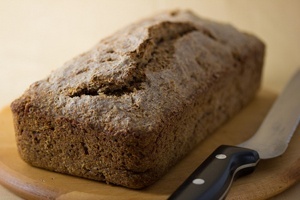 Traditional flour is ground endosperm powder which is the result of the flour mill removing most of the hard pieces and hence, nutrition from the wheat berry. I'm a huge fan of whole sprouted grains because they're more flavorful and contain significantly more nutrients than bread made with traditional flour. This Flourless Sprouted Whole Wheat Bread recipe utilizes sprouted wheat berries that are then ground into a purée. This requires a substantially hardy food processor. If you're not sure if your food processor is powerful enough, look on the bottom. It should say at least 6.5 Amps or "6.5 A".
This bread was difficult to design due to the nature of the wheat berry. This hardy seed contains the germ which is the heart and soul of the seed. The germ is the embryo of the plant in its dormant state. It's accompanied by the starchy endosperm which acts as fuel for the germ when it sprouts or
germinates
. This package is encased in a firm fibrous shell called the bran. This protects the seed kind of like an egg shell protects an egg.
Vegan Cheesecake Recipes

Mattie
3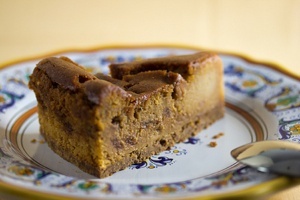 For those difficult times when you can't decide whether to make a
vegan apple pie
or a
cheesecake
, do both! This Vegan Caramel Apple Cheesecake recipe utilizes soy yogurt that is left with pureed almond and non-dairy milk for up to 24 hours so the
Lactobacillus
cultures in the yogurt can enhance the flavors of the mixture. In order for this to work as effectively as possible it's important to use unsweetened non-dairy soy yogurt containing
Lactobacillus
and with as little additives and thickeners as possible.
Lactobacillus
cultures are bacteria that ferment sugars in the food and produce complex flavors and acids such as lactic acid.
Other Vegan Baking Recipes

Mattie
2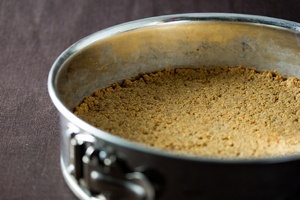 Vegan crusts are the foundation of many desserts so it's important to treat them seriously. When making a crust for a springform pan, it's important to have options that pair nicely with your dessert. One example is that you'd want to use a gluten-free crust with a gluten-free cheesecake. Regular cheesecakes go great with a graham cracker crust recipe but what if you're not going the traditional route? That
Vegan Apple Caramel Cheesecake
might be better paired with a ginger snap cookie crust or a walnut crust. What if you're doing something entirely different from a cheesecake or maybe you have a gluten intolerance? Maybe you want to take it to the next level and make a
Vegan Chocolate Mouse
with a hazelnut crust! Now you can do almost any type of spring form crust if you have access to dry cookies or nuts based on the recipe below.
Other Vegan Cooking Recipes

Mattie
1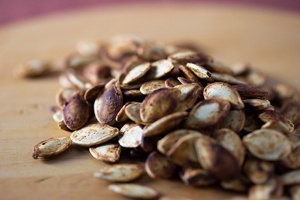 Every year for the last several years I've been experimenting with the seeds that come with my fall pumpkins. I enjoy roasting them
and candying them
but I've always grappled with their often tough mouthfeel. I always seem to be gnawing on them for eternity as the texture slowly starts to remind me of sawdust. Every year I've tackled this problem differently; usually simmering them in water for a certain amount of time to soften them before roasting. This tactic has only yielded me marginally more tender pumpkin seeds. I needed to take this further.
A few months ago I picked up my first slow cooker. After some initial testing I found that slow cooking the pumpkin seeds in water on high (about 210F (99C) for 10 hours allowed me to roast them to perfection. Using this method, your pumpkin seeds will be crispy on the outside and give way to a subtle chew on the inside as they release their flavors. Oh yeah, the flavor. Now that found the optimum texture, I opted for a savory punch thanks to the shiro miso, paprika and a dash of sugar and cayenne for depth of flavor. Now I can finally really enjoy pumpkin seeds as an easy going snack.
Vegan Quick Bread Recipes

Mattie
5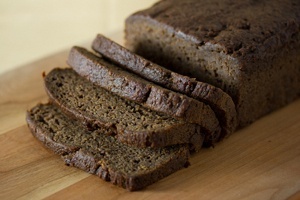 "See those bananas over there?", I asked, tilting my head towards the end of the aisle at the health food store. "I'll buy fifteen of 'em for half price", I suggested confidently. The cashier paused for a moment, not knowing whether to believe me. Why would anyone want to buy bananas that were almost more suitable for the compost bin than the kitchen for any price? "Sure", he sighed. He knew they were garbage unless I took them in. I laughed to myself when I realized how excited I was to buy bananas that most people wouldn't even think of eating. I started to feel bad about not liberating the others but I had to get home; there was work to do! How cool would it be to peel the bananas, purée them and slow cook them into a thick syrup to use as a base for fruit sweetened banana bread? Finally, something to do with all those bananas laying around in your freezer!
Vegan Sauce Recipes

Mattie
0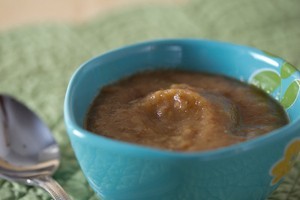 Have you ever gone apple picking and brought back pounds of fresh apples with high aspirations only to watch helplessly as your prized stock slowly breaks down as you're just too busy to commit to making all the
Apple Pies
,
Apple Turnovers
,
Apple Cider Doughnuts
and
Apple Strudel
? This happened to me recently and as I was opening the compost bin of shame my friend Dan mentioned, "you know, my Mom uses the soft apples for apple sauce and it comes out awesome!" This sounded really interesting to me but I still didn't have time. So why not combine these soft apples with this lack of time and make a quick and easy applesauce?
Vegan Candy Recipes

Mattie
1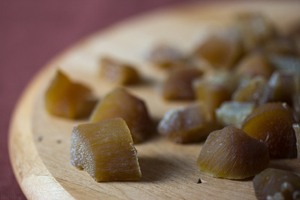 Crystallized ginger is somewhat of a magical candy from nature usually made from just ginger, sugar and a little heat to bring the two together. It seems there are almost as many crystallized ginger recipes as there are ginger pieces. After doing extensive testing I learned that the key to successful crystallized ginger boils down (pun intended) to three main things:
Vegan Cookie Recipes

Mattie
21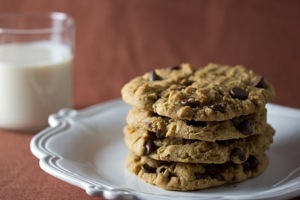 For me, the ultimate cookie is crispy on the outside, yielding to a satisfying chew on the inside. This should not be confused with just a soft cookie. It should resist your bite a little and take a few moments to break down in your mouth as it provides bust of flavor with every chew. In contrast, soft cookies tend to be great on the first bite and disintegrate into nothingness soon after, often leaving you feel like you're chewing on sweet dust. I'm a huge fan of peanut butter but I find the texture of peanut butter cookies to too often fall into the soft-only or even worse, the crumbly camp. If you scale back on their precious peanut butter they retain their chewy qualities but also quickly turn into regular cookies with just a hint of peanut butter flavor. I set out to find the optimum combination of decadent chewiness while keeping a peanut butter punch as intense as possible (and tossing in chocolate chips for good measure). This tightrope walk is extremely dangerous in that it causes you to eat way too many test cookies as you perfect your recipe.
Vegan Sponge Cake Recipes

HildaJorgensen
10
A recipe from
Triumph of the Lentil: Soy-Free Vegan Wholefoods for all Appetites
. Don't be fooled by the zucchini in the title. This is actually a decadent tasting vegan mud cake. Made in a bundt pan it is thin and crispy on the outside and moist and dense on the inside, so much that it doesn't need any icing or accompaniments. To make it a bit fancier-looking you could drizzle it with melted vegan chocolate or icing. This mixture also makes delicious muffins, making 24 medium sized ones.
Vegan Pastry Recipes

Mattie
0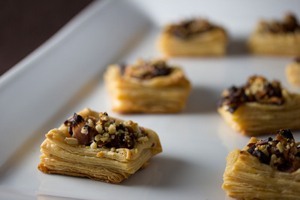 I'm a huge fan of
kimchi
because it adds a fascinating crunch and a savory spicy flavor to whatever you pair it with. It seems as if kimchi is one of those foods that becomes more than the sum of its parts after it ferments to perfection. Napa cabbage provides the crunch but also is rich in glutamates, the compounds that are responsible for savory favors, otherwise known as umami. There had to be a reason why napa cabbage is always part of kimchi!
Recently I incorporated kimchi into vegan butter for an increased depth of flavor. The kimchi flavor was less apparent but the butter had a complex flavor unlike anything I've tasted. What if I made a puff pastry out of
Kimchi Vegan Butter
that was designed to deliver a one-two punch of flaky butteriness and savory flavors that even the most die hard meat eaters would love? The result is Kimchi Puff Pastry with Shiitake Mushrooms and Toasted Pine Nuts. This recipe may look a little daunting but it's easy if you split it into several nights and refrigerate it as you go. I usually make the Kimchi Vegan Butter and mushrooms one night, prepare the puff pastry and give it a turn or two on the second night and prepare and bake them on the third night.
Vegan Ice Cream Recipes

Mattie
4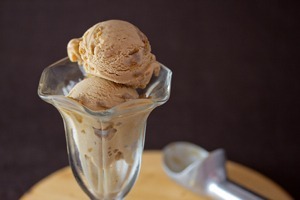 Trying cake batter ice cream recently I was intrigued of the concept of blending two completely different types of desserts. I loved how the ice cream takes on the unexpected flavor of cake batter but still has the consistency of ice cream. What could I get away with in an attempt to blend flavors and textures that would contrast but also compliment each other? I have a flavor experience burned in my memory from some point in my life where I had vanilla ice cream oozing over a ginger snap cookie. I realized that this was what I must try. Should I grind the ginger snaps and steep them in non-dairy milk or just blend them in the ice cream recipe before processing in the ice cream maker? Would I still need to add the same ratios of ingredients as my Vanilla Ice Cream recipe?
Vegan Bar and Square Recipes

Mattie
3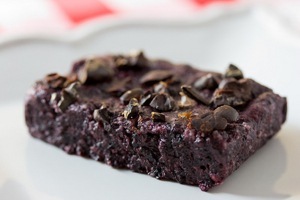 Fruits become extra special when they're dehydrated. Many of their sugars slightly convert into acids during a subtle fermentation and their flavors become concentrated into a irresistible tartness with subtle sweetness accompanied by intense fruit flavor. This wildly complex cherry flavor is what I wanted to capture in this Raw Vegan Cherry Almond Bar recipe. Cherry notes are further enhanced by almond flour and agave syrup. Just a bit of lemon zest and salt to bring foundation to the whole flavor package. Finally, cacao nibs add a nice contrast featuring a slight bitterness and delectable crunch. Feel free to buy dehydrated cherries or dry your own if you have a food dehydrator. I recommend Bing cherries for these bars but you should be able to get great results with any other variety.
Vegan Pancake Recipes

Mattie
2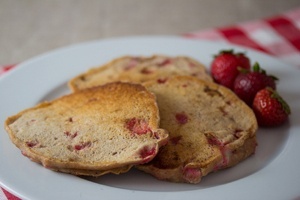 Strawberry and rhubarb are joined together in holy matrimony with orange zest and a touch of sugar in these Vegan Strawberry Rhubarb Pancakes. I opted to not make these pancakes too sweet because I like real maple syrup or a liberal topping of strawberries to drive the sweetness. If you like your pancakes sweet you may want to consider adding a couple Tablespoons more sugar. Or top them with sweetened vanilla yogurt for a new take on strawberry shortcake. I repeat: you can con your friends into enjoying something really close to strawberry shortcake for breakfast! Either way it'll be a breakfast to remember.
Vegan Ice Cream Recipes

Mattie
7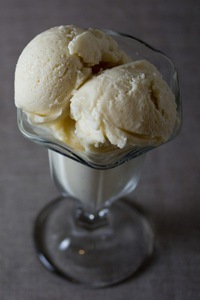 Few desserts are as satisfyingly simple as Vegan Vanilla Ice Cream. Over the years I've had dozens of different styles and I've developed a preference for what I believe to be optimal qualities in ice cream. I believe it should be rich, smooth, delicately melt into a creamy base in your mouth but not linger for too long and not have off flavors. I don't prefer ice creams that are frozen into a block of ice, nor do I approve of ice creams that have the texture and taste of ice milk. So how do you develop a soft, creamy, flavorful vegan vanilla ice cream recipe without using eggs or dairy? While we're on the subject of ice cream, how do you develop an assertive vanilla flavor while not being over-the-top and making it taste artificial?
Vegan Hearth Bread Recipes

HildaJorgensen
6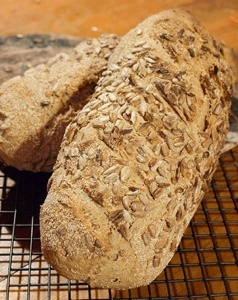 A recipe from my book
Triumph of the Lentil
, this is my staple bread recipe. Even with a newborn and a toddler to look after I manage to bake this twice a week, so that we never have to buy bread. Because of the slow rising time it requires very minimal kneading (only enough to mix in the flour), doesn't require any oil or sugar to taste good and stays fresh for longer. The slow rise develops the gluten in the same way that kneading would, but results in a superior taste.
Each rise can take between eight and twenty hours and put in the fridge at any stage, to be baked within two weeks. I like to make each rise around twelve hours. It can also be sped up a little, to make the total time as little as 16 hours by doubling the amount of yeast and combining the first and second rise together.