Vegan Pudding Recipes

Mattie
0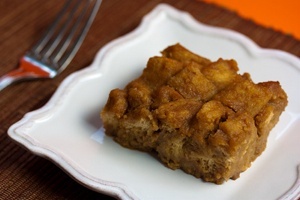 Bread pudding is probably the most comfortable comfort food. What other type of food has a moist pudding-like texture paired with a soft cake-like feel? Take some barley malt syrup, cinnamon, nutmeg, ginger and cloves. Now add some pumpkin and bourbon to the mix and you have this Vegan Pumpkin Bourbon Bread Pudding recipe to warm your soul. In one bite all your worries are forgotten for a few minutes. Preparing this bread pudding is really easy, provided you already have
pumpkin purée
. For the base, you can use any bread that is light in color and neutral in flavor.
Vegan Pie Recipes

Mattie
0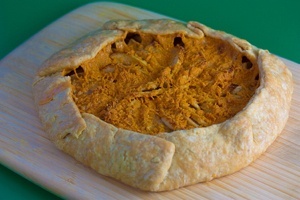 Apples with vegan cheddar cheese are a match made in heaven due to the contrasting flavors of sharp cheddar and tart apples in this Vegan Apple Cheddar Galette recipe. Be sure to use a sharp vegan cheddar cheese like
Daiya
or
Cheezly Mature White Cheddar
for best results. I used Daiya cheddar for this particular galette.
Vegan Pancake Recipes

Mattie
3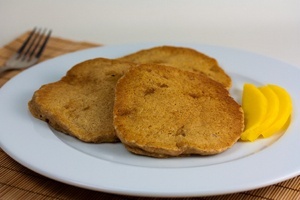 Mango and coconut are good friends and some of my favorite foods so why not pair them together in this Vegan Coconut Mango Pancake recipe? These vegan pancakes feature coconut milk, shredded coconut, mango chunks, just the right ratio of whole wheat flour and all-purpose flour and a touch of vanilla extract to further unify the flavors. It's the closest a pancake breakfast will ever get to feeling like a tropical paradise.
Vegan Frozen Yogurt Recipes

Mattie
1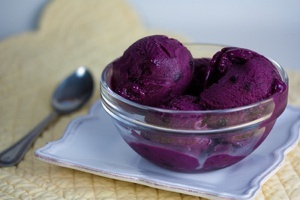 This Vegan Blueberry Frozen Soy Yogurt recipe is super simple to make. It's just unsweetened vegan soy yogurt mixed in an ice cream maker with the fruit jam of your choice. I happened to have blueberry jam when I made this batch. Be sure to use quality soy yogurt. There are some brands out there that don't taste anything remotely like yogurt and they are to be avoided. It's also recommended using quality jam made with sugar instead of high-fructose corn syrup. Be sure to use unsweetened soy yogurt or else your frozen soy yogurt will come out too sweet. This recipe is already on the sweet side so the fruit comes through with intensity.
Vegan Ice Cream Recipes

Mattie
1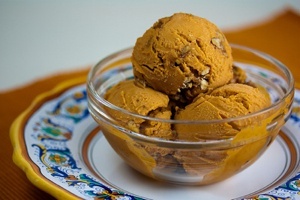 When this Vegan Sweet Potato Pecan Ice Cream recipe is mentioned to passerby one of two things usually happens: people either express great joy or wince and convulse. Sweet potatoes are pumpkin 2.0 people! They have a much more complex flavor than pumpkin so I just cut to the chase and paired them with candied pecans to make this vegan ice cream. You could substitute pumpkin purée if you really wanted to but it's not recommended unless you're stuck on a dessert island with nary a single sweet potato in sight.
Vegan Ice Cream Recipes

jackie
2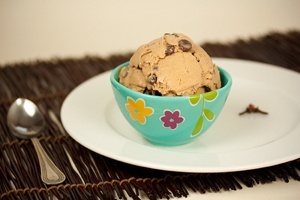 This Vegan Chai Chocolate Chip Ice Cream recipe uses non-dairy milk and cashew butter for creaminess. Raw cashew butter essential for this vegan ice cream due to it's neutral flavor; roasted cashew butter is not recommended because it has undesirable bitter flavors that will throw off the flavor profile. Chai is such an awesome hot beverage that it dominates the hot beverage scene to the point of where other hot beverages are jealous. So why not make it dominate the cold and icy scene as well by making it into ice cream? Then add chocolate? Well okay then!
Vegan Candy Recipes

Mattie
1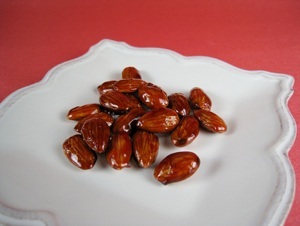 This Cherry Candied Almond recipe is an excuse for me to combine two of my most favorite flavor combinations: cherries and almonds. I used brown sugar and olive oil for a more complex sweetness profile and just the right amount of almond extract to bind the cherry and almond flavor in holy matrimony. Try these as a relatively guilt-free vegan snack, add them to salads or sprinkle them on your ice cream.
Vegan Syrup Recipes

Mattie
0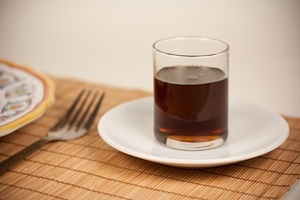 One of the best parts of growing up was waking up to the aroma of Dad's legendary pancakes every Sunday. After gorging on them doused with maple syrup, the fam and I would go hiking on Mt Tam. Like clockwork, I'd eventually proceed to have an enormous mysterious energy crash that would reduce me into a quivering mess that Mom would call
the shakes
. I later found out this was because the maple syrup I loved so much was causing my blood sugar to peak, then crash due to its high glycemic index. Now I'm a lot more careful by making sure that I get some veggie sausages and go easy on the maple syrup. Agave syrup has a significantly lower glycemic index than maple syrup. Adding maple extract to it makes it a delicious maple syrup substitution, as shown in this recipe. Check out our article on
sweeteners and glycemic index
to see how different sweeteners stack up.
Vegan Pastry Recipes

Mattie
4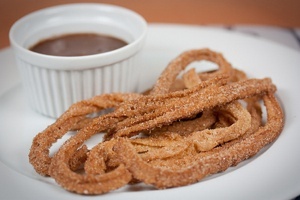 Churros are so good and such a rare treat that it's always a sign of good luck to actually find them. Traditionally they're made with eggs so vegan churros are an even more rare find. This Vegan Churro recipe features sugar and cinnamon for
churriffic
flavor and flax as the primary binder. It's important to use the biggest pastry bag star tip you can find and to go easy on the frying until they're just barely golden brown so they're not too crisp. A candy thermometer is crucial for best results. Enjoy these churros with Churro Chocolate Sauce that's enhanced with the creaminess of non-dairy milk and just a pinch of cayenne.
Vegan Cupcake Recipes

Mattie
2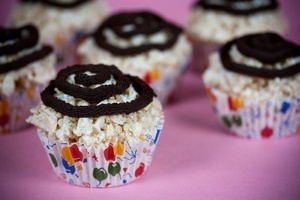 This Vegan Rice Crispy Treat Cupcake recipe is the first thing I made after ordering
Dandies Vegan Marshmallows
from Chicago Soy Dairy. I feel like a kid again with these gluten-free treats. Vegan baking doesn't get much easier than melting Vegan Butter, marshmallows, adding vanilla extract then mixing in puffed rice. Making the vegan ganache is slightly more involved but still simple. Be sure to make these as close to your eating occasion as possible because Vegan Rice Crispy Treats love to dry out. If you need to make them a day or so beforehand, keep them in an air-tight container.
Vegan Pizza Crust Recipes

Mattie
1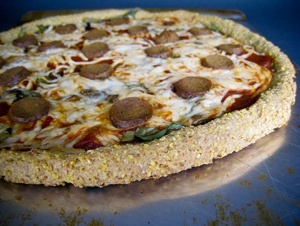 This Vegan Cornmeal Spelt Pizza Crust recipe is one of the fastest, easiest crusts around because it doesn't need lots of kneading and it doesn't require yeast. Although it's not gluten-free, it does have very low amounts of gluten which is good if you're trying to cut back on it due to food allergies. This recipe makes a vegan crust that is 12 to 14 inches. This dough can also be refrigerated for later use.
Vegan Candy Recipes

Mattie
6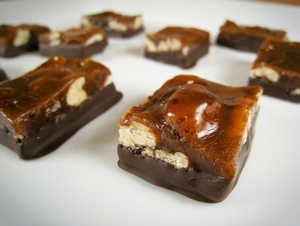 These chewy Vegan Pecan Caramel Chews are reminiscent of those little caramels you used to get from trick or treating when you were little, except they're packed with pecans and dipped in chocolate! Be sure to use a candy thermometer with this vegan caramel recipe for best results. If you like your caramel extra soft or extra hard, adjust the caramelization temperature 10F (6 C) lower or 10F (6 C) higher respectively.
Vegan Yeasted Enriched Bread Recipes

Mattie
8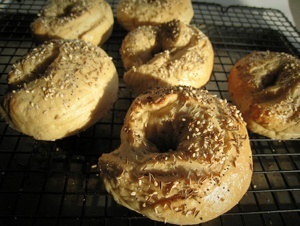 I know that one day I won't have access to my favorite bagel place on Bedford ave in Brooklyn on my way home from the bars to grab a late night snack. This Vegan Everything Bagel recipe will hopefully keep me content in those times. Enjoy these vegan bagels with Tofutti cream cheese,
Creamy Vegan Cashew Cream Cheese
, my more involved
Vegan Cashew Cream Cheese
or whatever else floats your fancy. I've designed these bagels in the authentic NY style which uses barley malt, also known as malted barley. Barley malt is highly recommended but if you don't have it just use an additional one-half Tablespoon sugar in its place. Be sure to allow ample time for this recipe- it takes about two hours. If you live further than two hours away from New York City, this recipe will be easier than flying there for the flavor.
Vegan Topping Recipes

Mattie
2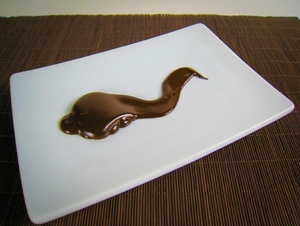 Ganache can be a very versatile base for a recipe. It can be adapted to anything from frostings to truffles to fillings. Just adjust the Soy or Cashew Cream in this Vegan Dark Velvet Ganache recipe plus or minus up to 2 Tablespoons to get the thickness that suits your needs. For example: 2 more Tablespoons Soy Cream, Cashew Cream or non-dairy milk will make this ganache solidify into a soft frosting-like consistency at room temperature. 1 cup of Soy or Cashew Cream yields ganache that is perfect for cakes. You can even customize it further with things like Grand Marnier, Chambord, espresso or mint extract.
Vegan Cookie Recipes

Mattie
6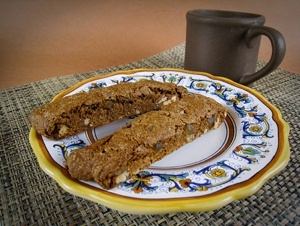 This Vegan Gingerbread Pecan Biscotti recipe showcases the winning combination of candied ginger, pecans, molasses and just the right amount of spices like cinnamon, cloves and nutmeg. The result is a vegan biscotti armed with a deep, complex flavor with a spicy finish that helps kick out those winter blues.