Ultimate Vegan Brownies

Mattie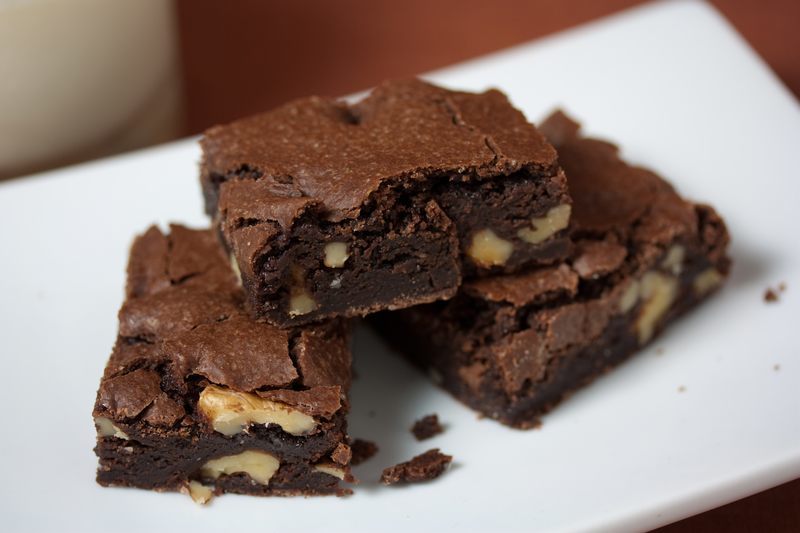 Ultimate is not something that I throw around lightly, especially for vegan brownies. I've had my share of vegan and regular brownies and been baffled by how lacking vegan versions are. Growing up on my Grandmother's brownies, I learned that a good brownie should be dense, fudgy and soft; not light, cakey and dry. Why is it so hard to emulate a traditional brownie recipe that simply consists of a few simple ingredients? Hint: it's due to the egg, which emulsifies, binds, slightly leavens then bakes up as part of the actual base of the brownie itself. To emulate this takes an expedition deep into the innards of brownie science, oh and for me, about seven years of failing until figuring this out.
Vegan brownies need extra special attention paid to flavor and texture
I started by emulating two eggs with water and golden flax meal. I then added some baking soda to the flour to emulate egg's subtle leavening tendencies. Cocoa powder along with semi-sweet chocolate and espresso powder allows the complex chocolate flavors to truly shine. I tested these brownies with canola oil but later settled on
Vegan Butter
or margarine because it allowed the flavor to mingle and slightly evolve along the flavor profile, rather than diminishing in a downward spiral which was the case with canola oil. This is why chocolate baked goods with canola oil rarely match up to chocolate baked goods with Vegan Butter or margarine. In order to make dense, soft vegan baked goods like brownies and cookies that are similar to their egg-laden counterparts, the dough must be extremely thick because the egg is not going to be there to act as a structure builder as flour does. Thus, you have to add extra flour so it can take over for the egg. The result of this vegan brownie R&D is a dense, fudgy, soft brownie with a complex chocolate flavor.
Update:
I originally developed this recipe to call for 35 minutes of baking on the lowest oven rack position in your oven. Many commenters came forward with their results and it started to become clear that a shorter baking time on the middle oven rack position could actually improve the flavor and texture of the brownies. After some additional testing, I've confirmed that baking on the middle rack for 25 minutes actually yeilds softer, chewier, fudgy, more flavorful brownies with fruitier chocolate notes! It looks like the longer baking time I originally called for was cooking off some of these more volatile chocolate flavors. I'm thrilled that your helpful input was able to help me make this recipe even better!
Find more
Chocolate recipes
on Veganbaking.net
Ultimate Vegan Brownie Recipe
3 Tablespoons water
2 Tablespoons
golden flax meal
1 ¾ cups all-purpose flour
¼ teaspoon baking soda
7 Tablespoons cocoa powder
4 ounces semi-sweet chocolate, chopped into ¼ inch pieces
1 teaspoon instant espresso powder
¾ teaspoon salt
¼ cup boiling water
1 ½ cups sugar
6 Tablespoons (80 grams)
Regular Vegan Butter
or non-hydrogenated stick margarine, melted (not tub margarine)
1 ½ teaspoons vanilla extract
½ cup walnuts, chopped (optional)
1) Prepare the flax meal, your oven and your baking dish
In a small mixing bowl whisk together the water and flax meal. Let it sit for about 10 minutes so the mixture gets goopy. Ensure your oven rack is in the middle rack position. Preheat your oven to 350F (177C). Line an 8 x 8 inch baking dish with parchment paper allowing excess parchment paper on opposite sides so you can pull the brownies out of the baking dish later.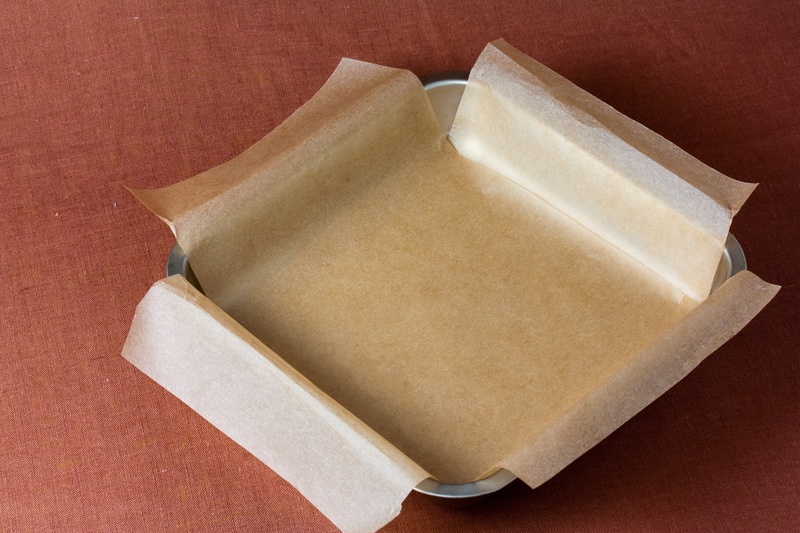 2) Whisk together the four and baking soda
In a medium mixing bowl whisk together the all-purpose flour and baking soda. Set aside.
3) Mix the vegan brownie dough
In another medium mixing bowl add the cocoa powder, semi-sweet chocolate, espresso powder and salt. Add the boiling water and using a spoon, mix in the ingredients into a paste, making sure that all of the chocolate pieces are melted. Add the sugar, Vegan Butter, vanilla extract, flax meal mixture from Step 1 into the chocolate mixture and mix with an electric mixer until smooth. Stir in the walnuts if you're using them. Using a spoon, mix in the flour until well combined. The mixture will become extremely thick and you may need to use your hands to mix. Refrain from mixing this dough with an electric mixer at this point; this will overwork the dough and activate too much gluten, negatively affecting the texture of the brownies.
4) Transfer the brownie batter to a baking dish and bake to perfection
Transfer the batter to the baking dish. You may need to use your fingers or a spatula to press the thick dough into place. Bake for 25 minutes on your oven's middle rack. Transfer the baking dish to a wire cooling rack and allow it to cool for about an hour.
5) Allow the vegan brownies to cool completely
Transfer the brownies to a cooling rack by lifting them out of the baking dish by taking hold of the exposed parchment paper on each side. Allow them to cool completely before slicing into squares.
This recipe makes one 8 x 8 inch baking dish of Ultimate Vegan Brownies.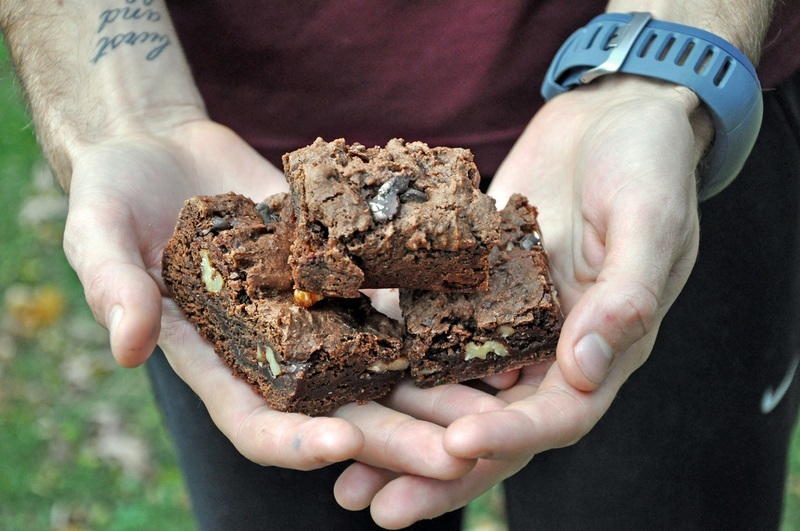 A big thanks goes out to
(never home)maker
for the above picture.
User reviews

This email address is being protected from spambots. You need JavaScript enabled to view it.
Top 500 Reviewer
View all my reviews (1)
vegan brownie recipe query
Can someone help me please. I really want to make vegan brownie, but when in step 3, I add 1/4 cup (4tbs) to the chocolate and powder etc, there is no way enough water to melt the chocolate. My final product is extremely dry!

Does no one else have this problem, am I doing something wrong?
Thank you for your help.
Was this review helpful to you?

Kristina
The name says it all
This is my go-to brownie recipe. I've made it at least 5 times and these brownies are the ultimate for vegans and non-vegans alike! You will not be disappointed if you are looking for a fudgy, dense brownie with an incredible flavor. Thank you so much! I'll never look for another brownie recipe again!!
Was this review helpful to you?

Lesley
At last
At last, yummy brownies! Thank you so much for sharing the recipe, dense fudge and delicious - and easy to make. After trying so many different cake recipes and not really being happy I now know that I can make these without the wrath of five year old boys! ?
Was this review helpful to you?

Suzie
AMAZING VEGAN BROWNIES
These vegan brownies are super decadent and delicious. I usually make healthy bean or sweet potato brownies for myself but as I had a foodshare coming up I thought I would try something a bit naughtier. I can't believe these are vegan. So rich and fudgy. I topped mine with a chocolate ganache and strawberries. You won't be able to manage more than one. Thank you for the recipe!
Was this review helpful to you?

Marisa Not Vegan
Top 100 Reviewer
View all my reviews (1)
Most amazing brownies
All I can say is that these are incredibly rich , gooey and delicious. Better than traditional.
Was this review helpful to you?

Meagan
Question
Would coconut oil be OK to replace the butter? I never buy any kind of vegan butter as what i have in this country isn't that great.
Was this review helpful to you?

Tanaya
These are great
I made these last night with some modification. I didn't have golden flaxseed or vegan butter. (South Africa is very limited with vegan supplies.) I used 1 Tbs of soya lecithin and 1 Tbs of psyllium huske with 6 Tbs of water to make the fake egg and 3 Tbs of coconut oil plus 3Tbs of sunflower oil to replace butter. Very nice,, thank you.
Was this review helpful to you?

ChristineVenusVegan
Top 500 Reviewer
View all my reviews (1)
delcious!
These were amazing! I probably used 3/4 cup of water though, and i put into muffin pans for the same time and temp. My friends liked them too. Crispy on outside, soft on inside. I also used 6tbs macadamia oil instead as i didnt have butter or time to make. Thank you! Incredible!
Was this review helpful to you?

Jonathan
Top 500 Reviewer
View all my reviews (1)
Decent
I think these turned out pretty good. The top was nice and crunchy, as were the edges, something I like. However the brownies seemed a bit on the dry and cakey side, although I think my oven may run on the hot side, so I will monitor it better next time and compensate on the dial. I may also dial down the flour a tad, or tinker around, see if I can get them to end up moister and fudgier, like yours.
Thanks for the recipe, I look forward to playing with it and trying to sub in some aquafaba and do some other mods. Only change I made this run was 4 oz 99% chocolate + 4 Tbsp sugar in place of semisweet chocolate, and this required a tad more hot water to mix it.
Was this review helpful to you?

Jess
amazing!!!!!
best brownies!!! i made them for a bakesale and the boy i have a crush on said theyre the best brownies he's ever had ~~~~ they amaze me every time
Was this review helpful to you?

ClassyCassy
Top 500 Reviewer
View all my reviews (1)
The Best Brownies
These brownies are AMAZING. My first batch came out perfect and was literally gone in two days. Definitely will be making these again!
Was this review helpful to you?

Angela
Brownies Any Omnivore Would Love
I have made this recipe several times in the past year, and it has consistently been enjoyed by both vegan and omnivore friends (even the time when I forgot to add the vanilla and then poured it on top of the dough in the pan, hoping for the best).

The most recent time I made them, I decided to add the chocolate, cocoa powder, and salt to the saucepan containing the freshly-boiled water, and after that was thoroughly mixed together I added the butter, sugar, and vanilla to the mixture in the saucepan. I found that this method was FAR easier than adding the boiling water to the ingredients in a bowl. The chocolate melted much more quickly, and I didn't have to melt the butter beforehand as the warm chocolate mixture was warm enough to melt it, and if not you can always heat it up a little to facilitate melting. I have also never added instant espresso powder because I don't want to buy a whole pack for just this one recipe, and my brownies have still tasted absolutely scrumptious. This is my go-to brownie recipe! :)
Was this review helpful to you?

JacobNLR
Top 500 Reviewer
View all my reviews (1)
#Truth
I'm not vegan, but my roommate has a seriously allergic reaction to dairy. I accidentally "poisoned" him with some buttermilk biscuits that I made the night before. I wanted to say "I'm sorry" through making him something delicious, something spectacular and non-dairy, something that would have him saying, "moo?" No, no moo, but yes, yes delicious. These brownies were amazingly good! I followed the recipe to the T, with the exceptions of using coconut oil instead of vegan butter, and baking for only 20 minutes instead of 25 (darn electric ovens are weird). The author wasn't kidding when he said that these brownies needed to cool completely. My roommate and I tried them after an hour cooling, but the texture was definitely best after letting them cool over night (about 12 hours). I'm going to attempt to add chocolate and white-chocolate chips to my next batch, in addition to the walnuts I added last time. Thank you so much for this recipe - I don't think that I'll ever make non-vegan brownies again!
Was this review helpful to you?

Charlotte
Is baking soda bicarbonate of soda, or is baking soda the name give to baking powder in America? Or does i not matter? All these similar names are so confusing!
Was this review helpful to you?

Jane
Ultimate is right!
I've tried so many brownie recipes before that it was with a jaded and cynical eye that I regarded the "Ultimate" in the name of these brownies. But I swear by the old gods and the new that ultimate is what they are! Look no further! The quest is over! They're perfect!
Was this review helpful to you?
Where have these been all my life?
You know in Vegucated when Marisa Miller Wolfson is shoving her face with amazing vegan food? That was me yesterday with these brownies! I knew I was done for after practically licking the bowl clean. Great recipe, the only one I'll use from here on out.
Was this review helpful to you?

baumsquad22
Top 500 Reviewer
View all my reviews (1)
BEST brownies EVER!!
Being vegan for a third of my life, I have never found such a perfect brownie recipe as this. Every vegan brownie recipe I've tried has been too "cakey" or too dry, but this recipe is the absolute BEST. Ooey and gooey in the middle, with a nice crust on top with just the right amount of crispness, I've never found such a perfect vegan brownie recipe before now. I didn't have any espresso powder, but they still came out amazingly perfect. The best part is, it's made with so few and such simple ingredients that you can pretty much make these whenever the chocolate cravings hit!
Was this review helpful to you?

Jess
WOW
Okay this is AMAZING. I had tried a few other vegan brownie recipes and only ended up with weird goop or fluffy tasteless muffin brownies. The flax mixture and semisweet chocolate pieces are a GAMECHANGER. I didn't even use a mixer and only had raw sugar on hand (something that usually ruins my recipes) and it STILL came out like gooey Mrs Fields brownies. Best ever! Thank you!
Was this review helpful to you?

Luinecu
fantastic!
Gorgeous tasting brownies! Mine passed the toothpick test after only 17 mins in my fan assisted oven, even though I had my oven thermometer in there for safety. Good thing I checked on that fantastic brownie smell wafting the kitchen!!

Vegan butter isn't really a thing in the UK, so I subbed 4tbsp tub marg, and 2tbsp veg shortening. But this was a guesstimate
Was this review helpful to you?
(Updated: April 30, 2015)

augustchild
Top 500 Reviewer
View all my reviews (1)
My go-to vegan brownie recipe
I'm not actually vegan, I just have several allergies that restrict my use of common non-vegan baking ingredients. I make these brownies for my significant other and myself. He tries to stay healthy and doesn't snack often, but he always makes exceptions for these! I have made them numerous times over the past few years. I usually cut the sugar down to one cup or less, but today I am trying to add a bit more. We enjoy the texture of these brownies-they are very dense and chewy. Not cakey at all (which I love. If I want cake I would make cake). Thanks for the recipe!

Was this review helpful to you?

Marylee
Never need to try another vegan brownie recipe aga
Wow why haven't I left a comment on this one yet..? Well here it is!

I've tried many vegan brownie recipes over the past decade with pretty good success. After trying and falling in love with this one last fall I need not to ever experiment with another brownie recipe again.

This is fail-proof, always comes out very fudgy with that lovely thin crusty top. The brownies keep moist for many many days. I would recommend this recipe for anyone who wants a traditional decadently fudgy (not cakey) brownie which doesn't skimp on the sugar, chocolate and fat! And it doesn't have any crazy or overly expensive ingredients (especially if you leave out the nuts). Five stars!
Was this review helpful to you?

Sassy
Tried many vegan brownies that are all way more "cake-y" than brownie. This...takes the cake. ;) The crispy top...oh the wonderful crispiness, delish.
I used a lot less sugar (a little more than half) and didn't have chips. Next time, I will use more sugar for a sweeter taste. (And get the chips)
For those people who are talking about the flour and sugar content...this is not a green smoothie people. This is a brownie. To be enjoyed when you need a real brownie. For healthy recipes, choose another, but for the real thing, this hits the spot.
Not great for health, but really good for the soul. ;)


Was this review helpful to you?

Amelia
Too much sugar & flour !!
I've made plenty of vegan recipes, & none so unhealthy as this. I still wanted to try the 'ultimate' vegan brownie though, so I followed this recipe to the t. Crunchy top & very fudgy in a sticky sickly way ... ended up taking a long afternoon nap & waking with a hurting belly. Way too much sugar & flour in this recipe. I've tried 2 of your website's vegan recipes, both sounded so promising .. I think your website over promises & under delivers. I'm done with your recipes. Other better vegan websites like lovingitraw abound.
Was this review helpful to you?
Just how a brownie should be
Could there be a typo in the flax part of the recipe? I made mine with 6 Tb of water instead of the called-for 3. For the reviews that say the brownies are a bit dry, I don't think 3 Tb of water would make a huge difference, but maybe that's part of it? I don't know if it interests the owner of this website, but, on the science side of things, I know as a reader i would definitely be interested in seeing the original recipe the vegan version was based on and the breakdown of how and why the vegan substitutions were made. Learning how to veganize traditional recipes can help vegans to not have to rely on the often awful versions that are out there.
Was this review helpful to you?

John
brownie - 1st attempt
I tried this but had to cut a few corners. I used 4 1/2 tbsp cocoa powder (Trader Joe's), as opposed to 7. Ran out! So I used extra chocolate chips (Trader Joes, the ones that look like little Kisses). Instead of espresso powder, I used boiling fresh coffee/water. :) The brownies turned out fine. Tasted pretty good, but I wasn't blown away, and I'm thinking it has something to do with the texture. I was surprised at how thick and heavy the dough was. It felt like clay as I was pressing it into the baking pan. I think perfect brownies should have a little bit of fragility and not hold together like a Snickers bar. OK. Next. I don't know how you line a square pan so that the wax paper doesn't get creased into the mix at the corners, thereby making it hard to peel off after it's cooled. Generally the wax paper wasn't that easy to pull off after the brownies completely cooled. My last point -- I'm new to baking, so it is somewhat surprising to me to see quite a few baking recipes that call for so much sugar. A cup-and-a-half for an 8x8 dessert? Yikes! Anyway, thanks. I'm still learning.
Was this review helpful to you?

Vendelpatties
Top 500 Reviewer
View all my reviews (1)
Gluten free
Same recipe if I use gluten-free flower??
Was this review helpful to you?

Zengirl2
Top 500 Reviewer
View all my reviews (1)
Patience has virtues
Hugs to you for making my dream of the perfect vegan brownie a reality. I didn't want to even get my hopes up as I stirred the thick batter, however, the results were just as you said, moist, fudge-like and delicious. It reminds me of those silly box brownie mixes that my mom used that came with the fudge packet, only I actually can pronounce these ingredients. Thank so much and I'm doing to whip up another batch now. :)
Was this review helpful to you?
Finally!
Mattie, te amo!
Thank you SO much for this recipe...I thought I'd never again eat a brownie that actually tasted like a brownie until today
Was this review helpful to you?

nandaota
Top 500 Reviewer
View all my reviews (1)
Please,
Someone could record a video showing step by step this recipe?
I'm in Brazil and i had trouble converting the measurements. My first attempt went wrong
Was this review helpful to you?

liz
This recipe yields very tasty brownie. I used some peppermint chocolate as well as dark chocolate pieces so it gives off a nice minty flavor, which goes really well with the hint of expresso flavor. I also reduced sugar to slightly less than 1 cup and the sweetness is perfect. The mixture was too dry so I add about 3 more tablespoon of water. I used coconut oil instead of vegan butter, about 7 tablespoon and the consistency is perfect. Next time instead of adding 3 more tablespoon of water at the end, I would try mixing 6 tablespoon of water with 2 tablespoon of flax seed meal instead. Thank you for the recipe, I'm glad I find it.
Was this review helpful to you?
View all user reviews