Vegan Bread Recipes

Vegan Bread Recipes can be broken up into multiple categories such as
enriched breads
, which have flavoring and texturing ingredients added;
hearth breads
, which accentuate minimal ingredients such as flour, yeast, water and salt; and even
quick breads
which utilize baking powder and sometimes sugar.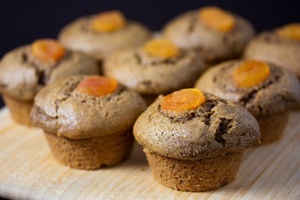 The sweetness of apricots and the earthiness of 100% rye flour complement each other, especially when accompanied by molasses, cardamom and espresso powder in this Vegan Apricot Rye Muffin recipe. Rye flour contains a low amount of gluten compared to wheat based flour so in order to enhance binding, the batter is mixed for 1 minute to allow the starches in the flour to become activated. The pectin in the apricot preserves also acts wonderfully as a binder in these vegan muffins.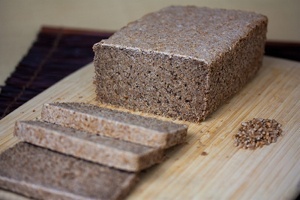 This Sprouted Wild Yeasted Whole Wheat Bread recipe is a nod to how the first breads probably got their start. Wheat berries were probably softened with water, ground and left out in the elements where they were then populated by airborne yeasts and bacteria, causing the dough to rise slightly. Placing this dough on hot rocks in or near a fire probably resulted in a fine vegan treat like nothing else available at the time.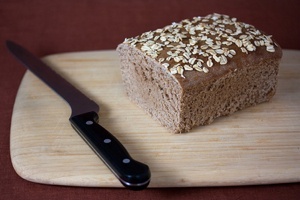 This Wild Yeasted Wheat Bread recipe, also known as sourdough bread uses a wild yeast sponge to leaven the dough, creating a multitude of complex flavor compounds in the process. Be sure to read and cultivate your
wild yeast starter and sponge
before starting this vegan bread. Sandwich breads baked in loaf pans are usually baked at lower temperatures around 350F (177C) to 375F (191C) and 'enriched' with things like sweeteners, oil and extra salt. Artisan breads formed and baked without loaf pans are baked at higher temperatures around 400F (204C) to 475F (246C) where the heat allows extra flavors to be developed. Taking this into account, your bread recipe and baking process will be slightly different depending on which method you choose. This recipe gives you options for both styles.

Renoodle
12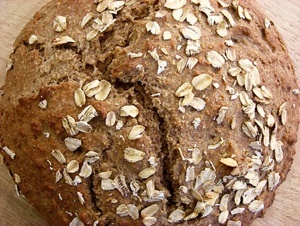 I veganized this Oatmeal Whole Wheat Quick Bread from a recipe found
here
. All I can say is WOW! Moist, full of texture, earthy and oh so delicious.

Mattie
11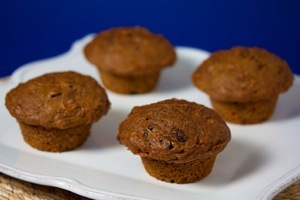 Carrot cake is my all-time favorite dessert so I adapted it into a heartier quick bread in the form of this Vegan Carrot Cake Muffin recipe so I could justify having it for breakfast. It's pointless to resist carrot cake goodness in it's new quick bread form so don't even try. A dollop of almond butter on top contrasts nicely with carrot cake flavor and adds extra nutritious oomph to power your day of world domination.

Mattie
5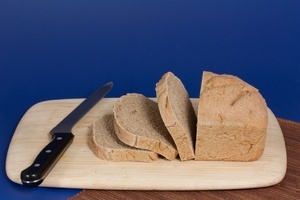 There's nothing quite like home made bread. This hearty Easy Vegan Wheat Bread recipe is easy to whip up if you have a few hours and it's really simple. In bread baking, longer rise cycles at lower temperatures usually result in more flavor compounds that are generated due to the yeast extracting and break down more starches in the flour and converting them into sugars which will then get caramelized during baking. Some doughs call for an overnight rise in the refrigerator so optimum flavor can be developed. In this vegan loaf you have the option of doing an overnight slow rise in the refrigerator or a regular rise. The two first rise cycle is for the main fermentation of the dough where the yeast eats the most sugars and rises the bread with CO2. The last rise is called
proofing
in where the dough rises after it's been molded into it's desired shape or placed in it's specific mold.

Mattie
4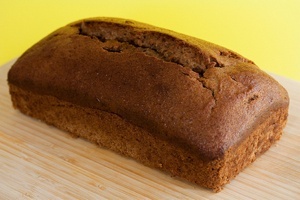 The more I use yeast instead of baking powder for quick breads such as Yeasted Vegan Banana Bread, the more I notice that yeasted breads produce far better flavor results. How did we get into this bad habit of
chemically leavening
our sweet breads with baking powder and baking soda? One word: convenience. Yeasted breads take about 3 times longer to make because we have to wait for the yeast to do it's thing. Yeast leavened breads are usually considerably more flavorful than chemically leavened breads because as the yeast ferments and spits out C02 that rises the bread, it also produces a multitude of complex flavor compounds. This is not the case with chemically leavened breads where few flavor byproducts are produced during the chemical reaction between acid and alkalne that produces the C02. Yeasted Vegan Banana Bread is now my go-to vegan banana bread recipe.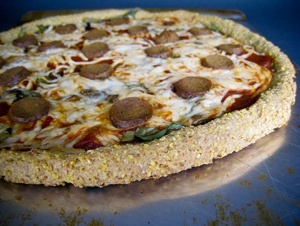 This Vegan Cornmeal Spelt Pizza Crust recipe is one of the fastest, easiest crusts around because it doesn't need lots of kneading and it doesn't require yeast. Although it's not gluten-free, it does have very low amounts of gluten which is good if you're trying to cut back on it due to food allergies. This recipe makes a vegan crust that is 12 to 14 inches. This dough can also be refrigerated for later use.

Mattie
8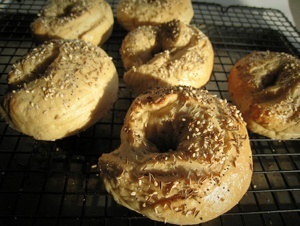 I know that one day I won't have access to my favorite bagel place on Bedford ave in Brooklyn on my way home from the bars to grab a late night snack. This Vegan Everything Bagel recipe will hopefully keep me content in those times. Enjoy these vegan bagels with Tofutti cream cheese,
Creamy Vegan Cashew Cream Cheese
, my more involved
Vegan Cashew Cream Cheese
or whatever else floats your fancy. I've designed these bagels in the authentic NY style which uses barley malt, also known as malted barley. Barley malt is highly recommended but if you don't have it just use an additional one-half Tablespoon sugar in its place. Be sure to allow ample time for this recipe- it takes about two hours. If you live further than two hours away from New York City, this recipe will be easier than flying there for the flavor.

Mattie
9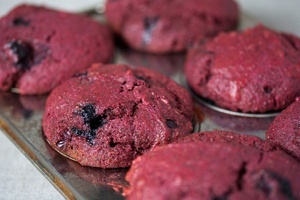 This Vegan Blueberry Beetnik Muffin recipe takes advantage of baked beets which harbor wonderful butter caramel flavors when their sugars caramelize. The vegan muffins are then complimented by the tartness of blueberries and just the right ratio of whole wheat flour and all-purpose flour. Lemon juice enhances flavor while allowing the beet purée to retain its vibrant reddish color during baking. This is because acids reduce the oxidation of plant-based compounds called anthocyanins, which are responsible for the red color in foods like beets and raspberries.

Mattie
3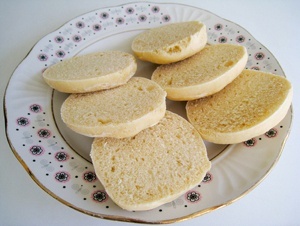 This Vegan English Muffin recipe features just a touch of lemon juice and sugar to enhance its yeast-induced flavors. They're awesome fresh out of the toaster with a little
Vegan Butter
, jam or whatever your preferred muffin topping is. I've been known to use these as burger buns too. They're not loaded with preservatives and dough conditioners like their store-bought cousins but they'll still keep in the freezer stored in a plastic freezer bag for several months.