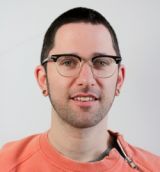 About Me
About Me
Please describe yourself

I'm a vegan baking freak and I work hard to make this site a place where like-minded people can compare notes and share eats. I'm obsessed with the hows and whys of food science.

I like to take a food, study it, break it down to it's smallest components, then build it back up again with no animal products while incorporating maximum flavor.

This whole breaking down food and building it back up thing I call "foodcrafting" and I do it with as many different foods I can get my hands on. It's amazing how understanding beer brewing science can make you a better bread baker for example.

The result of this is that Veganbaking.net is evolving from having a 100% baking content focus, to showcasing all vegan food.

What are your interests?

Baking and vegan food design, foodcrafting, food science, rediscovering the lost art of food production by hand, camping, friends, beer, home brewing, red wine, cycling, being surrounded by nature, getting lost in large cities, random adventures with random people, running Veganbaking.net.

What are your absolute favorite things to bake?

Pancakes, muffins, crusty artisinal hearth breads, pizza crust, ice cream, cake of any kind.

What are your favorite vegan baked items to eat?

Brownies, any kind of pie, any kind of cookies, french pastry, anything with chocolate.

What types of vegan baking are you trying to master?

Lately I've been super interested in gluten-free flour blends. I just might figure it out on my 147th try!

What kind of music have you been listening to lately?

Blaring punk rock, minimal techno and everything in between.

What shows or movies have you been into lately?

The Mighty Boosh, ALF, 30 Rock, Summer Heights High, The Office, It's Always Sunny in Philadelphia

What are your favorite books?

On Food and Cooking, The Bread Baker's Apprentice, The Secrets of Baking, Wild Fermentation, Baking Illustrated, Joy of Vegan Baking, The Professional Pastry Chef, How Baking Works, Understanding Baking, Designing Great Beers, Chocolates & Confections, Vegan Fusion World Cuisine,

What city do you live in?

What state do you live in?

What country do you live in?

Do you run any websites? If so, which ones?

What's your Twitter username?

What do you do for a living?
Member since

Saturday, 19 April 2008 21:28

Last online

4 hours 2 minutes ago
Hi Apd4803! You should be able to wrap and refrigerate any yeasted dough for up to about three days before unwrapping it and allowing it to rise or proof. This is because cold temperatures just make the yeast go dormant; as soon as it gets ex...

That bread sounds tasty Dganit! It looks like there's too much whole wheat flour in the bread. I recommend replacing a 1/2 cup or up to 1 cup whole wheat flour in each dough instead of replacing half the total flour with whole wheat. W...

Thanks Thisby! After looking at the recipe, they are wanting you to allow it to double in size for the purposes of gluten and flavor development. They then have you bake it in a way where it doesn't rise during baking. If you get a chance to ...

Thanks and good luck Lisavegan!...

That's a tough question Lisavegan! If only all life decisions were so hard If I were making lollipops that were 100% chocolate and I wanted to go with the absolute best I could get my hands on, I'd go for melting down whole chocolate bars like Mast...

Great question Thisby! Naan is a flatbread which doesn't really need to rise substantially so it's possible that the recipe you're using calls for yeast for a bit of flavor development, not necessarily for leavening. This is actually a really good wa...

Great question eymallist! Unfortunately, whipping vegan ingredients to soft peaks is extremely difficult because few non-animal products are able to hold and bind in that way. One way to do it is to use a fat that's solid at room temperature l...

Vegan Baking Day is coming Friday, September 27th! So what are you going to bake and share?

veganbakingday.com

Hi Shaneece! Most of my chocolate chip cookies are chewy because I'm bonkers for chewy cookies! But you're right- crispy cookies are awesome too! You could take my Chewy Chocolate Cookies here

www.veganbaking.net/cookies/…

and eliminate the molasses, reduce baking temp to 325F and bake for an additional 15 minutes. This should probably/hopefully work. Good luck!

Hi Elley77! My recommendation on shopping vegan is to just "do the best you can". Make it a fun opportunity to discover new foods and cooking methods because there are minute non-vegan trace ingredients in so many foods and it's just not wort...

Hi acdouglas! Local health food stores usually carry turbinado sugar which is usually vegan. Whole Foods has sugar specifically labeled as vegan sugar. These stores also carry things like So Delicious non-dairy creamer which works great for a cream s...

Great! So glad it worked out EKDNH! ...

Thanks Shaneece! I'm guessing you have a 9.2 inch pan that is square, not rectangular. The easiest way to do it would be to multiply every measurement in the recipe by 1.5. Then you'll have 50% more batter. You probably won't need to use all of it, just most of it, then bake until an inserted toothpick comes out clean, which should be about 10 minutes of additional baking or so. Good luck!

This is an amazing site! Thank you very much for this! I want to try your banana walnut cake for my boyfriend's birthday. Firstly, I am substituting the walnuts with pecans. But my main concern is that I couldn't find an 8 inch pan and I only have a 9'2" pan. How different would my measurements have to be to adjust to this change?

Hi EKDNH! How are you mixing the frosting and for how long? What's most likely happening is that the tiny sugar crystals in the confectioners sugar are not melting, which allows you to still feel them on your tongue after the fats melt. Try w...

5 months ago