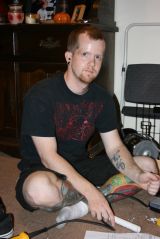 About Me
About Me
Please describe yourself

Straight edge vegan kiddie for 10 or 11 years now. Living (read: eking out an existence) in Baton Rouge, Louisiana while I attend LSU. I am at LSU earning a PhD in mathematics.

What are your interests?

Math, scrabble, astronomy, veganism and a lot of other intellectual pursuits. I also love building things; pretty much anything. I hope some day to have a big workshop for all sorts of things.

What are your absolute favorite things to bake?

I guess I don't really have a favorite thing to bake or cook. I just like to do all of it.

What are your favorite vegan baked items to eat?

As it turns out, I don't have much of a sensitive palette, so I don't have any favorite eats.

What city do you live in?

What state do you live in?

What country do you live in?

What do you do for a living?
Member since

Saturday, 18 September 2010 07:23

Last online

1 year ago
My Favorites
No entries were found
My Reviews
No entries were found
My Listings
No entries were found