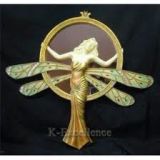 About Me
About Me
Please describe yourself

Gluten Free, Soy Free, Vegan Baking Freak

What are your interests?

The written word
Nature, especially anything in bloom
Old cartoons like Betty Boop,especially pre code; Krazy Kat; Felix the Cat

What are your absolute favorite things to bake?

Edible, Wonderful and Yummy.
Cookies. Danish Pastry, Croissants, Bread although at this point if it's Gluten, Soy, Bean Free and edible I'm a happy camper.

What are your favorite vegan baked items to eat?

Lemon Meringue Pie, go figure. I don't even think it's possible.

What types of vegan baking are you trying to master?

Gluten and Soy Free meringues and cinnamon rolls

What kind of music have you been listening to lately?

Big Band Era; Old Blues and Jazz; Swing; Texas Swing; Rock

What shows or movies have you been into lately?

Musicals from the 30's, 40's, 50's, 60's. The Bishop's Wife. White Christmas. Pre Bonnie and Clyde movies that were more intelligent than adrenaline driven. I enjoy being given credit for having a functional brain pan.

What are your favorite books?

To Kill a Mockingbird; anything Agatha Christie; Diana Wynne Jones; Tolkien; Harry Potter and the Prisoner of Azkaban; Mary Stewart's Crystal Cave series; T.H. White's Camelot' Dashiel Hammett. I don't know lots. Cookbooks, obviously as well.

What city do you live in?

What state do you live in?

What country do you live in?
Member since

Saturday, 03 July 2010 14:05

Last online

2 years ago
My Favorites
No entries were found
My Listings
No entries were found