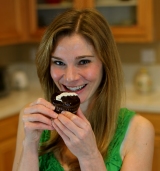 About Me
About Me
Please describe yourself

Christine's baking class called the Secrets of Vegan Baking has been held at Sur La Table in downtown San Francisco and is currently held at Whole Foods Market. How Christine got started as a Vegan Baker: In 2005, after moving to San Francisco, psychologist, Dr. Christine Dickson began developing recipes for dairy-free and egg-free desserts in her home kitchen. A long time advocate of health and wellness, Christine wanted to create cholesterol-free & low in saturated fat desserts that were healthy, delicious, and very simple to make. With no formal training as a pastry chef, she created 50 of the most rich and delicious vegan desserts you will ever taste.

What are your interests?

Vegan Baking & Cooking, Singing, Jogging, Mountain Biking

What kind of music have you been listening to lately?

Classical Piano

What are your favorite books?

The Power of Now, The Fabric of the Cosmos, The Elegant Universe

What city do you live in?

What state do you live in?

What country do you live in?

Do you run any websites? If so, which ones?

What do you do for a living?
Member since

Wednesday, 24 February 2010 22:25

Last online

2 years ago
My Favorites
No entries were found
My Reviews
No entries were found
My Listings
No entries were found