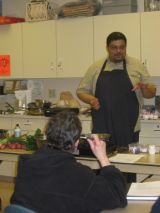 About Me
About Me
Please describe yourself

I have been cooking prefessionally for 22 years in vegan and vegetarian kitchens and owned my own vegan bakery for 4 years. I currently work for an internationally known health and wellness company in Columbus, Ohio

What are your interests?

Cooking, baking , gardening, movies, people, reading

What are your absolute favorite things to bake?

My current favorite dessert is balck bean brownies,. I love that something so healthy can taste so decadent. I also love fresh fruit crisps of any kind when the fruit is in season. My all time favorite dessert is sweet potato pie.

What are your favorite vegan baked items to eat?

see above

What types of vegan baking are you trying to master?

I recently made vegan croissant dough for the firt time for a wedding and they were delicious, but they do take practice and are not the healthiest treat in the basket.

What kind of music have you been listening to lately?

Rand B, jazz and Broadway, anyth8ign frm the 4ad label

What shows or movies have you been into lately?

The Lion in Winter is my favorite movie and one of my favorite tv movies recently was Downton Abbey on PBS

What are your favorite books?

The China Study

What city do you live in?

What state do you live in?

What country do you live in?

Do you run any websites? If so, which ones?

What's your Twitter username?

What do you do for a living?
Member since

Sunday, 10 April 2011 08:06

Last online

4 years ago
My Favorites
No entries were found
My Listings
No entries were found