Notice: Undefined variable: last in /home/veganbak/public_html/plugins/system/jreviews_sef/jreviews_router.php on line 1663

Notice: Undefined offset: 1 in /home/veganbak/public_html/plugins/system/jreviews_sef/jreviews_router.php on line 290
<![CDATA[Learn how to make rich, decadent Vegan Mousse Recipes. Yum!]]> http://www.veganbaking.net/
http://www.veganbaking.net/recipes/custards-and-puddings/mousses/flourless-chocolate-raspberry-mousse http://www.veganbaking.net/recipes/custards-and-puddings/mousses/flourless-chocolate-raspberry-mousse <![CDATA[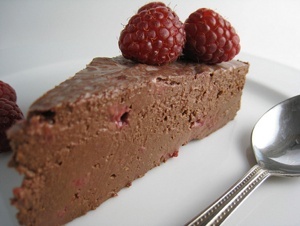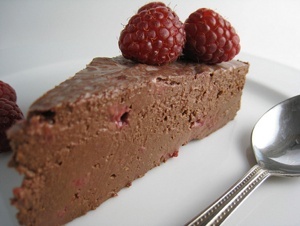 This Flourless Vegan Chocolate Raspberry Mousse recipe features a silky vegan chocolate mousse enhanced with coconut oil, cocoa powder and a touch of vanilla extract. It's then blended with fresh raspberries for a delectable combination. It's also easy to make, wheat free and doesn't even require baking. The hardest part is waiting several hours for it to firm up in the fridge.
{loadposition share}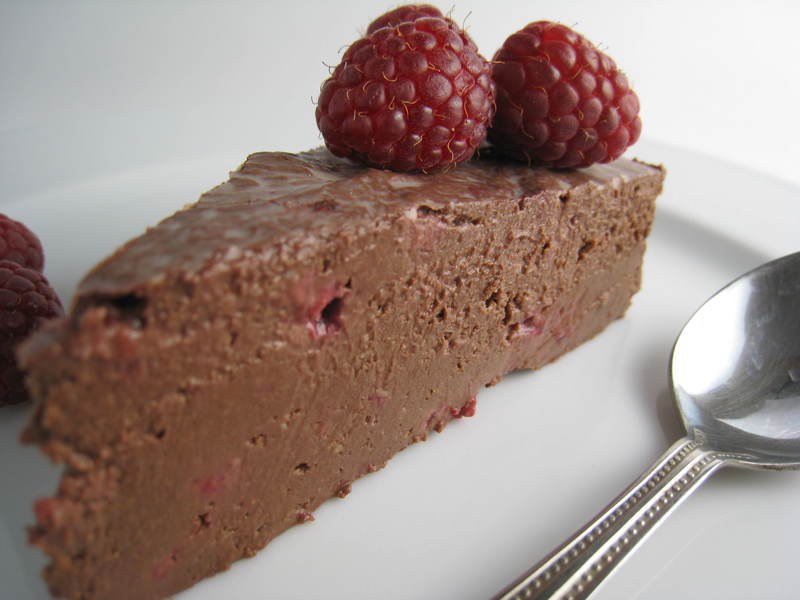 This Flourless Vegan Chocolate Raspberry Mousse recipe features a silky vegan chocolate mousse enhanced with coconut oil, cocoa powder and a touch of vanilla extract. It's then blended with fresh raspberries for a delectable combination. It's also easy to make, wheat free and doesn't even require baking. The hardest part is waiting several hours for it to firm up in the fridge.

Find more Chocolate recipes on Veganbaking.net
{loadposition body-ad-1}

Flourless Vegan Chocolate Raspberry Mousse Recipe
½ cup coconut oil, refined
12 oz. (or 1 pack, or 2/3 cup) silken tofu
1 cup powdered sugar
1/3 cup cocoa powder
2 Tablespoons (27 grams) Regular Vegan Butter or margarine
2 Tablespoons arrowroot or tapioca starch
1 teaspoon vanilla extract
¼ teaspoon salt

4 oz 99% unsweetened baking chocolate

1 cup fresh raspberries

1) Process most of the main ingredients
Place the container of coconut oil in a pot of hot water to get the oil liquified for easier measuring. In a food processor or blender, add the coconut oil, silken tofu, powdered sugar, cocoa powder, margarine, arrowroot or tapioca starch, vanilla extract, salt and process until smooth.

If you'd like your mousse to have a crust, learn how to make a Spring Form Crust.

2) Melt the chocolate and mix
In a double boiler or small saucepan apply low heat to the chocolate while stirring constantly. When the chocolate is fully melted add it to the food processor or blender from step 1 and process until well incorporated.

Find out how to make and use a double boiler.

3) Add the raspberries
Add the raspberries and pulse for a second until they're in small chunks.

4) Pour the mousse and let it solidify
Pour the mixture into a 7 inch spring form pan and place it in the refrigerator for 4 hours for it to firm up. Once firmed up, use a small pairing knife to cut around the outside to help separate remove the outer portion of the mousse from the spring form pan. Open the outer portion of the spring form pan and give it a jiggle while lifting it away. Store in the refrigerator and serve cold. This recipe makes one 7 inch Flourless Vegan Chocolate Raspberry Mousse.

{loadposition aal-9-inch-springform-pan}
{loadposition article-end} ]]>
<![CDATA[Vegan Mousse Recipes]]>
Sat, 13 Dec 2008 22:29:55 -0500
204
2008-12-13
5